Nominations for the FAHS Merit Award 2017

Dr Rosalie Triolo (on left) with her 2016 FAHS Merit award.


L to R: Dr Rosalie Triolo; Ms Catherine Andrews; Prof Don Garden; Hon Marilyn Warren, Chief Justice of the Victorian Supreme Court

Nominations for the FAHS Merit Awards for 2017 close on 30 June 2017



The Merit Awards are awarded as recognition of a meritorious contribution to the community history and heritage movement nationally and/or in more than one State or Territory and/or a contribution at State/Territory level which has had national implications.



Information about the awards (including a list of previous recipients) is available on the FAHS website: www.history.org.au/Merit%20Award.html

The guidelines (in PDF format) and nomination form (in PDF and DOC format) can be downloaded from the website.
---
FAHS Survey on Collections is Open

Thanks to the many societies across Australia who have responded to the FAHS survey on collections. This information will assist the FAHS in its work of promoting society needs and interests, and of seeking recognition and support from government and the community.

We encourage all societies to fill in the survey even if your collection is small or only partially catalogued.

Follow the link here https://www.surveymonkey.com/r/ZWLYLTN

Your responses help to ensure that local objects and community stories survive into the future along with documents and artefacts of national significance held in your collections.

Contact fahsbflynn@gmail.com for help in completing the survey
---
The FAHS History Clinic Open - Tuesday afternoons by appointment
FAHS Outreach Office History Clinic is Open
The Dr is in the house Tuesdays 1pm-4pm by appointment
Want help setting up email campaigns?

Need advice on scanning, image resolution, data management ?

Confused about how to develop an interpretation plan ?

Trying to sort out the web; Facebook; Flickr; Instagram ?

Dr Bernadette Flynn the FAHS Outreach Office is available at History Clinic to assist with practical questions about running your historical society. Dr Flynn has professional expertise in image management, video, multimedia and has a particular interest in activating collections and historical interpretation.

Lodge a request via email and book in for a session fahsbflynn@gmail.com
Sessions will be conducted online.

Further Information fahsbflynn@gmail.com or phone 02 4377-1682
---
Trove Roadshow - Improving the Discoverability of Collections
May and June 2017
Join the Trove team as they help you find out more about making your organisation's content available in Trove, improving the discovery of your collection, and options for digitisation.
There will be two separate presentations in each location - one for larger organisations (collections larger than 20,000 digital items) and another for smaller organisations.
Larger organisations - find out how to make your collections available, increase the number of your collections within Trove and improve how easy it is to find existing collections. There will be information on how to become a digitisation partner and tips about advanced features.
Smaller organisations - find out how to make your collections available online via Trove. There will be information about resources you can use to prepare your collection, information on copyright and the digitisation process. There will also be an explanation of how Trove collects material.
Each event will include a 1-hour presentation, light refreshments and a Q&A session.
---
Australian Heritage Festival, 18 April – 21 May

18th April - 21st May Australian Heritage Festival

Every April and May the National Trust and thousands of event organisers and volunteers across Australia invite you to more than 1,100 events, which celebrate our fantastic heritage, history and culture. For four weeks from April 18, you can join thousands of visitors enjoying Australia's largest grass roots heritage festival. Show your support for cultural and historic assets from around the country and join the fun. Click here to explore the Heritage Festival website.

History Societies and Heritage Centres all over the country are hosting events. Below are a couple of them:

Isis District Historical Society Open Day Childers, QLD
13th May, Visit the Isis District historical complex and see a varied collection of items. Enjoy conversation with volunteers, whilst perusing old newspapers and laugh at how news was written 'in the old days'. Reminisce about the photos on display.

Open Day at Henry Kendall Cottage & Historical Museum, West Gosford, NSW
22nd April, Guest speaker Michael Wilding Emeritus Professor of English and Australian Literature, University of Sydney, and author of 'Wild Bleak Bohemia: Marcus Clarke, Adam Lindsay Gordon and Henry Kendall' will speak at 11am.

West Coast Heritage Centre, Zeehan, Tasmania
During May, From Mines and Memories to Trains and Treasures, the West Coast Heritage Centre offers a unique insight to the history of the West Coast of Tasmania. Featuring photographic galleries, classic locomotives, mining machinery, blacksmith and wheelwright workshop, marine display, world class mineral collection, freemasons display, pioneer women's gallery and the historic Gaiety Theatre, considered one of the West Coast's grandest buildings.

https://www.nationaltrust.org.au/ahf/
Electronic Mutoscope used for showing Collections
South Australian Historical images now showing on the Electronic Mutoscope
Dean Gale recently wrote to the FAHS about his invention - the Electronic Mutoscope. Powered by the Raspberry Pi (a programmable single board computer) the Electronic Mutoscope has been configured to show historical images from the Burra History Group Collection.

The original Mutoscope developed in the 1890s consisted of a roll of pictures that when turned by the viewer appeared to move. Mutoscopes were a popular feature of amusement arcades and seaside piers with versions of 'What the Butler Saw' becoming very popular.

Dean has created a prototype 'What the Burra Saw' which is intended for displaying digitised photographs at the Burra Town Hall in an exciting and interactive way.

Further information on Deans' Electronic Mutoscope
---
Featured Historical Society - The Burra History Group Inc.
Burra is a country town in South Australia located 160km north of Adelaide, with a current population of approximately 1,000 people. The home of the the Ngadjuri of the Mid-North of South Australia the town was named Burra in 1940. Prior to that, the name Burra or Burra Burra (for Burra Burra mine) was used widely.
Records suggest Burra Burra may be from Hindi shepherds (Hindustani for 'great great') but may also be of Scottish origin.
In 2006,
Burra locals
Eric Fuss and Meredith
Satchell
who were both independently researching the history of the area established The Burra History Group
.
Today the Burra History Group has a dozen or so active members with about half of the members engaged in historical research.
In 1993 the township of Burra was placed on the State Heritage Register as a significant historical site, being one of the best preserved mining towns in the state -
between 1845 until 1877 the Burra Burra mine was one of the world's major copper mines, the income from which did much to save the young colony from financial disaster.
The June 2013 FAHS e-Bulletin highlights the work of Mining historian, Dr Peter Bell (a Fellow of the Federation of Australian Historical Societies and a member of the Australasian Mining History Association) who provides an overview of the history of Burra and the built environment.
Burra's mining history has been relatively well documented so the group's research activity has focused on the next period, 1877 to the present.
Being aware of the challenges of collecting and preserving material items, the group does not hold any physical records. Once scanned, borrowed items of significance are returned. The group now has a large digitised collection of locally significant documents and photographs including:
Burra Families database; summaries of the Burra Record (local newspaper from 1876 to 1977); obituaries from the Burra Record, and transcriptions of Frank Treloar's articles on the history of the mines in the late 1800s and early 1900s.
The Burra History Group website offers an historical timeline and guidelines on family history research. It also documents other community heritage projects and initiatives. Examples include: Restoration of the Burra Railway Station; Burra Heritage Trial and the Booborowie History Walk. Items from the collection could be obtained from the Burra Community Library or from the Burra History Group at the Burra Town Hall.

Image: L: Photographic Exhibition at Burra town hall; M: Burra Volunteer Service Detachment form a guard of honour during WWII; R: Luke Day (Chinese Market Gardener) late 1800s.
The
Burra History Group
secretary
Eric Fuss considers the main contribution of the group is to promote and preserve a knowledge of the history of the town and to act as a protector of historical buildings and records.
The town depends on tourism and the group contributes to this through interpretation of historical records and 'getting the history right'. Changing photographic exhibitions from the collection are on display at the Burra town hall, the latest being 'Vanished Burra'.
The Burra History Group also publishes research. A pictorial book on the history of Burra, 'Burra: A Photographic Journey' is available for sale at the Burra Tourism Information Centre. Another book on the Burra Show Society from 1877 is in the final design stages. Eric considers the challenges of sustainability for small history groups and identifies that a main
challenge is finding people with the interest, time and skills to undertake research.
The Burra History Group meets on the third Thursday of the month at Burra Town Hall.
Location:

Photographic exhibition at

Burra Town Hall, Market Street, Burra
Open daily 11am - 3pm (unless booked for functions). Admission by donation
Website: http://www.burrahistory.info/
Email: burrahistory@aapt.net.au
Telephone: Eric Fuss on (08) 8892-2597 or Meredith Satchell on (08) 8892-2210
Sources: Burra History Group website and interview with Eric Fuss (Secretary of the Burrra History Group).
---
Historical Goldfields Photographs Digitised, WA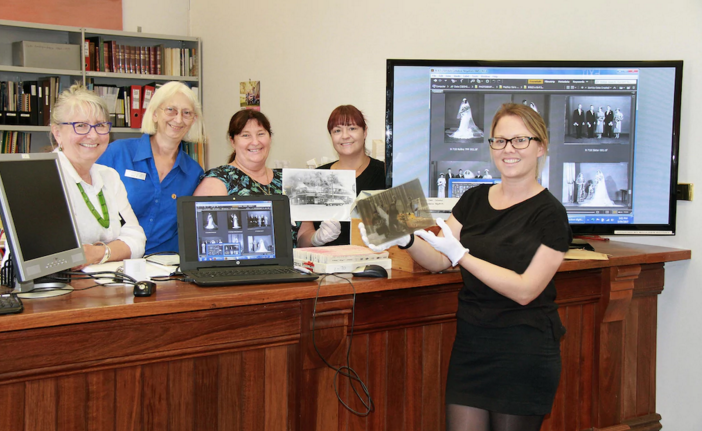 Eastern Goldfields Historical Society workshop with Lucia Pichler, Bev Quartermaine, Carol Volker, Debbie Whiting and Claire Weir. Picture: Mary Meagher

Eastern Goldfields Historical Society project officer Claire Weir is overseeing digitisation of about 50,000 images.

With a degree in photography and work experiences spanning various technical roles within the marketing and photography industries, Ms Weir said the first of a series of workshops, which started on Wednesday, would teach volunteers how to digitise the images. "I will be giving them an overview of the collections, what they contain, going over the naming conventions so that the images are found easily and how to apply metadata," she said.

Only three weeks into the project, Ms Weir said the society had only just begun scratching the surface of the collections, which include negatives dating back 124 years.

"There are a few collections which are critical because they are glass plate negatives, so are very fragile and more susceptible to damage," she said.

"This includes the Mackay Gore collection, which started in 1894 with photographer JJ Dwyer who set up an iconic studio on Hannan Street. "Dwyer sold the studio to Mackay in 1917, who inherited the glass plate negatives and operated the studio until 1934." She said the business was owned by two other photographers between 1942 and 1962, before the collection was donated in 1964. "These collections encompass all of those eras, which include photos from the early pioneering days, a lot of portraits and weddings which are all named."

Among these collections includes photographs taken by Tom Williams, a local photographer in the 50s and 60s, whose work included studio portraits of local identities that she said many people might identify with.

Source: https://thewest.com.au/news/kalgoorlie-miner/historic-goldfields-photographs-digitised-for-posterity-ng-b88436698z
---
Alice Springs Gaol Exhibition 'Relationships'
The Old Alice Springs Gaol Relationships exhibition will open at the Old Alice Springs Gaol, Thursday April 27 from 6-7.30pm.
Source: National Pioneer Womens' Hall of Fame
---
War Heritage Roadshow, Victoria
Do you have wartime artefacts at home?

Do you know their significance or how to care for them?

Learn from Australia's top preservation experts about how to keep your family's wartime heritage items safe in your home for future generations to enjoy, and bring your objects along for personalised advice.
Australia's experience of war, especially in the First and Second World Wars, helped shape our sense of ourselves as a nation and as a community with a distinctive ethos and way of life. To provide opportunities for future generations to understand, investigate and value these experiences, we must ensure that significant material relating to Australia's war heritage is preserved, not just in official national and state institutions, but also in personal, family and community collections.

The Department of Premier and Cabinet – Veterans Branch and the Grimwade Centre for Cultural Materials Conservation are delivering a series of free workshops for the public across Victoria. The workshops will bring Australia's leading experts in preservation for a two-day line-up of free workshops and information sessions.

Bookings are essential via this website: http://arts.unimelb.edu.au/grimwadecentre/engagement/war-heritage-roadshow-2017
---
RHSQ Talk on Colonial Era Guns, QLD
WEDNESDAY LUNCHTIME TALK at RHSQ
All welcome to a talk on 'Colonial era guns' presented by Ian Skennerton.

Firearms specialist Ian Skennerton will give a talk on the guns used by our early settlers. Most of these were war surplus muskets and pistols from various wars in Europe and England.

Followed by light lunch.

When: May 10th, 2017, 12:30PM - 2:00PM
Where: The Commissariat Store, 115 William Street. Brisbane.
Tickets are $25 for RHSQ and ALHS members, and $30 for guests.

Call (07) 3221 4198 to register. Places are limited
---
Bikes used on famous rides donated to Deniliquin DHS Museum
Former Member for Murray for 14 years, Mr Jim Small, this week donated his two bicycles that he famously rode to Sydney in 1993 to promote the Sydney Olympics and around Australia in 1999 to raise funds for cancer, kidney & heart research.

He was 65 years old when he completed his tour d'Australie. No small feat!

He was joined at the official handing over ceremony at the Deniliquin & District Historical Society's museum last Tuesday by his wife Judy, friends and another rider Hans Elkman from Sweden pictured here with Jim. Hans rode with Jim from Canberra (where they met) to Townsville and they have remained the best of friends as a result of that ride.

The bike chosen for the 13,000 kilometre ride was an Italian bike frame called a CIOCC with French wheels and Michelin tyres with Shimano brakes & 16 gears. It cost $3000.

The story of these rides & Jim's life in Deniliquin can be found in his autobiography 'The Small Boy', a copy of which Jim also donated to us.

The Deniliquin & District Historical Society's museum now has four bikes including one belonging to Dr Hosking who rode it on his rounds.
Source: Deniliquin & District Historical Society's Facebook Page
---
RWAHS Tour of Merredin Wheatbelt, WA
'HISTORY OUT & ABOUT' MERREDIN WHEATBELT TOUR

Friday 18th August- Monday 21st August 2017

DEPART BY TRAIN - 7:10 am Friday 18th August, from East Perth Terminal
TRAIN RETURNS - to East Perth Terminal at 1:45 pm Monday 21st August

ALL INCLUSIVE
3 nights accommodation in Merredin (incl. all meals)
Cummins Theatre
Merredin Town & Indigenous tours
2 Day trips - Westonia & Nungarin/Mangowine/Koorda

Secure your place with an Expression of Interest - $100.
Contact the RWAHS office: Phone: 08-9386-3841 Email: office@histwest.org.au
---
Canberra and Region Heritage Festival, 18th April - 7th May
Canberra and Region Heritage Festival: Questions & Change, 18th April - 7th May
The 2017 Canberra and Region Heritage Festival marks the 50th anniversary of the 1967 constitutional referendum that saw Indigenous Australians finally included in the census, and thus as Australian citizens. Consequently the 2017 festival theme 'Questions & Change' will focus on commemorating this historic event as we continue the national conversation around Indigenous inclusion, recognition and celebration of our unique cultural heritage.

The 'sense of place' that heritage provides helps us to understand where we have come from and to define our identity. Heritage gives the community a sense of connection and continuity in the story of progression through time, enabling our journey to continue into the future. 'Questions and Change' also includes the diverse range of voices that make up the Australian identity, particularly from traditionally excluded groups such as Aboriginal, women and non-European Australians.

A sample of events hosted by Historical Societies:
CANBERRA & DISTRICT HISTORICAL SOCIETY - APRIL 29
See and hear about the remarkable 1300 miles of journeys by George Jefferis and John Whelen in the Federal Capital Territory 1926-1931. Multiple copies of this uniquely illustrated 3 volume journal are available for the workshop. Afternoon tea included.

BUNGONIA AND DISTRICT HISTORICAL SOCIETY INC. - APR 29
Entertaining, informative historians Tom Bryant and John Jervis together trace the history of the earliest roads - Argyle and Old South roads from Sydney to Bungonia, Braidwood and the coast. Discover the convict history of Towrang, as we visit the site & examine the structures. Be intrigued by the hall display and ask questions over morning tea and light lunch.

HERALDRY & GENEALOGY SOCIETY OF CANBERRA INC. - 01-03 MAY
Headstones by torchlight in St John's Churchyard? A great opportunity to hear stories of many pioneers buried at this site that predates the nation's capital by almost 70 years. Enjoy a cuppa afterwards in St John's School House Museum (for a gold coin donation). Bring a torch. Groups limited to 20. Some uneven surfaces.
Source: http://www.environment.act.gov.au/heritage/heritage-and-the-community/heritage_festival
---
The Landscape Heritage of Yaralla Estate, Concord, Sydney
RAHS/ASHET Lecture: Yaralla, Concord – its landscape heritage
Join the Australian Society for History of Engineering and Technology (ASHET) and speaker Stuart Read on the evening of Thursday 27 April for a lecture on the 'Yaralla' estate in Concord, Sydney.
Hidden in inner-west Sydney, on the Parramatta River are 2 peninsulae marking the domain of the Walker family: merchant Thomas and only child, Eadith. Both were willed to NSW's people as convalescent hospitals. Yaralla (Dame Eadith Walker Convalescent Hospital)'s expansive grounds are a little-known surprise. Paddocks in Concord (much of it a Walker gift), this 19th c. estate retains many components and quirks: Australia's largest private grotto and earliest private pool.

Venue: History House, 133 Macquarie Street, Sydney
Date and Time: Thursday 27 April @ 5:30pm for 6pm start – 7pm (light refreshments will follow the lecture)
Cost: RAHS/ASHET Members $10/Non-Members $12

Book Here
---
First Fleet Newspaper Reports For Sale
Early English Newspaper Reports of the Progress of the First Fleet for sale.

Robert Heron former archivist to The Press Club in London and consultant in early English newspapers to the Newseum in Washington D.C. has extensive collections of early English, Scottish, Irish, European and American newspapers and their antecedents the newsbooks and news-sheets of the 17th and early 18th centuries.

Amongst these is a collection of London newspaper reports of the progress of the First Fleet and the settlements at Botany Bay and Port Jackson for sale.

Robert has created a simple website to promote this collection at http://www.firstfleetpapers.com and is happy to provide a detailed list of the papers with some low-resolution images of the content and prices.

Contact Robert Heron at robert@firstfleetpapers.com
---
State History Conference, SA
SA State History Conference
Hearts and Minds – revaluing the past
6 – 8 October 2017

Call for Proposals
The History Trust of South Australia is inviting proposals for sessions at the State History Conference to be held 6-8 October 2017, with the main conference venue being Immanuel College, Novar Gardens.

Proposals are invited for sessions, papers, workshops, tours and quick-fire presentations relating aspects of history and historical practice, including, but not limited to the themes noted below.

Conference themes:
In our fast-paced, forward-facing world, why does the past matter? What value does history have for us? How does a study of the past and the application of historical skills bring value to our community? How can we do it better? What challenges do we face and how can we innovate?
Research and knowledge: the intrinsic value of knowing about the past
Sessions in this theme might focus on new research and understanding of the past or new interpretations. They might explore local histories and local experiences of wider events.
Tourism and Leisure: the economic value of history
Sessions in this theme might explore possibilities and successes in heritage tourism or explore examples of innovation in interpretation or programs.
Health and Wellbeing: the social value of history
Sessions in this theme might explore research or projects which have demonstrated benefits to health and wellbeing in activities such as reminiscence and placemaking.
Sharing history: how do we meet the needs of our audiences?
Sessions in this theme might focus on different ways we can share our history using methods that are valued by our audiences.

Closing date for proposals is Sunday 30 April.

For more information on conference themes and how to submit a proposal, click here.
---
National Library Community Heritage Grants Open
The NLA Community Heritage Grants (CHG) program provides grants of up to $15,000 to community organisations such as libraries, archives, museums, genealogical and historical societies, multicultural and Indigenous groups. The grants are provided to assist with the preservation of locally owned, but nationally significant collections of materials that are publicly accessible including artefacts, letters, diaries, maps, photographs, and audio visual material.

The types of projects supported include:

Significance assessments of collections
Preservation needs assessments of collections
Conservation activities and collection management
Training workshops

In 2016, 77 grants were awarded to many historical society recipients including:
Australian Jewish Historical Society - Significance assessment of the Sydney Jewish Archives
Deniliquin & District Historical Society Inc - Preservation needs assessment of the collection
Coober Pedy Historical Society Inc - Collection Management Software purchase and training, computer purchase
Australian Lesbian and Gay Archives Inc – Digitisation of the audiovisual collection
Friends of the Launceston Mechanics' Institute Inc - Conservation Training Workshop
Bathurst District Historical Society - Significance assessment of the Museum Historical Photograph Collection
Broome Historical Society Inc - Preservation needs assessment of the collection
Swan Guildford Historical Society Inc - Archival storage equipment purchase for the textile and archive collections
Guidelines and application form: https://www.nla.gov.au/chg/guidelines
---
The FAHS e-Bulletin, No. 162,
26th April 2017