Did you know we have a Facebook page?
Like us and send in what's happening in your history society and heritage group
https://www.facebook.com/FederationAHS

Post on history matters and campaigns
#Historymatters

Spread the news
#FAHS news - Awards and Advocacy
Community Heritage and History

#What's the buzz - Up and coming

#Weekly archive - Photographs and objects from the archive
Nominations for the FAHS Merit Award 2017
Nominations for the FAHS Merit Awards for 2017 close on 30 June 2017

The Merit Awards are awarded as recognition of a meritorious contribution to the community history and heritage movement nationally and/or in more than one State or Territory and/or a contribution at State/Territory level which has had national implications.

Information about the awards (including a list of previous recipients) is available on the FAHS website: www.history.org.au/Merit%20Award.html

The guidelines (in PDF format) and nomination form (in PDF and DOC format) can be downloaded from the website.
---
Labor's Five Point Plan for Heritage Protection
In a speech delivered at Parliament House to mark World Heritage Day and the 40th anniversary of the NSW Heritage Act, the Opposition Leader, Mr. Luke Foley, outlined a 5 Point Plan for the protection of the state's significant heritage, which includes:

1. Develop and deliver the first-ever NSW State Heritage Strategy.
2. Remove the ability of the State Government itself to use the economic hardship provision of the Heritage Act to refuse a building heritage protection.
3. Stop a Heritage Minister ignoring out of hand a recommendation from the Heritage Council to protect a particular place, by introducing a public hearing to allow the advocates for preservation another opportunity to make their case.
4. Restore the Office of Heritage within the Department of Premier and Cabinet so that heritage issues are at the centre of government decision-making.
5. Relocate the Office of the Premier and the Cabinet room to one of Sydney's pre-eminent public buildings, the Chief Secretary's building on the corner of Bridge and Macquarie streets.

More detail of this plan can be found in his full speech here.
A Labor Government will deliver New South Wales' first ever State Heritage Strategy, beef up the state's Heritage Act and restore a strengthened Office of Heritage to the centre of Government, Labor leader Luke Foley announced today.
Source: http://www.asha.org.au/news/labor-s-five-point-plan-for-heritage-protection
---
Featured Historical Society - Queanbeyan & District Historical Museum Society Inc.
Queanbeyan & District Historical Museum Society (QDHMS) is based in NSW close to the ACT border. Located in the historic Police Sergeant's Residence (1876) the society previously ran a house museum but now attracts visitors through permanent and changing exhibitions and engages the local community through events, lectures, and workshops. Most recently QDHMS ran workshops in Caring for your Family Collections ; Scrapbooking your Memories; Writing and Researching History and Oral History and regularly run schools' programs.



QDHMS

manages a collection of around 1,500 museum artefacts and objects, over 2,000 photographs, Queanbeyan related registers, local histories, and the archival records of the society. The Mission of the Queanbeyan Museum is to express the sense of history, place and identity in the Queanbeyan region. A formal collections policy guides what gets accessioned based on a commitment to collect material for both exhibition and research. Interlocking themes include migration and settlement; women and the local Aboriginal language groups with specific themes providing the direction for future developments. QDHMS has also developed an online exhibition 45 Pieces of Queanbeyan. This showcases some of the quirky and significant collection items including a silver nickel ceremonial trowel from the Queanbeyan Temperance Hall with inscription, decorated flowers and leaves.



Image: L: Exhibition in the Building Queanbeyan Room; R: Collection Storage area
Being close to the ACT has helped in developing cooperative relationships with the national cultural institutions and archives and obtaining volunteer help from university students studying history and museum practice. Most importantly QDHMS have developed a supportive relationship with the Queanbeyan-Palerang Regional Council and are recognised within the council's strategic plan. The Council has donated the land and provides funding for a part time museum assistant who is working to catalogue the collection using Collections Mosaic.

One of QDHMS's strategies for success is to focus on visitor numbers and how the museum looks. Committee member's have experience in grant writing and have taken up museum training opportunities (a M&GNSW museum standards program was undertaken in 2011). QDHMS has 25 or so active members and undertakes active recruitment including advertising for volunteers at the library and the museum's open day. Like many other historical societies QDHMS is always looking to attract more active members and they suggest to 'Go with the enthusiasm'. Museum Volunteers Training is in place on a regular basis and members get together once a month. Members also receive a newsletter and the
journal QUINBEAN (the society historical journal now in its 11th year is published three issues a year).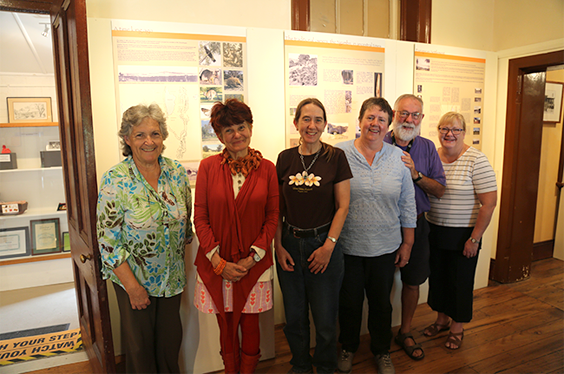 F

AHS outreach officer (second from left) visited the Queanbeyan & District Historical Museum Society and was delighted to meet the committee members and volunteers: L to R: Museum Volunteer Carolyn Newman; FAHS Outreach Officer Bernadette Flynn; Committee Member Lee Davy; Secretary Kerrie Ruth, President John McGlynn, Museum Volunteer Heather Thomson.
Location
: The historic Police Sergeant's Residence, 10 Farrer Pl, Queanbeyan.
Open
: 1-4 every weekend (except for Christmas and public Holidays). Admission is Free.
Website:
https://queanbeyanmuseum.org.au/
Email
: qbnmuseum@yahoo.com.au
Telephone
: 6299 7449 during opening hours 1pm-4pm Saturdays and Sundays.
Sources:

Queanbeyan & District Historical Museum Society

website and interview. The outreach officer visited the museum in March 2017 and met with President John McGlynn, Secretary Kerrie Ruth, Librarian Marilyn Folger and Member Lee Davey.
---
National Trust Heritage Awards - Kinchela Boys Home Site
Congratulations to the National Trust Heritage Festival 2017 winners

One of the NSW awards for Research and Investigation – Unlocking the Past is a Conservation Management Plan (CMP) that tells the stories of former Kinchela Boys Home survivors and explores how this place may play a role in their journey of healing.

The site of the former Kinchela Boys Home is of deep significance to its survivors, their families and communities with memories, stories and associations, both difficult and otherwise, embodied in the place itself. As part of a long and complex healing process, the site and its deeply personal values must be made known to, and respected by, wider Australia.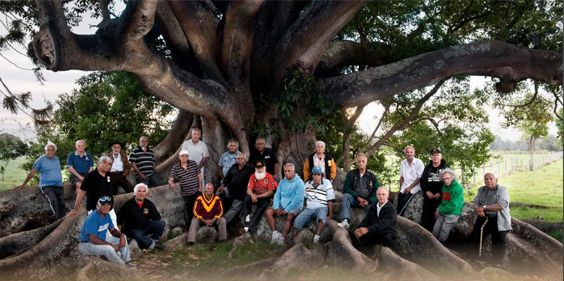 This is not a conventional Conservation Management Plan (CMP). This CMP seeks to capture the deeply personal importance of the former Kinchela Boys Home (KBH) site to survivors, their families and communities – wherever possible, in their own words. The CMP then offers ways to ensure that these values are retained, honoured, and where possible reinforced so that the significance of this place is understood by all of Australia and those visiting the site. As such, the methodology and structure of this CMP have been shaped by the explorations, investigations, workshops and meetings that were undertaken throughout the course of its preparation.

The process of research and drafting of this Conservation Management Plan has been one of close collaboration between consultant, Kinchela Boys Home survivors and members of the Kinchela Boys Home Aboriginal Corporation, facilitated through site visits, workshops, meetings and interviews. The process itself mirrors very closely the journey of many Kinchela Boys Home survivors that has been happening in parallel with preparation of this CMP. This journey involves re-connecting with the former Kinchela Boys Home site, understanding it and telling its stories, defining what is important about it, and then projecting forward into the future to explore how it may play a role in the journey of healing.

What the award judges said:
'Heartbreaking and necessary exploration of the past as the title suggests. We all know that we must embrace all aspects of our past if we are to 'free the future' but it can be a daunting challenge to do so. This CMP tells the stories of the role this place played in the 400-600 Aboriginal children from the Stolen Generation that were housed at Kinchela but ultimately it is a story about surviving and healing.'

https://www.nationaltrust.org.au/research-and-investigation-unlocking-the-past/
---
Blue Shield - Disaster Preparedness during May
The Meaning of Blue Shield MayDay

MayDay for cultural heritage fuses two concepts - the distress signal, and the first day of May – in order to create a memorable calendar date for events that improve disaster preparedness in archives, galleries, libraries and museums.
About Blue Shield
Blue Shield is the cultural equivalent of Red Cross, and works to protect the world's cultural heritage threatened by wars and natural disasters.
Blue Shield Australia is recognised by the International Committee of the Blue Shield as its Australian national committee. The committee is a federation of the Australian representatives of four of the pillar bodies of the International Committee of the Blue Shield: the International Council on Archives, the International Council of Museums, the International Council on Monuments and Sites, and the International Federation of Library Associations.
This May, take at least one of the following steps to prepare your organisation for emergency prevention, preparedness, response and recovery.
• Arrange or participate in an emergency response training day on firefighting, crowd control, flood water management etc.
• Attend a course on business continuity planning, a conference on resilience, or a workshop on emergency preparedness
• Consider the protection offered by your storage facilities – and plan to build safer repositories
• Dust off your counter-disaster plan and make sure it's current, or make a timeline for developing one, using Be Prepared: Guidelines for writing a disaster preparedness plan:
https://aiccm.org.au/sites/default/files/docs/CAN_resources2014/beprepared.pdf
• Familiarise yourself with Blue Shield Australia's website – particularly the disaster management page regarding emergency prevention & preparedness, plus response and recovery – and share the information with your colleagues
• Find a 'partner' heritage organisation to work with in case of an emergency. A model for collaboration is DISACT: https://www.anbg.gov.au/disact/mou.html
• Get to know your local firefighters, police and state emergency service – invite them to tour your organisation to give you pointers on safety and preparedness
• Identify and prioritise your important collection items and heritage sites
• Identify the three biggest risks to your collection or heritage site
• Subscribe to the Blue Shield Australia website for the latest events, news and resources http://www.blueshieldaustralia.org.au
---
The Making Public Histories seminar series, Victoria
The Making Public Histories seminar series, now in its tenth year and offered jointly by the Monash University History Program, the History Council of Victoria and the Old Treasury Building, explores issues and approaches in making public histories and is open to anyone interested in the creation and impact of history in contemporary society.

The audience is diverse, ranging from professional, academic and community historians through to anyone interested in the creation, use and impact of history. The seminars respond to themes such as: new exhibitions or historical anniversaries; historical controversies; innovative ways of researching, producing and disseminating history; and history in different media. From time to time the seminars showcase visiting historians from overseas or interstate whose work will engage a Victorian audience.

The 2017 series is presented at the Old Treasury Building in Spring Street, Melbourne. Each seminar runs from 6.00 pm to 7.30 pm and there is no charge to attend.
---
Launch of new book on Public Transport Scandals 1872-1895
L: Shady Acres Book Cover; R: RAHS President Associate Professor Carol Liston AO, Guest Speaker Dr Robert Freestone, and Shady Acres editor Joy Hughes, at the publication launch at History House on Friday 21st April. (Photograph: S. Holohan).
Dr Robert Freestone, Professor of Planning (City Planning, Urban Typologies) at the University New South Wales formally launched Shady Acres: Politicians, Developers and Sydney's Public Transport Scandals 1872-1895 by the late Dr Lesley Muir on Friday 21st April 2017.
Lesley Muir's book investigates political corruption, developer donations and the impact of powerful lobby groups on the design and construction of Sydney's metropolitan railway and tramway network in the 19th century



With an introduction by Elizabeth Farrelly, Shady Acres foreshadows the transport shortcomings that the city and its suburbs endure today.
Brian Madden's children, Peter Madden, John Madden and Robyn Madden, together with Lesley's cousin John Dean, assigned copyright of the publication to the RAHS. The RAHS Council has decided to use proceeds from the sales to support future publication projects, and to therefore have an ongoing facility to disseminate more Australian history.
Shady Acres is available to purchase online for $45 plus postage – click here.
Source: RAHS enews
---
New book - Australia's Last Convicts - Reprobates, Rogues and Recidivists
The Friends of Battye Library Inc. in association with the State Records Office of Western Australia have just published an important new history book Australia's Last Convicts: Reprobates, Rogues and Recidivists which was compiled and written by Lorraine Clarke and Cherie Strickland of Swan Genealogy.

To purchase the book please go to www.friendsofbattyelibrary.org.au
The book features photographs taken between the late 1880s to 1912 of 74 men who had been transported to Western Australia and who, after serving their original sentences, ended back in Fremantle prison for a variety of crimes. Lorraine and Cherie have meticulously researched the lives of these men and the result is a fascinating collection of biographies.

As Pamela Statham Drew noted in the book's Introduction, 'It is quite remarkable to have photographs of actual convicts who were transported from Britain between 1850 and 1868' and concluded: The Friends of Battye Library are proud to have been associated with this outstanding project undertaken by Lorraine Clarke and Cherie Strickland.

The publication grew out of the work of Lorraine Clarke and Cherie Strickland on the Guide to convict records which was sponsored by the Friends and launched on their website early in 2016.



Source: The Friends of Battye Library Inc.
---
RWAHS Annual State Conference of Affiliated Societies
Registrations now open

Wanneroo - Where History Meets Today

8th to 10th September 2017
Contact: margaret@Inet.net.au or birchmont21@hotmail.com

Proudly Hosted by Wanneroo Historical Society Inc.
---
Oral History Australia Conference, Sydney
Oral History Australia Conference is on in Sydney from 13 - 16 September 2017

The conference committee want to make this conference a rewarding experience for you so we asked ourselves:
'Why do we attend oral history conferences?'
To learn about current work in our field in Australia and overseas to present our own work, explore how it makes a contribution, and exchange ideas with others
To learn about how oral history is being used in different ways across museums, galleries, libraries, archives, universities, historical consultancies and within families
To catch up with old friends and make new ones.
We aim to provide a conference that stimulates, energises and inspires you. So come along in 2017 and help us make it that way.

Registration is now open. Early bird registration by Friday 30 June
Fro further information Click here
---
Fellowships State Library of NSW
Could you unearth an extraordinary Australian story?
The State Library of NSW is offering $160,000 in paid research fellowships!

The extensive Fellowships program supports original research that seeks to discover or offer new perspectives on Australian history and culture. The range of subject areas is endless - sport, religion, popular culture, architecture, law.

All Fellows enjoy special access to the Library's rich collection and a dedicated space for scholarly research and debate.

Applications for all State Library Fellowships close 11.59pm, 17 July 2017.

For more information and to apply, visit www.sl.nsw.gov.au/fellowships
---
The FAHS e-Bulletin, No. 163,
31st May 2017