Nominations for the FAHS Merit Award 2017
Nominations for the FAHS Merit Awards for 2017 close on 30 June 2017

The Merit Awards are awarded as recognition of a meritorious contribution to the community history and heritage movement nationally and/or in more than one State or Territory and/or a contribution at State/Territory level which has had national implications.

Information about the awards (including a list of previous recipients) is available on the FAHS website: www.history.org.au/Merit%20Award.html

The guidelines (in PDF format) and nomination form (in PDF and DOC format) can be downloaded from the website.
---
GLAM Peak Digital Access awarded $294,500

GLAM (Galleries, Libraries, Archives & Museums) Peak Bodies group has received funding under the Partnerships and Collaboration stream of Catalyst.

GLAM Peak Bodies is a grouping of Australia's main cultural heritage institutions that is devoted to achieving the digitisation of Australia's cultural collections. FAHS is a member of the group, which is recognition of the very significant proportion of Australia's distributed national collection that is held by community history and heritage organisations.

Stage 2 strategies proposed for the funding through Catalyst:

1. Dissemination of the framework, evidence base and toolkit; Delivery of training sessions in 10 regional centres ; Access to technology and software providers
2. Digital access plans for each State and Territory
3. Consumer-facing campaign raising awareness of digital access to collection.

---
12 Month Project Manager Position with GLAM Peak
Opportunity to play a leading role in a game-changing initiative for the cultural sector.

GLAM Peak is seeking a Project Manager to be part of the leadership team that delivers the Digital Access to Collections Project, Stage 2, July 2017 - June 2018.
This is a full-time contract position for 12 months based in Canberra at Museums Galleries Australia, and travelling to at least ten locations around Australia.

The Project Manager will work with small and medium-size galleries, libraries, archives, museums and historical societies, to improve their skills and capability to put their important cultural collections online. Training materials will be based on the Principles and Toolkit developed in Stage 1 of the project, http://www.digitalcollections.org.au/toolkit and the workshops across the country will be supported by in-kind contributions from more than 10 technology partners.

The Project Manager must be a great communicator, tech savvy, with excellent presenting and writing skills, a negotiator, able to work independently and with many different partners, and experienced in the cultural collections landscape in Australia. Experience in education and training is desirable, although there is also funding for specialists to deliver training.

The Project Manager will plan, promote, help deliver and evaluate regional workshops in ten locations and continue the development of online educational resources to support ongoing learning across the sector. The project is funded by a federal government Catalyst grant and includes the resourcing required to support the different parts of the project.

For more information and a position description, please contact Alex Marsden, National Director, Museums Galleries Australia director@museumsaustralia.org.au or Lee Scott, Operations Manager, manager@museumsaustralia.org.au.

Applications are due by 14 June 2017.
---
Featured Historical Society - Coburg Historical Society
Coburg Historical Society was established in 1972 to research and preserve the history and historic buildings of Coburg, Victoria.
The Coburg Historical Society is located in a bluestone cottage dating back to 1864 (on the register of Victorian Historic Buildings). It houses a range of local history material, including extensive records of early land transactions in Coburg and Pentridge, photographs of the district and of Pentridge Prison. Artefacts relating to early Coburg are displayed and include two sets of Coburg Mayoral Robes and Town Clerk's Robes. Other displays include memorabilia from World War I and II and a cottage kitchen restored to its original state. The building includes a large annex, which contains a large collection of Pentridge Gaol memorabilia. All doors, padlocks, handcuffs, photographs, record books of prisoners, and signage were given to Coburg Historical Society by the people who conducted tours prior to the gaol closing in 1997.
The society has worked very hard over the last 5 to 6 years to respond to the changing needs of historical societies by developing an inviting public interface. This includes welcoming younger professionals into the society who have brought in a range of skills including museum and exhibition expertise. The model of 'less is more' is now employed for changing exhibitions including a new exhibition about Coburg Lake for temporary display
.
A travelling exhibit of
six banners and related materials has been designed to travel
to local libraries and other spaces. One of the volunteers is also working remotely to develop an online exhibition on the Lake
.
The project is
exemplary
in
involving the local community through
memories or stories collected about the lake and in obtaining the support of the Moreland city council open space planning team; Moreland libraries; Museums Australia roving curator and local rotary clubs.
A
n associated public program is proposed at the lake itself in summer
The exhibition opens at Coburg Society's
Bluestone Cottage Museum
on 30th July to coincide with Open House, Melbourne.
Photograph: 1928 Coburg Lake looking northeast from Murray road
A focus of the society is sustainability. Cheryl Griffin, the secretary of the society outlined some of the ideas proposed for securing the future of the society including: the cultivation of a virtual presence; development of educational tools and forming strategic alliances. She recognises that the multicultural community is not reflected in the collection and that this needs to be

thoughtfully

redressed. A future exhibition proposal focuses on the Chinese in Coburg.
Cheryl mentions a few of the challenges faced by the society. One is finding members able to attend to the time consuming task of cataloguing
the 3,000 or so objects, 3,000 photographs and extensive research based documentation
. Three years ago there was nothing in writing. Faced with the dilemma of finding uncataloged items Cheryl started the process of building up a basic catalogue and inventory. With 70 members of which about 12 are active another challenge is finding people willing to take on leadership roles. The loss of knowledge when a long term member leaves is another concern, which is being addressed through increased documentation. Cheryl observes that over half of the members live outside the council area and a recent focus has been on the use of online collaborative writing tools and shared
repositories
for working documents and images.
Coburg Historical Society
Location
: Bluestone Cottage Museum, 82 Bell Street, Coburg, Melbourne
Open
: The museum is open every Friday from midday until 2pm and on the 1st Sunday of the month from 2pm to 4.30pm.
Facebook:
https://www.facebook.com/CoburgHistoricalSociety
Email
:
coburg_historical_society@yahoo.com.au
Meetings are held on the 3rd Wednesday of the month at 8pm (except December and January) at the Coburg Library Meeting Room, corner of Louisa and Victoria Streets, Coburg. Enter via Victoria Mall.
Sources:

Coburg Historical Society website and interview. The outreach officer visited the museum in October 2016 and met with Secretary and Treasurer Cheryl Griffin. A further interview was conducted in June 2017.
---
Restoration of Moonee Ponds Courthouse - $1.5 Million Grant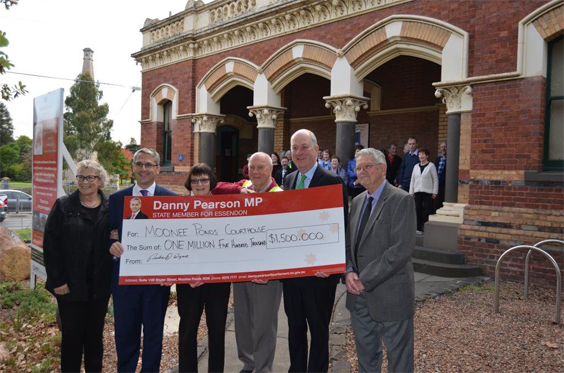 On 26 May 2017, the State Government Minister for Planning, Richard Wynne, and the Member for Essendon, Danny Pearson, announced a grant of $1.5 million for the restoration of the Moonee Ponds Courthouse. This funding is in addition to the $400,000 which has already been promised.

The former Moonee Ponds Court House was built in 1890 and operated as a court house until the mid-1970s. In 2016, fire engulfed the heritage-listed building, destroying the roof and damaging the period timber woodwork. It remains in a state of disrepair.

From Minister Richard Wynne: Nothing says Moonee Ponds like the Moonee Ponds Court House. It's the community's history and its story and we must protect it for future generations to cherish.

From Danny Pearson, MP: When the Moonee Ponds Court House was engulfed by fire we knew we had to act. . . . The Essendon Historical Society was determined to pick up the pieces and once again become a valued resource our whole community can enjoy. We're glad to have helped them.

From Bob Chalmers EHS President, in thanking Minister Wynne: This cheque will finally enable us to put a roof on our courthouse building and will go a long way towards restoring the courthouse to something like its former splendour.

In thanking Danny Pearson MP, Bob Chalmers said: Thank you Danny for your great support to the Essendon Historical Society and fighting to secure the funds that we
badly needed to save the building.

It should be noted that in being granted this funding, a significant factor was the amount of community support which has been shown. So thank you to all the contributors for your donations and letters!



Source: Press Release, Mary Cahill, Secretary of the Essendon Historical Society (EHS)
---
Parramatta Female Factory Archaeology
Excavations continue at various sites across Parramatta including the Parramatta Female Factory, as part of UrbanGrowth NSW's Parramatta North Urban Transformation Program. The program aims to conserve and better understand the area's heritage and will continue late into 2017.

Recent archaeology work at the Female Factory is revealing for the first time in 200 years some of the factory story through stone and objects. The Parramatta Female Factory is the largest and oldest surviving convict women's site in Australia. Built by convict men, this multipurpose institution served the Colony of New South Wales between 1821 and c.1848 as a refuge for women, children, elderly and sick women; a marriage bureau; a place of assignment and moral reform; a penitentiary; a women's hospital for the convicted as well as the free; and a workhouse all rolled into one. (Michaela Ann Cameron).

'Archaeological digs this week have uncovered what the community have long known — that the Heritage Precinct in North Parramatta is a precinct worthy of World Heritage listing for its unique indigenous and colonial significance,' Parramatta Female Factory Friends president June Bullivant said.

Image: Gay Hendricks
Sources: http://www.asha.org.au/news/excavation-news-urbangrowth-nsw
http://www.dailytelegraph.com.au/newslocal/parramatta/archaeologists-dig-up-controversy-at-historic-north-parramatta-site/news-story/3691ffa2733b19a710743b563a58f97a
---
JD Kerr Medal Awarded, QLD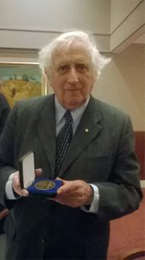 Emeritus Professor Geoffrey Blainey AC
The winner of the JD Kerr Medal for Distinction in research and writing Queensland or Australian history was awarded to Emeritus Professor Geoffrey Blainey AC.

The award acknowledges Professor Blainey's excellence in historiography, historical research and writing.

The award was made at the Queensland Day Dinner held at the Brisbane Club on June 6th with 95 people including HE the Governor attending.



The full citation of the award can be found here
History Workshop - Orange Readers and Writers Festival
Voices from the past: Uncovering local and personal stories

History Council of NSW and Central West Libraries presents an all-day workshop at the 2017 Orange Readers & Writers Festival. Speakers: Alison Wishart (State Library of NSW), Carrolline Rhodes (author), Marian Lorrison (PhD Candidate, Macquarie University) and Trudi Mayfield (Orange City Library).

How do we reconstruct historical narratives about our communities? How do we tell stories of people long gone and largely absent from historical records? The increasing popularity and accessibility of family history, memoir and historical fiction reveals how storytelling can empower communities, give voice to their diverse histories, and encourage the documentation of local history.

When: Friday 21 July 2017, 10am-3:30pm
Where: Media Room, Hotel Canobolas
248 Summer Street, Orange NSW 2800
Cost: $35 ($10 discounted student tickets available)

Book here or contact History Council admin@historycouncilnsw.org.au
Morning tea will be provided as well as tea and coffee refreshments in the afternoon.
---
Showcasing Community Collections, Tasmania
10 Objects – 10 Stories: Celebrating Community Collections
Image: Bear from the collection of the Wynyard RSL Museum, 1920s. The teddy bear belonged to Alexander George Innes II, a Gunner with the 2/8 Field regiment, AIF Abroad who fought in the Battle of El Alamein. He took this coveted childhood toy with him when he served overseas.
The 10 Objects – 10 Stories: Celebrating Community Collections exhibition will be on show at the Queen Victoria Museum at Inveresk, Launceston from 3 June until 23 July 2017.

The exhibition presents a remarkable range of objects selected from small museums and collections around the state. These objects uncover hidden and often personal stories that add to the rich cultural and social history of Tasmania. The exhibition has been curated by Arts Tasmania's Roving Curators, Melissa Smith and Veronica Macno - go along to the exhibition, view the objects and immerse yourself in their stories.

Free, Open 10am to 4pm daily
---
Grants to Preserve Queensland Heritage
Community Sustainability Action grants – Round 2 Heritage Conservation.

Applications now open!
Grants of up to $50,000 are available for projects which seek to conserve and restore Queensland's heritage-listed sites. Grants of up to $15,000 are also available for the preparation of new, or review of existing Conservation Management Plans.

Activities funded under the grant program may include urgent repair works, roofing, stumping, painting, point work and other similar repair works.

To receive funding, the site must be registered on the Queensland Heritage Register or on a local government heritage register. Funding will be provided to individual owners of heritage-listed sites and organisations that are responsible for managing the sites. Funding will also be provided to Local Government Agencies identified under Category 1 of the Remuneration Schedule of the Local Government Remuneration and Discipline Tribunal Report 2016.

Applications close 4:00pm, 20 June 2017.

More information about the grant program, including program guidelines and the application form can be found on the Queensland Government website. For more information, email the Community Sustainability Action grants team csagrants@ehp.qld.gov.au
.
---
Preconvict Perth with Speaker Dr Steve Errington
Date: Friday 7 July at 10.00 am
Venue: Stirling House 49 Broadway Nedlands
At the time of the October 1848 census the population of Perth was only 1148. What shape had the little town taken in the nearly twenty years since Mrs Dance had cut down the first tree? What facilities were there, and what was life like for the residents? Dr Errington will try to answer these questions using contemporary sources.
Cost: $10 per person
Bookings essential. Tel: 08 9386 3841 Email:admin@histwest.org.au
https://www.histwest.org.au/activities/pre-convict-perth
---
Exhibition at Daylesford & District Historical Society
Three Lost Children, 150th Anniversary
June 2017 is the 150th anniversary of the disappearance of William Graham (age 6), his brother, Thomas (age 4) and Alfred Burman (age 5). A display and book commemorate this tragic event.

Saturdays and Sundays 1.30pm - 4.30pm from 30th June
100, Vincent Street, Daylesford
History of Education Conference, Canberra

Conference on the joint work of historians and museums is being held at the Inspire Centre, University of Canberra.

Sunday 24 to Wednesday 27 September
'Powerful Narratives and Compelling Explanations'

Joint Conference of the Australian & New Zealand History of Education Society (AHZHES) and Australian National Museum of Education (ANME)

The conference will be of interest to history teachers and there is strong participation from schoolhouse and education museums in and beyond the ACT. There are papers directly addressing the teaching of history as well as papers addressing the following themes:
Education and its role in nation building
Narrative, explanation and interpretation
Museums and popular history
Biography and history
The conference is expected to have about 50-60 registrants, a small enough group for plenty of interaction. Keynote speakers include Kay Morris Matthews and Eloise Wallace on a joint New Zealand project between a historian and a museum, Alex Marsden on museums and popular history, Geoffrey Riordan on the history of school-based teacher education, Tanya Fitzgerald on women academics and early twentieth century transnational exchange, and Lyndsay Connors on her life in national educational politics 'From Karmel to Gonski'.

More details can be found at http://www.anzhes.com/
Craig Campbell, Conference Co-convenor
---
ANZHES Oral History Fellowship
Research Opportunity: ANZHES Oral History Fellowship - $15,000
ANZHES is seeking a suitably qualified Early Career Researchers to assume the position of ANZHES Oral History Fellow to manage the ANZHES Oral History Project.
The project will collect oral histories and other memorabilia from former and current members who volunteer to participate.
Click here for further details about how to apply and the scope of the project.
If you are interested in finding out more about the project, would like to be interviewed, or have recommendations for people we should contact for interviews or for further information, please get in touch with either Julie or Rosie. j.mcleod@unimelb.edu.au, (03) 8344 3455 rbarron@student.unimelb.edu.au
Applications close on Sunday 30 July 2017.
---
South Australian History Fund
The South Australian History Fund (SAHF) is an annual grant program offered by the History Trust of South Australia Funding is available for History grants and Training & Development grants. Total funding available this year is $50,000.

Applications for the 2017-18 grant round open on Tuesday 13 June 2017 and close on Tuesday 25 July 2017. Applicants are welcome to call the History Trust to discuss potential applications and their eligibility to apply on 08 8203 9888.

A list of past South Australian History Fund (SAHF) grant recipients can be found here.
Further information and resources http://community.history.sa.gov.au/content/south-australian-history-fund
The FAHS e-Bulletin, No. 164,
12th June 2017