Photos: Sharpe's track with sections of stone retaining walls

The FAHS outreach officer, Bernadette Flynn joined the Dharug and Lower Hawkesbury Historical Society excursion on 26th August. The walk led by researcher Barbara Appleton followed the route of 'Sharpe's track' from the ridgetop at Maroota on the Old Northern Road to the site of his small cottage on the banks of the Hawkesbury River at 'Milkmaid Reach'.

Thomas Sharpe was an Anglican Minister specifically appointed for the Lower Hawkesbury (1831-1837). Most of Sharpe's work was among the people of the river via horse and boat. Sharpe would visit several churches along the Lower Hawkesbury River, Macdonald River and Mangrove Creek and across to Brisbane Waters to conduct services, funerals, burials.

The road 'Sharpe's track' was probably built to bring food and supplies up from the river to the convict camp at the top of the ridge. Although there is no direct evidence that the road was convict built, it is of similar construction to other convict built roads. Liz Roberts from the Convict Trail Project who joined the excursion contributed her knowledge of convict labour.

DLHHS have regular excursions and events around the Wisemans Ferry and Hawkesbury River area. Further information at http://www.dlhhs.org.au/
---
Call for Papers - FAHS Newsletter
FAHS Call for Papers for the December 2017 issue of the FAHS Newsletter
Theme: Collaboration & Participation
Expressions of interest by 13th September 2017

Community participation is recognised as an important factor in running an historical society or community heritage group. Many societies have much experience in this regard and have developed productive models of involvement and collaboration. These forms of collaboration help develop new networks and activate local interest in history. They are also critical in obtaining support and ensuring that the society is recognised and rewarded.

The forthcoming issue of the FAHS newsletter explores ways that historical societies are engaging with the wider community and activating networks. These networks may be local and geographically close or they may be remote and distributed.

The FAHS is looking for articles that address the topic of collaboration and participation. Articles that relate more generally to matters of local history and community heritage are also welcome.

Articles are invited of up to 800 words with the final submission date of Fri 13th October 2017. The FAHS newsletter is distributed via our contact list, via the FAHS website and on ISSUU. The last newsletter No. 43 on the theme of Doing History can be viewed here.

Please send expressions of interest to the editor Dr Bernadette Flynn,
fahsbflynn@gmail.com
---
Parliamentary Friends of Museums, Libraries and Galleries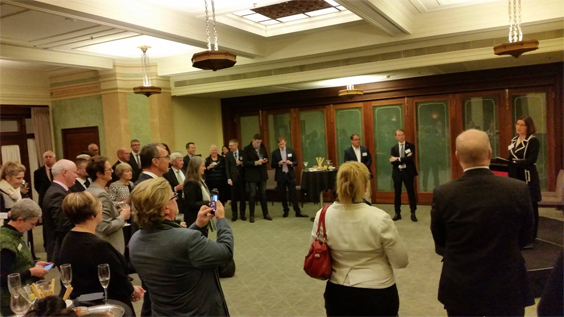 Photo: Launch of the PFMLG. Photo credit: Australian Library and Information Association

The Parliamentary Friends of Museums, Libraries and Galleries was launched at Old Parliament House in Canberra on 7th August. FAHS was represented by its President, Don Garden. FAHS has supported the establishment of such Friends groups and was previously instrumental in the establishment of the short-lived Parliamentary Friends of History & Heritage in the previous parliament.

The involvement of historical societies in this new Friends group is a continuing recognition that community historical and heritage societies operate several hundred collections and museums across Australia, and these are an important component of the Distributed National Collection. That recognition led to FAHS being a founding member of GLAM Peak as well as involvement in and support of the PFMLG.

The Parliamentary Friends of Museums, Libraries and Galleries will provide a forum for Members and Senators to meet and interact with the directors, librarians and curators of museums, galleries and libraries, and with their umbrella organisations. The group will meet on matters relating to the important role of these institutions in curating, celebrating, critiquing and shaping our culture and history.

The Parliamentary Friends will be co-chaired by Senator James Paterson and Senator Luke Gosling.

Further information: http://www.aph.gov.au/About_Parliament/Parliamentary_Friendship
---
Featured Historical Society - Tea Tree Gully Branch of the National Trust, South Australia
The Tea Tree Gully Branch of the National Trust, SA manages the Tea Tree Gully Heritage Museum.

The museum showcases the history of Tea Tree Gully and collects and exhibits social history on lifestyles from the 1850s to 1950s.

The Tea Tree Gully Museum is located in the Old Highercombe Hotel which operated as a hotel for 24 years (1854-1876) before serving as a community meeting room, a post office, a school room, and residence for postal officers, teachers, and a private family.

By the request of concerned local citizens the site was bequeathed to the National Trust in 1967, when its development as a heritage museum began. Initially it was known as the Old Highercombe Hotel Folk Museum and later, the Old Highercombe Hotel Museum. The museum has 13 rooms, 4 pavilions, a laundry, working blacksmith and a collection of over 1,800 items, which have been sourced from local donations.

In 2012 the Museum was accredited in History SA's Community Museums Program achieving a level of excellence against the National Standards for Australian Museums and Galleries. Gill Starkes (Chairperson of The Tea Tree Gully Museum) considers that the process has been one of slowly chipping away over the years and focusing on changing exhibitions and professional interpretation. The society has also made significant advances in collections management with a collections policy in place to ensure that provenance and stories attached to the objects are documented, a cataloguing program and collections store.
In 2015 the society updated its public image through a name change to 'Tea Tree Gully Heritage Museum', introduced themed exhibitions and events and created a digital presence via a Website and Facebook page. Hosting a themed event once a month (rather than opening once a week) has resulted in a sharp increase in visitation - from 180 people per year to 555 people at their most successful monthly event ('Strawberry Fair'). Other successful events have been: 'Chocolate Coated History' (what chocolate meant to people through the ages in Tea Tree Gully) along with a
chocolate
buffet and guides wearing
chocolate
accessories and 'No Batteries Needed' (Old fashioned games and hands-on activities).
As an organisation run by community volunteers, the museum is a meeting place for the community. A big community effort was directed towards the 'All wrapped up for Winter' exhibition during the 2016 SA History Festival, where the museum was yarn bombed and museum items were replaced with their knitted equivalences, down to, a knitted plum pudding and knitted poo in the chamber pot. A local craft group donated knitted squares and knitted items from the exhibition were later sold in the shop. The exhibition linked to, and highlighted the social history of women's work in the home, a knitted timeline indicating how women have developed craft skills through the ages.




Photographs: L: Knitted afternoon tea in the parlour; R: Schools program at the museum





The society offers a good model of collaborations and partnerships. The branch works in close co-operation with Tea Tree Gully and District Historical Society who focus on research and oral history, and the Tea Tree Gully library who have a good local history based collection. Local businesses and service clubs are also engaged - Lions Club, Rotary etc.





The branch has over 120 members, with 40 or so being active members. Gill considers it important to get out there to attract people and to have a good online presence. 'Thinker in residence' Mary Jo Zwar has initiated a number of projects with all members contributing to their success. Challenges are making sure they have enough volunteers and maintaining momentum to keep people coming through the door.





The museum runs delightful schools programs from kindergarten on such as 'Elves and Fairies'; 'Wonderful times with Nursery Rhymes' and 'Time Travel back to 1917' and also partners with Ghost Crime Tours Pty Ltd to run Paranormal Lockins at the museum. A newsletter on branch news 'Heritage For All Ages' is distributed to members, volunteers at the museum and other interested parties.

The branch demonstrates what a diverse group of volunteers with a bit of imagination can achieve by creating an environment that is lots of fun and committed to the creation of an engaging community environment. Earlier this year, Gill Starks, in her role as Chairperson of the Tea Tree Gully Heritage Museum won the 2017 Regional History award from the History Council of SA.


Location: Tea Tree Gully Heritage Museum, 3 Perseverance Road, Tea Tree Gully, SA
Open: On the third Sunday of the month 1.00 to 4.00 pm. $5 adults, free children under 16 and by appointment
Website: http://www.ttgmuseum.on.net
email: chair@ttgmuseum.on.net
Phone: (08) 8264 0309



Sources: Tea Tree Gully Heritage Museum website, Amanda James, Senior Community History Officer, History Trust SA and Interview with Gill Starks, Chairperson of the Tea Tree Gully Heritage Museum.
---
A joint exhibition with the RWAHS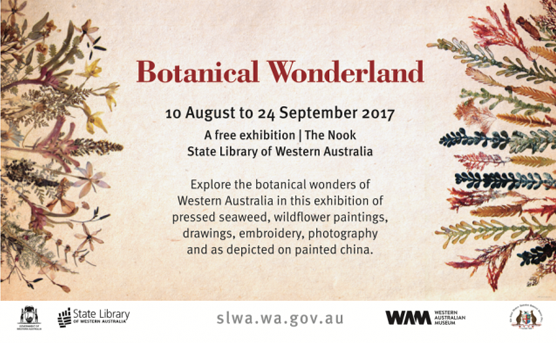 Botanical Wonderland - A joint exhibition of the Royal Western Australian Historical Society, the Western Australian Museum and the State Library of Western Australia.

The exhibition explores the many ways in which Western Australians have responded to this rich plant life. Wildflowers have been collected, pressed, sketched and painted on canvas and china, embroidered, woven and constructed in fabric. They have decorated all manner of household objects, and been reproduced in print and electronic formats for commercial, educational and social purposes. Seaweeds have been used as home decorations and albums of delicate beauty put together.

When: Thursday 10 August 2017 to Sunday 24 September 2017
Where: The Nook, State Library of Western Australia

https://slwa.wa.gov.au/whats-on/events-exhibitions/botanical-wonderland
---
Exhibition, Australian History Museum, Sydney
Evolution and Revolution

This exhibition, curated by the Australian History Museum and in partnership with Macquarie University Library, explores the advancements and pop culture developments of 1960s Australian entertainment compared with that of today.
This exhibition will run throughout the month of September 2017.
When: Launch: Friday 8 September 2017.
This exhibition will run throughout the month of September 2017.
Where: Macquarie University Library Exhibition Space, Ground Floor, 16 Macquarie Walk, Macquarie University
Cost: Free

Contact: jane.thogersen@mq.edu.au or 02 9850 8870
Hosted by the Australian History Museum, Macquarie University
---
Advanced Oral History Workshop, SA


Oral History Australia presents Advanced Oral History Workshop

Are your oral history recordings sitting in an archive, not being used?
Have you ever wanted to make use of the recordings for displays or presentations? If so, this workshop is for you.

This hands-on workshop will teach you how to:
- Use audio editing software to edit your interviews
- Create audio clips with added sound effects for use in a range of settings, such as displays in a community centre, library or museum
- Use audio clips and photographs to create a visual presentation.

When: 5 October, 2017 10 am - 4 pm
Where: Hetzel Lecture Theatre, Institute Building, State Library of SA, corner of Kintore Ave and North Tce
Cost: Non-members: $90; Members/students/concession card holders: $60
Register online using the link on this page: oralhistoryaustraliasant.org.au/featured/advanced-oral-history-workshop/

Workshop payments must be made in advance to secure your place. Please see website for payment options. Students in financial difficulty should approach the Association for possible financial assistance.
---
Public History at Harrietville Chinese Mining Village, Victoria
Archaeological Excavation: Chinese Mining Village, Harrietville, Vic
9-28 October 2017

The public are invited to participate in an archaeological excavation of a Chinese goldrush settlement in northeast Victoria, at Harrietville in the Ovens Valley, in the foothills of the Australian Alps.
In October 2017, The Uncovered Past Institute, a new not-for-profit organisation established by archaeologists and historians, will run a three-week excavation of the site. The institute runs archaeology projects funded by public participation.

This will be the first archaeological excavation in Victoria of a Chinese mining settlement. For around thirty years from the late 1850s Harrietville was home to hundreds of Victoria's Chinese gold miners. The largely undisturbed site includes mine workings, water races, building foundations, and gardens: a rare survivor of the heyday of Chinese gold mining in Victoria.

The dig is being conducted in collaboration with the Harrietville Historical Society.



Fragments of Chinese ceramics found in the Ovens Valley (photo: Diann Talbot)

Highlights of project participation include:
• Intensive training, and participation in, fieldwork (site excavation, site surveying), and artefact processing (cleaning, recording, identifying and cataloguing).
• A maximum of 4 participants for every supervising archaeologist in our team.
• Guided history and heritage tours of the Upper Ovens Valley, focusing on mining history and the Chinese pioneers of the Valley.
• Daily & evening workshops and lectures.
• Working alongside some of the most experienced archaeologists & historians of Chinese heritage, and mining heritage, in Australia.
• Learning how to identify Chinese artefacts such as ceramics, coins, bottles, foodstuffs and beverages, medicines & opium-smoking paraphernalia.
• Being a part of archaeological discovery in one of the key areas of 19th century Chinese mining history in Australia.

For more information, visit the project website:
www.uncoveredpast.org.au/harrietville-chinese-mining-village/
---
Character Coded Property, Brisbane
How it Sold: Families chase the few unrenovated Queenslanders left in Bulimba - The Australian Financial Review

Read more on traditional character-coded properties like this pre-1946 Queenslander workers cottage.

Heritage Open Day, Greater Shepparton, Victoria
Heritage open day in Greater Shepparton - October 28th

This municipality-wide heritage event is the first in country Victoria, or possibly in all of Victoria. Further information email heritageopenday2017@gmail.com
50 or so places will be open across Greater Shepparton, including homesteads, museums, churches (including some which are now private dwellings), mosques, old hotels, Rumbalara (concrete houses built for local Aboriginals), halls, cemeteries, etc. Bus and walking tours and talks will be conducted in Shepparton, Mooroopna,and Tatura, and many places are open for independent visiting.

Bus tours include Fairley Downs (a post-squatter homestead with a private graveyard and the slab building of squatter Sherbourne Sheppard after whom Shepparton is named) and Dhurringile mansion. There will also be tours of Shepparton's mosques and Sikh temple, including churches converted to dwellings, etc. Bus transport conducted to the private properties has been donated by Dyson's (who have just taken over Shep's busline).
---
Brisbane Open House, RHSQ
Brisbane Open House 2017
The Commissariat Store, RHSQ

Where: 115 William Street, Brisbane City
When: Saturday 7th and Sunday 8th October, 10am to 4pm
Self-guided tours and general access

http://brisbaneopenhouse.com.au/boh2017-buildings/commissariat-store-museum-bld-81
RAHS Excursion to Camden Park House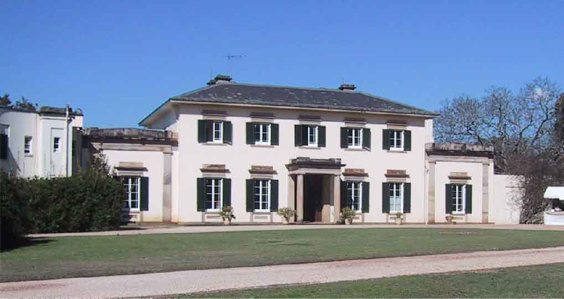 Camden Park, conceived by John Macarthur and built by John Verge, is open one weekend a year for public viewing. This excursion by bus includes tours of the house and garden. There will be stalls for food and plant sales giving the lawns a festive air. We will also see a little of Camden itself and hear of the development of the area. This tour will be lead by RAHS Councillor Judith Dunn.

Click here for more information and to book online, or call History House on (02) 9247 8001.

When: Saturday 16th September @ 9.00am – 4.15pm
Cost: $25 (includes bus and entry)
---
Introduction to Trove, Sydney


RAHS/WEA: Trove – A 'flagship discovery service' for all researchers

Mention the National Library's wonderful search engine Trove and images of digitised newspapers come to mind, including that most salacious of papers the SydneyTruth. However, Trove is so much more. It brings together content from libraries, museums, archives, repositories and other research and collecting organisations big and small across Australia under one umbrella. Join Christine Yeats archivist, librarian and professional historian and discover some of the mysteries of Trove as she guides you along its research byways and pathways.

Bookings through WEA – call (02) 9264 2781 or book online:
https://www.weasydney.com.au/course/TAFDS
When: September 20
Time: 11:00 am - 1:00 pm
Cost: $32 - $35
---
New Publication: Tasmania's Vanishing Towns
After the success of Vanishing Towns by Michael Holmes his new book is now available.

Tasmania's Vanishing Towns - Not what they used to be further explores the beautiful and desolate towns in Tasmania and how they have changed.

Available from the Beaconsfield Mine and Heritage Centre museum gift shop for $49.95


NSW & ACT Family History Societies Conference, Orange


The 2017 NSW & ACT Association of Family History Societies Conference will be held in Orange on 22-24 September 2017

The theme Your Family Story: Telling, Recording and Preserving will provide opportunities for keynotes, plenary sessions and workshops focussing on a range of topics. The Saturday program includes:
William Yang in Conversation with ABC Radio's Melanie Pearce.
A tongue on the table: telling the family story through food – Jacqui Newling


Writing

Cracking the code: dating Australian portraits through dress –Margot Riley
and on Sunday:
Strong Women – the scandalous pre-history of the Hydro Majestic – Catherine Bishop
Weaving your family history on the web – Shauna Hicks
Further details on the Conference Website https://yourfamilystoryinorange.wordpress.com/
---
Lecture, South Australian Maritime Museum
The Bird Collections of the Baudin Expedition, 1803-1804: My Personal Journey and Findings

When: Friday 22 September, 5.45pm for a 6.00pm start.

Where: South Australian Maritime Museum, 126 Lipson Street, Port Adelaide.

Dwarf emus captured on Kangaroo Island were caged in wooden pens on Geographe's deck and force fed wine and rice mash when they refused to eat on the voyage home. As well as live specimens of black swans and cockatoos, Nicolas Baudin's expedition (1800 -1804) returned with over 1000 bird skins. 75 new bird taxa were described as a result of this rich scientific haul. Baudin's was one of the most successful scientific expeditions of the 19th century.

Join visiting Dutch ornithologist Justin Jansen at the South Australian Maritime Museum as he guides you through the stunning collection of birds brought back by the French expedition in 1804. Justin has followed the feathered tail of Baudin's birds throughout Europe's rich collections and his talk will showcase the fascinating findings that form the basis of his PhD thesis.

$10 per person includes lecture and light refreshments. Bookings Essential.

For more information or to book, please contact the Maritime Museum on 8207 6255 or maritime@history.sa.gov.au
---
The FAHS e-Bulletin, No. 168,
6th September 2017