The FAHS are seeking a person to research and write an online guide (or possibly two associated guides) about the preservation of data that is born digital. This encompasses: first, the archiving a society's own records; and second, the collection and preservation of a wider range of material relating to their community history and heritage.

The author will be paid $8400 for 200 hours of research and writing of a total of 8000 to 10,000 words in one or two associated documents, plus $300 home office and research expenses. To be completed by 31 March 2018.

Applicants should have appropriate experience in working with and preserving digital data, a proven research and writing record, and ideally some experience in working with community history and heritage societies.

Closing Date for applications 27th October at 5pm
Further Information and PD on the FAHS website
Writing and Publishing Local History: A Guide for First-time Authors and Historical Societies
has been produced by the FAHS and the Royal Historical Society of Victoria.
The guide provides essential advice from preliminary planning to final publication in an attractive and accessible guise.
You can
download free
or order your printed copy now from the
RHSV Bookshop
Readers of this manual will follow a logical set of steps as well as complete activities that provoke thinking beyond conventional approaches to content and format. This guide will be valuable for any individuals and groups committed to preserving and sharing their historical knowledge and passion.

The FAHS published the first edition of this guide in 2006, with the title Publishing history: a guide for historical societies.

Historical Societies may also be interested in ePublishing. An example is The Great Daylight Saving Time Controversy via Australian eBook Publisher and now available at Amazon, Kobo, Apple and Google. Further information about ebook publication, selling directly to vendors and audiobook publication can be found on the Australian eBook Publisher website.
Featured Historical Society - Heidelberg Historical Society
Heidelberg Historical Society
was formed in 1967 by people with a shared interest in understanding and preserving the history of Heidelberg and surrounding suburbs.
The society runs a museum and a research centre that house a large and growing collections of historic items objects and documents that add to the district's story.
The Society's home base is the heritage listed Old Heidelberg Court House (built 1900), still with the original magistrate's desk, witness stand and prisoners' dock. The Society holds a collection of over 11,000 photographs of people, places and events dating from the earliest days of European settlement/invasion, over 2,000 objects, garments and related memorabilia and a range of archives that include documents on local land ownership, community organisations, newspapers, maps and oral histories.
A Society newsletter Heidelberg Historian has been published more than 300 times with the first issue produced in August 1967, and an issue produced every second month since.
A library is also on site.
The Society has focused on digitising collections to help preserve materials from constant handling and to allow people to efficiently research information well into the future. Members can access eleven databases remotely and other researchers are invited to visit during opening hours or by appointment. Over 48,400 entries are in the varied databases, which have been developed in house using an SQL database accessed by standard web browsers. If desired the data can be exported in a Dublin Core format. As well, t
he Society is now moving towards photographing and barcoding all objects in the collection.
Each year the museum presents a new exhibition. Invitation to the Ball, held in 2010 won the best exhibit/display prize at the 2011 Victorian Community History Awards. The exhibition's theme was women's formal wear between 1850 and 1950 and because the garments in the textiles collection were worn locally the society was able to trace the original wearers and the occasions on which they were worn. A Brush with Heidelberg presented original paintings and prints from the Society's collection and private collections that depict the Heidelberg district (including prints from the famous 'Heidelberg School'). The exhibition received a commendation at the 2016 Victorian Community History Awards.
As 2017 is the 50th anniversary of the Heidelberg Historical Society the society is holding a 1967 exhibition showing how things have changed over the past 50 years. The Remembering '67 exhibition focuses on the everyday experience of living in the City of Heidelberg in 1967. It features the schools, roads, sport and shopping in Heidelberg as well as the broader political and cultural influences on architecture, pop music and entertainment.

Images: l to r, Heidelberg historic map; Members collecting the history award for A Brush with Heidelberg; Remembering '67 exhibition poster
Heidelberg Historical Society has around 203 members with around 25% actively volunteering. President, Jenn Burgess outlined how new members are encouraged to be involved starting with helping run the museum on a Sunday and then, when appropriate, invited to work on a small project. The regular core of volunteers who manage the databases and other collections are at the courthouse each Monday and Thursday. President,
Jenn Burgess outlined extra factors for the volunteer support success: Camaraderie, friendship and pastoral care.
Discussions take place

around morning tea, everyone is free to laugh and comment, nobody is left out and everyone knows what's going on. Knowledge and skill sharing is common as so m

any of the volunteers are highly skilled and all are well connected to the community where they live. Training and mentoring for new volunteers is provided by the Society.
A few years ago, the Society was handed the responsibility for maintaining the Heidelberg Court House building. With this additional challenge, grants are sought and in this regard the Society has been very successful. Other income is derived from membership and local fundraising activities.
Other activities include an annual bus tour and guest speaker meetings which are held on the second Tuesday of every second month throughout the year.

Open: The museum and research room, Sundays, 2pm-5pm at the Old Heidelberg Court House
Website: http://www.heidelberghistoricalsociety.com.au/
Facebook: https://www.facebook.com/heidelberghistoricalsociety/
email: heidelberg.historical.society@gmail.com
telephone: (+61 3) 9455 2130
Sources: Heidelberg Historical Society website and interview with President Jenn Burgess
Forgotten Stories of Indigenous Heritage discovered in archives
Lost in Australia's vast archive collection are records of Indigenous people, places and languages, once not seen as valuable enough to bother documenting — but now the forgotten stories are being unravelled.

Read More from Isabella Higgins, Indigenous affairs reporter for ABC News for online, radio and TV.
GLAMCity History Radio, Sydney
Historians Tamson Pietsch and Anna Clark from the Centre for Public History at the University of Technology Sydney have started a

new weekly podcast at 2SER radio – 'GLAMcity'



Image: Anna Clark and Tamson Pietsch interviewing the History Council of NSW's President, Tanya Evans and the 2017 NSW Premier's History Awards winner, Peter Hobbins.
GLAMcity is a new weekly half hour radio show and podcast showcasing what's on for history in Sydney connected with Galleries, Libraries, Archives and Museums (GLAM). You can listen live on Monday's at 7pm on 2SER 107.3FM or download the weekly episode via iTunes or whooshkaa.

If you want to get in touch or have a GLAM event, send an email to Glamcity@2ser.com
A New History Program from ABC RN
A new history program from ABC RN Shooting The Past brings you Australian history through a new lens. Each episode features a historical event or era, and starts with a single photograph and the question; what is going on in this picture?
One of these pictures is a sepia image of two well dressed women standing beside a gnarled tree stalk in barren wasteland. The image takes presenter Clare Wright into the heart of Victorian Mallee country to unearth a story of destruction and renewal.
Image: Bena and Flo in the Mallee (Photo courtesy Christine Kenyon)

Tune in: Friday September 1 at 1.30 pm on ABC RN, ABC Radio app and iTunes.

http://www.abc.net.au/radionational/programs/shootingthepast/
Casino & District Historical Society Book Launch, NSW
Casino & District Historical Society recently launched a new book: Times Gone By. Casino 1840-1920.

Written by Robyn Nesbitt, the book is a photographic history of the stories behind the buildings of Casino between 1845-1920.
Photo at the book launch: L to R: Geoff Austin (Secretary), Barry Dennis (Vice President), Bob Moran (President), Robyn Nesbitt (Writer & Research Officer), Dorothy Sullivan (Committe Member) and Mayor Robert Mustow.

On sale at the Casino Folk Museum for $20 or order via casinohistorymuseum@outlook.com
Collection added to Victorian Heritage Register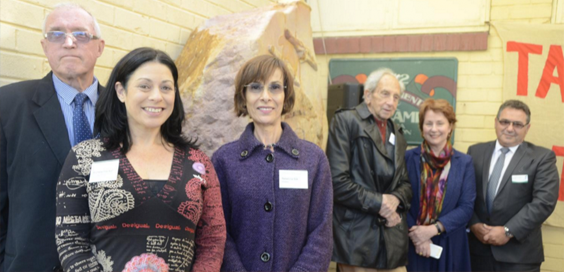 Tatura President Steve Barnard, Dunera Boy descendant Michelle Frenkel, Dunera Association President Rebecca Silk, Dunera Boy Bern Brent, member for Shepparton Suzanne Sheed and Greater Shepparton City Council mayor Dinny Adem.

Tatura Museum's wartime camps collection has been officially added to the Victorian Heritage Register where there are 1700 pieces now recognised by the Heritage Council of Victoria.

Mr Barnard said the collection was inspected by the Heritage Council of Victoria during the register process.

''The collection documents all the different nationalities, political beliefs and religions of the people held in the camps,'' the museum's application read.

''It also shows the majority of internees and prisoners resolved to make the best of their circumstances by maintaining traditions, by going about life as routinely as possible; and by occupying their time making necessities, studying, learning skills, creating art, entertaining each other and recording their experiences in art and writing - all within the limited resources of the camps.''

Mr Barnard said the collection was the largest one in Victoria of moveable heritage relating to Australia's wartime camps, some of it coming from other parts of the world.

The Tatura Irrigation and Wartime Camps Museum is located at 49 Hogan St, Tatura as is open on Monday to Friday from 1pm to 3pm, and on Saturdays, Sundays and public holidays from 2pm to 4pm; bus trips and groups by arrangement. The museum is run by the members of the Tatura and District Historical Society Inc.

Source: http://www.riverineherald.com.au/regional/2017/09/19/110376/collection-recognised
Digital Access to Collections workshop, Hobart

The Digital Access to Collections Workshop is on in Hobart

When: 16-17th November
Where: Tasmania Museum and Art Gallery
The two-day workshop will provide information, training and advice for organisations at any stage of their digitisation process on their way to providing digital access to their collections.

Q&A's with leading technology providers and the chance to network with other GLAM organisations.

$500 funding is available to organisations through grants towards travel, accommodation and digital technology. More information about the grants can be found here.

Next workshop is in Albury 27-28th November

Further information Wendy Quihampton
wendy.quihampton@museumsaustralia.org.au
Virtual Reality tells the story of Parramatta Girls Home, NSW
A new multimedia art project, called Parragirls Past, Present takes visitors on a virtual tour of the facility, guided by voiceover narrations telling the stories of the young women who lived inside the institution. They challenge the official narratives and tell personal histories about what they experienced throughout the facility.

The 20-minute work is open to the public for the next two months in the University of New South Wales' EPICentre at Paddington, which houses the world's highest resolution 3D, 360-degree immersive environment. To experience the work, visitors don 3D headsets, and walk into a chamber with screens on all sides.Unlocking memories of institutional 'care'. Parragirls Past, Present is a deeply moving immersive experience, presenting former residents' visions of the Parramatta Girls Home today.

Bonney Djuric is a former resident and the founder of Parragirls, a network of women who lived at the facility, and the co-founder of the Parramatta Female Factory Precinct Memory Project. She's also a historian and one of the artists who drove the creation of this project.
ParraGirls Past, Present is part of the Big Anxiety Festival
Source: https://dailyreview.com.au/parra-girls/65771/
ACHHA Exhibition and Conference, Sydney
ACHAA (Aboriginal Culture, Heritage & Arts Association Inc.) is an association established for NSW Aboriginal cultural centres, keeping places, knowledge centres, language centres and artist-run studios.

ACHAA was established to develop sustainable networks between like-minded organisations, raise professional standards and promote the value and importance of the sector to key stakeholders and the general public.

Opening on Thursday 9 November at the Muru Mittigar Aboriginal Cultural Centre, Rouse Hill is the final stop for the exhibition From our place: an exhibition from NSW Aboriginal cultural centres. The exhibition runs until early February 2018. In conjunction with the exhibition ACHAA will hold a two day conference workshop for ACHAA members and stakeholders at Muru Mittigar on 14th and 15th November.
Related Histories: Studying the Family is a two-day conference convened by the National Centre of Biography, Australian National University, and the Centre for Applied History, Macquarie University, in partnership with the National Library of Australia. It will consider some of the big questions in family history in keynote addresses, and hear from a wide variety of family history practitioners through research papers and ten minute presentations. The conference will allow space for discussion and debate of the key questions:

How can the different sectors – academics, students, genealogists, and amateur historians – work together to support the development of family history?

When: 28-29th November, 9am - 5pm
Where: National Library of Australia, Parkes Place, Barton, ACT

Further Information: http://ncb.anu.edu.au/event/related-histories
Murray Districts Historical Society wins History Merit Award, WA

Murray Districts Historical Society received the 2017 Award of Merit at the recent Annual Conference of Affiliated Historical Societies of the Royal WA Historical Society.

Image: President Brenda Beacham with the history award


Murray Districts Historical Society is a comparatively young society, formed in 2009. By 2012 it had found a permanent home in the Old Schoolmaster's House at Pinjarra.

The Society has a high membership, with quite a few members active in volunteering for their local studies library, research, accessioning images, assisting with family histories and developing an oral history program.

Activities provided for members include outings to historic sites, guest speakers at monthly meetings and other social activities. The Society has a successful outreach program into the wider community via a webpage and facebook page.
Bush Mechanics Exhibition, SA
Still image from Bush Mechanics series, photo: National Film and Sound Archive, artists Thomas Jangala Rice and Jason Japaljarri Woods

Bush Mechanics: The Exhibition is based on the popular ABC TV series of the same name. It shows the adoption of the motorcar as an integral part of Aboriginal life in Central Australia. The exhibition shows the ingenuity of bush mechanics in the context of Warlpiri storytelling, music and art and reveals the wider issues (both motoring and non-motoring) that affect Aboriginal Australians. Engaging mechanical interactives – made by artisan tinkerer and author of Blokes and Sheds Mark Thomson – will challenge visitors to match their skill against the challenges similar to those faced by the Bush Mechanics during their epic journeys in remote Australia.

The National Motor Museum has developed the exhibition in partnership with Pintubi Anmatjere Warlpiri (PAW) Media, the original producers of the series. On at Drill Hall, Torrens Parade Ground until 30th October, then touring to Canberra and Melbourne

http://motor.history.sa.gov.au/events/bush-mechanics-the-exhibition/
Edmund DuCane - documenting life in the Swan Colony in the 1850s through art, a personal diary

When: 10am Wednesday 25 October 2017
Where: Stirling House 49 Broadway Nedlands
Tickets: $10 each Bookings essential
Contact: Tel: 03 9386 3841,
email admin@histwest.org.au
Talk by Philippa O'Brien on Edmund DuCane, Engineer, artist, comedian, lover

Edmund DuCane came to WA in 1851 with the Royal Engineers and constructed roads, bridges and buildings with convict labour, making a substantial contribution to the life of the colony. By the time he left in 1856 he had acquired a wife and recorded the essence of colonial society in his often witty drawings and paintings.
Annual History Colloquium, NT
The Colloquium is a forum for established and emerging researchers from both the NT and interstate to present papers on their current research.

Entry is free and morning and afternoon tea is provided.

Date: Oct 21, 2017; Time: 8:30am to 4:30pm

Location: Northern Territory Library, Parliament House, Darwin
NSW Regional Programs Support, Museum of Applied Arts and Science
The Museum of Applied Arts and Sciences have extended the closing date for the 2018 MAAS Regional Program applications.

Applications close 5pm Wednesday 15 November 2017
Regional Historical Societies that maintain a community-owned collection accessible to the public can submit applications for programs to help conserve, curate and program your collection.

How to Conserve Your Collection Workshop
This introductory conservation workshop is delivered by a MAAS conservator and is designed for regional collecting organisations that maintain a community-owned collection that is publicly accessible.

How to Curate Your Collection Workshop
This one-day workshop is designed for regional organisations and will help with basic skills in developing exhibitions, identifying significant objects and writing statements of significance.

How to Program for Your Collection Workshop
This workshop is designed for organisations that need help developing skills in creating programs to interpret and enliven exhibitions and collections.

Further information https://maas.museum/about/regional-program/
The FAHS e-Bulletin, No. 170,
17th Oct 2017