A large crowd gathered on the 20 February at the Royal Historical Society of Victoria to honour the life and work of two past RHSV stalwarts, Professor Weston Bate AO and Associate Professor Don Gibb. Initiatives to honour their legacy were announced on the night in the presence of members of the Bate and Gibb families, including Janice Bate and Ann Gibb.

The Weston Bate RHSV Oration - To honour the inspiring leadership of our former many-time president, a named annual lecture has been sanctioned by Council to be delivered at the Annual General Meeting of the Society.

The Don Gibb RHSV Prize in Australian History - To recognise the contribution of Don Gibb to student learning in History in this state, a prize of $300, plus a three-year membership of the RHSV, will be awarded annually to the best student in Australian history at La Trobe University. The Gibb family has donated $10,000 to the RHSV to ensure this is a perpetual prize in Don Gibb's honour.

The Weston Bate Make History Live Fund - A fund has been established from the giving which began at Weston Bate's memorial service. It is now approaching $10,000. The object of this fund is to use the annual interest from this fund to energise the RHSV through special projects focussed on attracting younger people into the Society.

On the same night the RHSV celebrated the award of two fellowships by the Federation of Australian Historical Societies. Associate Professor Don Garden President of the FAHS and the RHSV presented fellowship certificates to Emeritus Professor Graeme Davison and Professor Emerita Marian Quartly for their national leadership in various fields of Australian historiography.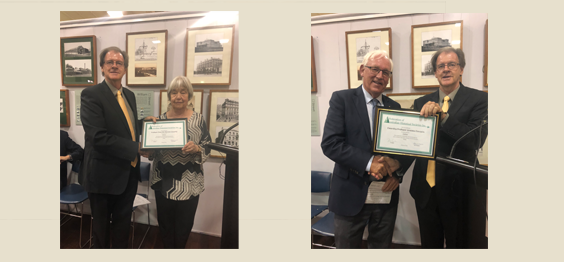 Image: Don Garden presenting awards to Professor Emerita Marian Quartly and Emeritus Professor Graeme Davison.
The FAHS Newsletter on Diversity, Call for Papers


Call for Papers for the June 2018 issue of the Federation of Australian Historical Societies' Newsletter
Theme: Diversity
Submission Date: Monday 30th April 2018

Issue No. 45 of the FAHS newsletter recognises and celebrates diversity within the community history sector. Historical Societies make a specific contribution to this expression by working with, and as part of, local community. At the same time there is a blossoming of cultural expression among indigenous groups, LBTQI and a range of ethnic groups representing diverse community and history. This has yet to extend to being an integral part of local histories and community heritage.

The FAHS is seeking papers on new and traditional approaches to collection practices, exhibition, research, public programs and events that reflect diverse community and history. Papers are invited on methods and representations of the local culture and areas of special interest, whether these are geographically, cultural, or ethnically based. These may include:
Ways that organisations recognise and celebrate diversity and multiplicity
Inclusive and focused historical interpretations/ interpretative activities
Collection and interpretation of collections
New practices involving a range of community expressions
Variety of representations in studying Australian history and genealogy
Articles are invited of up to 800 words, The FAHS newsletter is distributed via our contact list, on the FAHS website and on ISSUU. The last newsletter No. 44 on the theme of Collaboration and Participation can be viewed here. Articles that relate more generally to matters of local history and community heritage are also welcome.

For further information and submission details please contact the editor Dr Bernadette Flynn at fahsbflynn@gmail.com
Update on the campaign to save the FAHS
Thank you again for your support in writing letters, emails and signing the campaign petition.

A submission is currently being prepared to apply for funding through a Commonwealth grants program.
Updates will be posted on Facebook
https://www.facebook.com/FederationAHS
Featured Historical Society - Coober Pedy Historical Society
The Coober Pedy Historical Society (CPHS) preserves, promotes and educates people about Coober Pedy's history in remote South Australia.

The Society was inaugurated in 1989 and has been actively collecting the local history for over 30 years.
The initial impulse for the Coober Pedy Historical Society came from two Adelaide historians Ian and Kath Crilly who came to Coober Pedy in 1989 to work on historical displays. Local businesses seeing the potential for cultural tourism established museums: Umoona Opal Mine and Museum; Old Timers Mine and Museum and Desert Cave. Story telling always an important feature of social life in Coober Pedy underscored this focus on history for tourism. Since its inauguration, the Society has built up a collection over 4,000 documents and photos about the lives and work of miners and other residents of Coober Pedy from the first documented discovery of opal in 1915 to the present day. Overall the CPHS collection provides a comprehensive understanding of the evolution of opal mining, Coober Pedy's context as a remote Australian town and the ongoing development of the community. The collection has been recognised by the National Library of Australia as being of national significance (significance assessment, 2013).

Lack of a permanent home for meetings and storage has been an ongoing issue. Recently the Society accepted an offer of free use of an underground room made by Umoona Mine & Museum. There is room to store the archives in a secure, climate controlled, pest free and dust free environment with enough space for one or two people to work, the Society meets in the Community Library. Due to financial constraints no monetary support is provided by the Coober Pedy District Council, instead income is generated from book sales and grants along with in-kind donations from local businesses. One of these books The boy who found opal : the story of Will Hutchison written by Sue Britt describes how 15-year-old Will Hutchison found the first gemstones in the area. A second book Images of Coober Pedy 1915 - 2015 by Jenny Davison and Judy Underwood illustrates the history of opal mining and the town's development through 100 years of photos. A self-drive Heritage Trail of the Coober Pedy area has also been developed with pamphlets available at the visitors centre and tourism outlets around town.

Nic Kingma (Chairperson), Jenny Davison (Secretary) and Sue Britt (Treasurer) consider the collection as belonging to the town and see themselves as its custodians. Copies of images and documents are made freely available to people in the town with a cost for those outside the town. The Society has successfully applied for grants - for preserving and managing the collection (Preservation Needs Assessment in 2014, a Conservation Activities and Collection Management in 2016) and for developing an oral history archive (a grant from the Oral History Association of Australia grant in 2013 and a Department for Communities and Social Inclusion grant in 2015).




Images l to r: Coober Pedy's Underground Post Office, 1931; CPHS publication, The boy who found opal : the story of Will Hutchison; Outing to Shell Patch Field where miners talked about their experiences from the 1960's and 1970's.

The CPHS is run by volunteers and has 15 local members. Sue Britt outlined some of the challenges facing this small but vibrant historical society. Maintaining the collections database and keeping up to date with developments in digital media is difficult with no local IT specialist support. Digital catalogues spread across various databases are currently being compiled into one web based catalogue system. The FAHS History Clinic has also recently assisted in setting up a pilot collection site in eHive showcasing a few key items from the collection https://ehive.com/collections/7823/coober-pedy-historical-society.

The CPHS actively exhibits collection materials with a permanent display at the Council Visitor Information Centre and temporary exhibitions throughout the year. A display about Minnie Berrington (a woman opal miner in Coober Pedy) was held at the Gem Trade Show during Easter and other displays will be held at the Opal Festival in June and the Coober Pedy races later in the year. The Society is once again participating in the South Australian History Festival with a talk on the 29th April about the built history of Desert Cave Hotel - the only underground hotel of that type.

The Society further promotes the appreciation of history through history outings presented free of charge to locals and visitors throughout the year. Trips have included the underground churches, old dugouts, water holes, pastoral stations, mining fields, the cemeteries and the solar distillation plant with about 30 to 40 people attending theses outings.

email: cooberpedyhs@gmail.com
Collection on eHive: https://ehive.com/collections/7823/coober-pedy-historical-society
Phone: (08) 8672 3714



Sources: The Coober Pedy Historical Society eHive site and interview with Coober Pedy Historical Society Secretary, Jenny Davison and Treasurer Sue Britt.
SPUN: Stories from the Northern Territory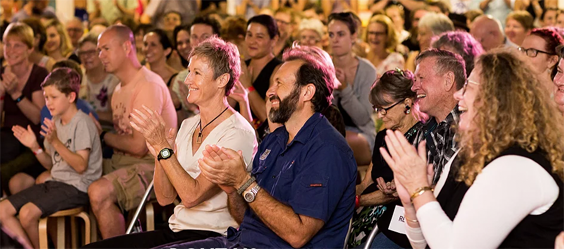 SPUN: True Stories Told in the Territory is a live storytelling event showcasing some of the extraordinary people and their stories that make up the Northern Territory. Popping up at different venues across Darwin, working with a range of partner organisations with a different theme each time, SPUN brings to light stories from diverse backgrounds.

All stories are recorded and replayed on ABC Local Radio and featured on SoundCloud. One of these stories is The night Tracy came to town by James Parfitt-Fejo. James Parfitt-Fejo is a proud Larrakia man and Community Legal Educator for the North Australian Aboriginal Justice Agency (NAAJA) who has just wrapped up 14 months working on the Royal Commission into the Protection and Detention of Children in the Northern Territory. But step back to 1974, and James was an excited four year old with one thing on his mind when he and his family went to bed on Christmas Eve...

Find out more about upcoming events or to share your story www.spunstories.net
Launch of Australian Heritage Festival 2018
The Australian Heritage Festival is Australia's biggest annual community-driven heritage festival. The 2018 Australian Heritage Festival theme is My Culture, My Story celebrating the diversity of cultures that have shaped our shared heritage. See how historical Societies and community heritage groups have responded to the theme - a few are shown below.

The Australian Heritage Festival will launch on 18 April, International Day for Monuments and Sites, and runs from 18 April – 20 May.
One Country, Two Cultures, First Contact, Parramatta Branch National Trust, NSW

Join Governor Arthur Phillip as he retraces his footstep along the banks of the Parramatta River on 24 April 1788. Hear journal accounts of first contact with local Aborigines. Walk past some of the most significant remaining buildings and heritage sites from colonial NSW.
The Valley of Dispossession, The Oaks Historical Society, NSW

The Gundungorra Nation in the Burragorang Valley was dispossessed of their land by explorers, pastoralists, the Church, early settlers, miners and the Aboriginal Protection Board. Yet this community achieved acceptance which was disrupted when their Valley was flooded to create Warragamba Dam.
On the Beach, in partnership with Williamstown Historical Society, Victoria.

Presented by local historian Brian Haynes, this talk uncovers the history and development of Williamstown beach.
scene and its activities from the 1850s to more recent times.
Tales of Past and Present, the Chinese People of Rockhampton, The Rockhampton Chinese Association, Queensland

Tales of the Chinese settlers, past and present, accompanied by Tea and games will entertain during the afternoon. Learn of the early trials and experiences of the Chinese pioneers in the district.
Tying the Knot, Murray Districts Historical Society, WA

Members and friends of the Murray Districts Historical Society can enjoy an illustrated talk presented by Jo Pearson about courtship, marriage and wedding dresses in the Swan River Colony.
Guided Walk of 16 Mile World War II Heritage Site, National Trust of Australia (NT)

This guided walk will showcase the strategic importance of Darwin as a military base during World War II
With your knowledgeable guide Michael Wells, walk through the remnants of this historically and strategically important World War II military base at 16Mile.
Western Land – a journey through our collection, The Royal WA Historical Society

This exhibition draws on the Society's collection to tell stories that reflect the rich mix of cultures that have shaped Western Australia's history, both before and after colonisation.
Heritage House, Bangalow receives funding for family history hub
Congratulations to the Bangalow Historical Society on securing a $320,000 grant

Image: Nationals Parliamentary Secretary for Northern NSW Ben Franklin and Mayor Simon Richardson with the President of the Bangalow Historical Society Vivienne Groec and members of the Society.
Heritage House in Bangalow, NSW will receive a grant of $320,154 under the NSW Government's $200 million Stronger Country Communities Fund.

The $320,000 grant for Heritage House will enable Council to extend the building, creating a new display and reading room which will become a cultural hub for the exploration of family history and boost the use of local history collections.

The refurbishment will assist in the creation of a public access centre with digital capability so that locals can link to family history records held by the NSW Government at the State Library of New South Wales.

Sarah Ford, Manager, Community Development said Council had been working closely with the Bangalow Historical Society on a vision for the future of Heritage House and this new reading room would create a social zone for genealogists and local researchers to support active ageing.

'Upgrades to Heritage House are needed to improve accessibility and also the longevity of the heritage building so that we can continue our Shire's strong connection and pride in the achievements of the past," she said.

'We hope that the improvements will also generate new interest in history from people of all ages, including the local schools and other community groups,' Ms Ford said.

Source: https://www.byron.nsw.gov.au/Council/Media-centre/Media-Releases/More-community-wins-for-Heritage-House-and-Sandhills-Early-Childhood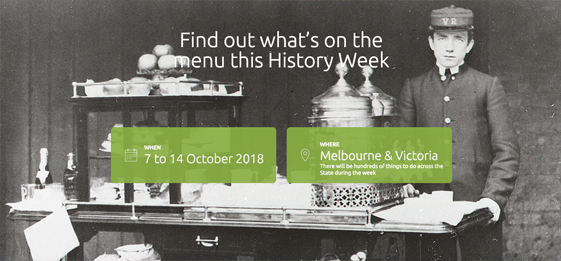 HISTORY WEEK 2018 Advance notice
The 11th annual History Week, Victoria will be held this year from the 7 – 14 October.

With over 400 events across Victoria it really is a chance for history lovers to immerse and indulge themselves. Historical societies and groups, museums, galleries and libraries in Victoria are encouraged to host a history event to showcase your activities and research.

Collectively History Week demonstrates the vibrancy of local history across the state. It highlights the enormous amount of work undertaken by volunteers and paid staff to make Victoria's history accessible.

If you are planning a history-related event (exhibition, fair, guided walk, open house, lecture, debate, re-enactment, tour, antique equipment display, market, vintage train trip, self-guided heritage trails etc) during 7 – 14 October 2018 and would like to be included in the official History week calendar, please register your event online at www.historyweek.org.au. It is free to register your event.
Fire at Busselton Historical Society Museum, WA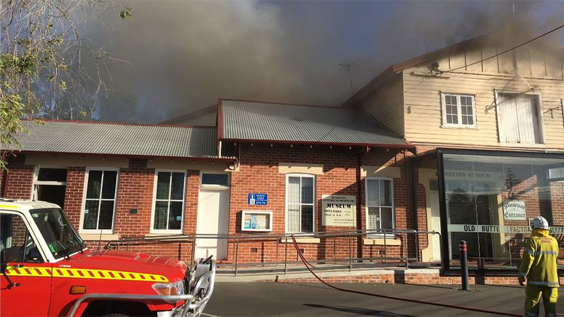 Historic artifacts were destroyed when a fire broke out at Busselton's Old Butter Factory on the south-west tip of WA on March 27th. The blaze caused approximately $400,000 damage to The Busselton Museum and destroyed collection items on the building's second floor.

Busselton Historical Society president Sandra Johnston told the Mail the fire claimed the museum's most valuable historical collection.

'All the wedding dresses are gone as is the cape Stewart Bovell was knighted in and the furniture in the main upstairs room,' she said. 'The other three rooms with the nursery, music room and kitchen are all badly smoke damaged.' secretary@busseltonhistoricalsociety.org.au

The museum is closed until further notice - updates posted on Busselton Museum's Facebook Page.

Source: https://www.busseltonmail.com.au/story/5313103/history-destroyed-in-blaze/?cs=5825
A Walk Around Historic Guildford, WA
Join Ron Bodycoat and fellow members to revisit historic places in Old Guildford Town.

Date: Monday 14th May at 10.30 am.
Location: Meet at the Swan Valley Visitors centre.
Cost: $20 members $25 non-members
The walk will include the Court House (now Visitors Centre), Old Gaol, Mechanics Institute, Wesley Chapel, Town Hall, Garrick Theatre, St Matthews Church and Parkland, the old Bridge site and river crossing, Barker & Gull's Warehouse (c1854) and lunch at the Rose and Crown Hotel. Walk for one to one and a half hours.

Self drive to Guildford or train – plenty of parking near the Courthouse and gaol. Pay for your own lunch following the walk.

RSVP: by Monday 7th May for walk and/or lunch
Phone: 08 9386 3841 Email: admin@histwest.org.au
Numbers are limited to around 20 so book early
Paynesville Maritime Museum, Victoria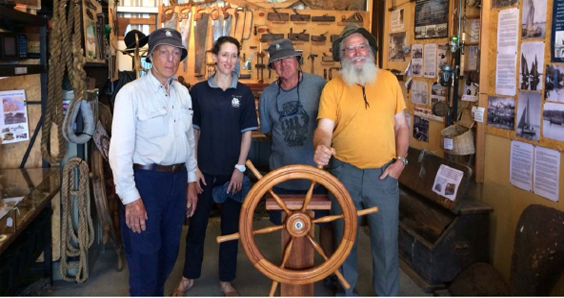 Image: Lady Nelson Crew visit the Paynesville Maritime Museum Shed

The Paynesville Maritime Museum Shed was open for the Paynesville Classic Boat Rally 2018. The Rally showcases the best of locally owned and built classic boats. The highlight was the visit of Lady Nelson a replica of Matthew Flinders ship that charted the coast of Australia, along with the parade of 200 plus boats as they travelled down the McMillan Strait.

Over the two days of the rally the shed had attendances of around 200 visitors each day.

Subsequent to the event the display staff had been busy upgrading some of the displays to include knowledge gained since they were set up. The prawning display now includes a dip net and light, the 'correct' technique at Paynesville where prawns are gathered from a boat. A small section of Bream net shows how small fish are able to swim through the net, giving less by‐catch and letting the littlies grow up into pan size fish.

For more on the work of the museum http://www.history.org.au/Documents/Newsletters/FAHSNewsletter43-Jun2017.pdf



Source: Paynesville Maritime Museum e-Bulletin, March 2018.
Tasmania Historical Research Association Podcasts on SoundCloud
Monthly lectures from Tasmanian Historical Research Association (THRA) are available online. As many members do not live in Hobart and cannot make the monthly lectures, speakers are given the option of having their lecture recorded so that all members get a chance to listen to it. If you are interested in hearing past lectures, you can do so via the following link on SoundCloud:https://soundcloud.com/thra1951/sets/lectures-2017

The 2017 Eldershaw lecture delivered by Lucy Frost: Indentured Children: Apprentices from the Queen's Asylum, 1860-1880 can be accessed here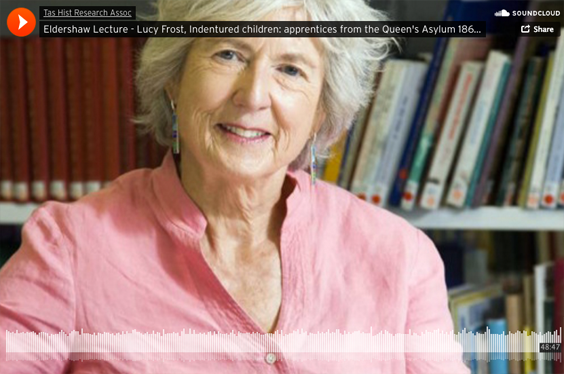 Australian Alpine and Snowsports History Association Conference


The Perisher Historical Society is delighted to be hosting the AASHA (Australian Alpine and Snowsports History Association) Conference 2018 at Perisher Valley, NSW.

A gathering of people from the historical societies of all the major Australian ski resorts.

Always a fun event, an opportunity to meet and mix with skiers who have a fascination with history,

Friday 4 - Sunday 6 May
Friday evening - Welcome Function at Corroboree Lodge at 6:00 with light food and hearty soup.
Saturday - Conference Day proper at the Perisher Skitube building
Saturday evening - Conference Dinner at Corroboree Ski Lodge.
Sunday is a Field Trip with presentations at Charlotte Pass, Guthega and the site of the Hotel Kosciusko.

For all who would like to know more about the development of skiing along the Kosciuszko Road here is a golden opportunity.
Read all about it

Registration by 16 April. For registration form, contact Perisher Historical Society by email phsadmin@iprimus.com.au
Digital Access to Collections Workshop, Nuriootpa, SA
You're invited to the Nuriootpa Digital Access to Collections Workshop!

Dates: Thursday 17th to Friday 18th May 2018

Location: Barossa Council Chambers Room, 43-51 Tanunda Road, Nuriootpa SA

This two-day workshop gives attendees the opportunity to participate in training focused on digitisation and the provision of digital access of collections, Q&A's with leading technology providers and the chance to network with other GLAM organisations.

Who should attend? Staff and volunteers from small- to medium-sized non-metropolitan collecting organisations, including galleries, libraries, archives, museums, indigenous keeping places, sporting clubs, returned services clubs and historical societies.

The workshops will provide information, training and advice for organisations on their way to providing digital access to their collections.

Funding is available to organisations through grants that can support participation at the workshop and/or assist with setting your organisation up for digitising collections. More information about the grants can be found at http://www.digitalcollections.org.au/workshops/grants
RAHS Grants Programs Open
The RAHS would like to announce that the funding is in place to run three grant programs in 2018

RAHS staff will be updating the website in upcoming weeks with the details on grant criteria and application process https://www.rahs.org.au/grants/grants-overview/
The Cultural Grants Program, which is a Create NSW devolved funding program administered by the Royal Australian Historical Society on behalf of the NSW Government. Applications will open in April 2018.

Heritage Grants Program, funded by NSW Office of Environment and Heritage. Applications will open in April 2018.

Transport Heritage Grants Program, NSW Government funded program, administered by the RAHS, and supported by Transport Heritage NSW (THNSW). Opening date to be confirmed.

If you are thinking of applying for one of these grants then please email grants@rahs.org.au and we can arrange a time to discuss your potential project. RAHS suggest that potential applicants start seeking quotes that support their grant funding request.
Collections Manager/Volunteer Coordinator Position with RHSV
The Royal Historical Society of Victoria has a vacancy for the part-time position.

The Collections Manager and Volunteer Coordinator (CMVC) position is approx. 26hrs/wk.
The Society has a collection of books, periodicals, manuscripts and images which have been acquired during the life of the organisation and is still being added to. Last year we RHSV adopted the eHive system for cataloguing and making the records widely available through Trove.

Much of the work of caring for the collection is undertaken by a large team of volunteers. An important part of this position involves recruiting, training and supporting volunteers. The CMVC also assists members of the public using the collection for research. THE CMVC also has responsibility for the information technology needs of the organisation.

This is a varied and interesting position and the RHSV are looking for someone with appropriate qualifications and experience, a strong interest in history and outstanding interpersonal skills.

Applications close at 5.00pm on Wednesday April 18.
Applications should be addressed to the Executive Officer, Rosemary Cameron at 239 A'Beckett St Melbourne VIC 3000 or executive.officer@historyvictoria.org.au
For further information contact the Vice-President, Elisabeth Jackson. emjackson@internode.on.net 0407050870

http://www.historyvictoria.org.au/wp-content/uploads/2018/04/PD-Collections-Manager-Volunteer-Coordinator.pdf
The FAHS e-Bulletin, No. 176,
9th April 2018