Previous FAHS award recipients. l: Alan Foskett receiving his Merit Award from Esther Davies; m: Dr Rosalie Triolo (on right) presented with her Merit Award by Catherine Andrews, wife of Premier Daniel Andrews; r: Peter Cox (on right) receiving the FAHS Fellowship award from Associate Prof Don Garden.

Nominations for the FAHS Merit Awards for 2018 are now open and close on 30 June 2018.

Eligibility for a Merit Award is open to any individual who is a member of one of the Federation's constituent member organisations or of any of their affiliated societies.

A nomination for a Merit Award may be put forward by any council/committee of management of any constituent member organisation of the FAHS or one of its affiliated societies. It is desirable but not required that the nominations put forward by affiliated societies have the support in writing of the council (or where appropriate the CEO) of the FAHS constituent member society with which they are affiliated.

The guidelines (in PDF format) and nomination form (in PDF and DOC formats) can be downloaded from the FAHS website at http://www.history.org.au/Merit%20Award.html.

Lists of previous Merit awards recipients are on the FAHS website history.org.au along with further information
National Launch of Australian Heritage Festival

Associate Professor Elizabeth Farrelly; Ms Wrobel, Debbie Mills, CEO National Trust (NSW); Elinor Wrobel, owner John Passmore Museum, Brian Powyer, President National Trust (NSW); Gadigal Elder Uncle Charles (Chicka) Madden

The National Trust 2018 Australian Heritage Festival launched on Wednesday 18 April at the John Passmore Museum of Art in Woolloomooloo with a keynote address by author Elizabeth Farrelly. The launch coincides with the International Day for Monuments and Sites, with key addresses in Sydney and Melbourne reassessing what is Heritage in the 21st Century.

Chairman of the Australian Council of National Trusts, Brian Powyer, said: 'The Australian Heritage Festival brings together people from all over Australia to share their stories, explore traditions and bring history to life through guided walks, tours, demonstrations and hands-on history experiences for everyone.'

'The Festival acknowledges the wide range of cultures that have made Australia what it is today. It is a call to celebrate what makes us special, to share our differences and to come together over our similarities. It helps people, families and communities form connections with their local heritage and treasure the places they love,' Mr Powyer said.

Many historical societies around Australia are hosting events over the next four weeks. Find an event near you https://www.nationaltrust.org.au/ahf/
FAHS Representative to inform Redesign Work on Trove
In 2016, the National Library was allocated funding from the Public Service Modernisation Fund to deliver new digitised content; update Trove's discovery and engagement services to enhance user discovery; and to create a sustainable and secure infrastructure for the service. To achieve this, the Library is embarking on a refresh of Trove's brand and design. This can best be achieved by seeking input from the contributors and users of Trove.
The National Library is proposing the formation of a Trove Redesign Community of Practice. Representatives from cultural and research institutions, as well as Trove users and volunteers have been invited to participate in this community of practice.

The FAHS is represented by the RAHS Senior Vice President, Ms Christine Yeats, BA, DipLib, DipArchAdmin who gives talks on Trove at seminars and has also done so at RAHS Conferences.
Digital Access to Collections Workshop, Newcastle, NSW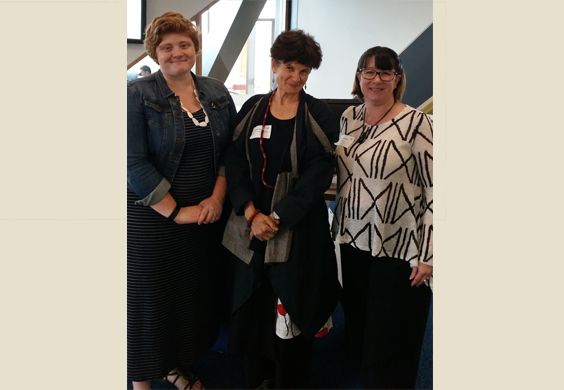 Photo: l to r: Lucinda Davison, Trainer, Digital Access to Collections; Bernadette Flynn, FAHS National and Community History Officer and Curator; Wendy Quihampton, Project Manager, Digital Access to Collections

Earlier this month, Bernadette Flynn, the FAHS National and Community History Officer and Curator represented the Federation of Australian Historical Societies at the GLAM Peak Digital Access to Collections workshop in Newcastle.

Across two days, Wendy Quihampton, Lucinda Davison, industry partners and guest speakers outlined how to manage the collections in our care - Plan, Prepare, Digitise and Share. The level of information while complex was broken down into small chunks - the motto for Digitise - do it once, do it right!. Workshop materials included:

The importance of planning - how and what to prioritise, strategies for funding and the benefits of working collaboratively with other organisations.

Technical information covering file standards and formats including the varying types of metadata and how to add metadata to an image.

The complexities of copyright along with fair dealing and exceptions for cultural and educational organisations.

Industry partners presented collection management systems (cloud based technologies and open source systems); innovative media migration from older systems such as magnetic tape along with specialised data preservation including a cost of inaction calculator.

Sharing, how to share and the audience reach of various sharing platforms - from Trove, Twitter, Instagram to History Pin and Flickr.

The workshop concluded by outlining the importance of measuring impact through analytics and view counters.

The comprehensive workshop notes were made available to workshop participants. These can be freely shared. If you would like a copy contact Bernadette Flynn fahsbflynn@gmail.com.

GLAM Peak Digital Access to Collections Project is planning to update these materials into a comprehensive booklet at a later date.
Further information at http://www.digitalcollections.org.au/
Featured Historical Society - Cinema and Theatre Historical Society of Australia Inc.

The Cinema and Theatre Historical Society of Australia (CATHS) was formed in Melbourne, Australia in 1989

The aims of the Society are to record the history of cinemas and theatres, and to promote interest in theatre heritage and architecture, and other related areas.

The Society operates an extensive archive containing material on the history of cinemas and theatres in Australia, New Zealand and Papua New Guinea.
The Cinema and Theatre Historical Society developed from a group of about twenty people with a shared interest in the history of Cinema Theatres. In the mid 1980s, the group galvanised around threats to the Regent Theatre in Melbourne and persuaded the National Trust and the City Council to be allowed to run open days at the Regent. This attracted great interest from the public and developed a pool of interested members. The Society currently has 340 members across Australia and overseas.

CATHS continues its aim to collect and record material on cinemas and theatres (large and small, old and new). The collection includes books, manuscripts, clippings, programs, memorabilia and in excess of 10,000 cinema photographs gathered over the years from donations, bequests, purchases etc.

The society also records the history of cinemas and theatres in the form of books, magazines and audiovisual materials. Books published include 100 Years of Hoyts Cinemas and Melbourne's Capitol Theatre and a Quarterly Cinema Magazine Cinema Record.



Images: l, Cover of CinemaRecord Magazine; r, Volunteer Brian Hunt and Archivist Royce Harris discuss the CATHS Archive display for Seniors' Week.

CATHS has compiled a cinema and theatre database of all known past & present cinema and theatre venues in Australasia. This contains details on nearly 6000 cinemas and theatres of the past and present, and most venues which operated as commercial cinemas from the first 'flickers' to the present day. As well as purpose built theatres, the database also includes many public halls, Mechanics Institutes and Schools of Art, as these venues were frequently used as places where the local community went to the pictures.

The archive is located at the Prahran Mechanics Institute - Local History Library and is open to the public Wednesdays and Thursdays. The database resides on InMagic/DB Textworks available in-house to members and visitors for research and family history searches. Records have been migrated to Ragic a cloud database, which is searchable via the CATHS website. The content is updated regularly.

As Mike Trickett, Secretary of CATHS reflects, for many communities, the theatre was the focal point for entertainment in the local area and is therefore an important part of social history. The society frequently receives requests for information from people researching family history or trying to locate the theatre they recall from their matinee days.

One of the challenges outlined by Trickett is maintaining membership levels and attracting younger people to join the group. A stall at the Collector's Fair and online advertising assists in drawing attention to the organisation. Members and visitors are welcome at the meetings, which attracts about 60 members and visitors and include talks and screening of newsreels, film shorts and cartoons. A recent guest speaker presented a documentary made at Swinburne Film and TV school about Australian documentary film pioneer Charles Herschell's career. Other events by CATHS are outings to facilitate inspections for documenting and photographing cinema venues. CATHS is also active in advocacy for the preservation of theatre and cinema buildings and artefacts. A recent submission was for the preservation of the 1930's Inter-War Spanish Mission Roxy Theatre in Parramatta.


Meetings are held at the Sun Theatre, 8 Ballarat Street, Yarraville VIC 3003
email: caths@caths.org.au
website: www.caths.org.au
phone: CATHS Archivist - Royce Harris 0406 476 048



Sources: The Cinema and Theatre Historical Society of Australia website and interview with CATHS Secretary, Mike Trickett
National Pioneer Women's Hall of Fame Residency Program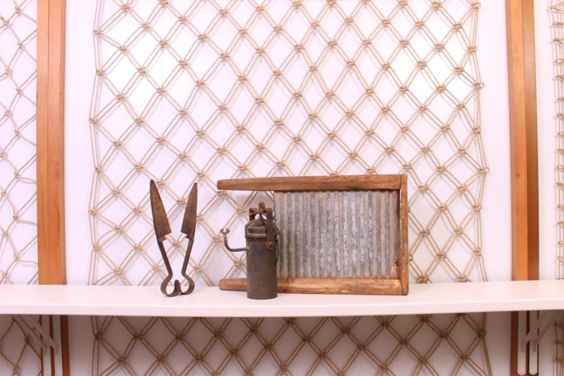 The National Pioneer Women's Hall of Fame at the Old Alice Springs Gaol is excited to announce the launch of our inaugural artist-in-residence program. They are currently seeking expressions of interest, and local Central Australian creative practitioners are welcome to apply, including but not limited to, visual artists, craftspeople and designers, performing artists, screen artists, writers and musicians, working across diverse media. The Women's Museum are also open to proposals for a range of creative collaborations from further afield.

If you are interested in working on-site, with the collection at The National Pioneer Women's Hall of Fame, or have any ideas for collaborative projects please get in touch to discuss your ideas and the possibilities for a residency.

Guidelines and an application form are available by contacting The National Pioneer Women's Hall of Fame. Applications close on Monday 30 April 2018 (later applications can be accepted).

Phone: 08 8952 9006
email: operations@pioneerwomen.com.au
Talk, Royal Historical Society of Queensland, Brisbane

(Photo: Edison Tubes, 1884, 1891, Tamworth Powerstation Museum)

Edison Street Tubes - World's first commercial Underground Electricity Mains

Research Engineers, Brian Becconsall and Stuart Wallace from Engineering Heritage Queensland (EHQ), will give a talk on the early history of Electric Lighting In Brisbane.

In 1880's, following on from experience in London and New York,underground electricity mains invented by Thomas Edison were laid in William Street in Brisbane. In February this year, large sections of these mains were recovered and samples will be sent to museums around Australia and the world. These tubes were invented in 1891 by Thomas Edison in the USA, and used in Brisbane to connect the Government Printery power station to new electric incandescent lighting in Parliament House in 1896. Superseded and abandoned in 1906, they were rediscovered in 1992, and in Feb. this year, large sections were removed for the Queens Wharf project. Samples are being organised for Parliament House, and local and overseas museums, including the RHSQ.

When: 12:30 pm – 1:30 pm, Wed, May 9, 2018,
Location: 115, William Street, Brisbane
Cost: Free. Bookings for catering
AGM and Inaugural Weston Bate RHSV Oration, Victoria
Date : Tue 15 May
Time : AGM 5pm, lecture 6pm
Venue : RHSV, 239 A'Beckett Street, Melbourne

Cost: Free for RHSV members, $10 for non-members. Book Now
Following the AGM,distinguished historian, Stuart Macintyre will be delivering the inaugural Weston Bate RHSV Oration on History and Heritage. The RHSV takes a keen interest in Victoria's heritage – and understandably so since the dramatic growth of the State places great pressure on its built form. This lecture explores how the understanding of heritage has been shaped by such episodes of rapid change, and argues that history is
too often neglected in heritage conservation.

Stuart Macintyre AO, FAHA, FASSA is Emeritus Laureate Professor of the University of Melbourne and a Professorial Fellow of the School of Historical and Philosophical Studies. He is President of the Academy of the Social Sciences in Australia. He is also a Fellow of the Australian Academy of the Humanities. A former Dean of the Faculty of Arts at the University of Melbourne, he has been voted one of Australia's most influential historians.
Oral History Agelink Theatrical Production, WA
Sarah of Enderslea Farm
2018 National Trust Heritage Festival

Friday Saturday and Sunday
18th 19th and 20th May 2018


Bookings online at trybooking.com, tickets $37 or Diane Pope at popetwo@gmail.com or phone 08 93865575
Enderslea Farm in Chittering will be the venue for three performances of Sarah of Enderslea Farm by director Jenny Davis and producer Diane Pope.

Staged in the old convict-built stone barn at Enderslea Farm the play is about the Morley family who arrived in the Swan River Colony in 1830. The story of Sarah Morley, her family and convict son-in-law (who arrived on the convict transport Mindan in 1851) give the human dimension to the struggles of establishing Western Australia.

A 'farm fare' Afternoon Tea is included and follows the performance. Carmel and Nick Humphries of Bindoon Estate give free wine tastings.
History Festival Launch, SA
South Australia's History Festival Launched

The History Festival is one of South Australia's largest community events. The festival promotes the State's wonderful collections, places and stories through an amazing range of history-related activities. The History Festival began in 2004 as SA History Week and has grown each year, becoming a month-long festival in 2011. Its popularity and success is due to the hard work and enthusiasm of the event organisers, including thousands of volunteers, who are passionate about sharing our history.

Its popularity and success is due to the hard work and enthusiasm of the event organisers, including thousands of volunteers, who are passionate about sharing our history.

The 2018 History Festival opened on 28 & 29 April with Open Doors: Built Heritage Weekend; a special weekend focusing on South Australia's buildings and architectural history. Open Doors will provide an opportunity for people to see behind the façades and explore the state's buildings in new ways.
Talk, Canberra and District Historical Society, ACT
Talk hosted by Canberra and District Historical Society : The Kingo - Can it be heritage listed?

Date: 5.00pm for 5.30pm, Tuesday 8 May

Photo: Nick Swain, president of the Canberra & District at the Kingston Hotel, photo, Karleen Minney.
Canberra and District Historical Society President Nick Swain and Past President Marilyn Truscott discuss the submission for heritage listing of the Kingston Hotel, ACT.

Note: In January this year, the Canberra and District Historical Society made a nomination to the ACT Heritage Council for the Kingston Hotel to be heritage listed. Nick Swain, President of the society said the hotel was associated with notable incidents in 20th century Australian history, including the Petrov affair and the 'faceless men' incident. Read More

Venue: Conference Room, Telopea Park School
Cost: Free, visitors welcome
Bookings: CDHS Office 02 62812929 or email here
Launceston Historical Society involved in Archaeological Dig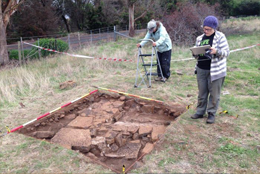 The remains of a kitchen at Kerry Lodge convict dig site.

John Dent from the Launceston Historical Society.
An archaeological dig in northern Tasmania is revealing more stories about the state's convict past. Archaeologists and historians are discovering more about the lives and living conditions of convicts who worked at the Kerry Lodge convict site, just outside Launceston.

About 40 convicts worked to quarry stone at the site for the nearby Kerry Lodge bridge that was built in 1835. Convicts there also helped build the original Midland Highway.........

The project is a collaboration between the University of Manchester, the University of Tasmania, the Queen Victoria Museum and Art Gallery and the Launceston Historical Society.

John Dent from the Historical Society is thrilled to be part of the dig. 'After doing the research it's great to be able to prove that what you've researched is correct,' he said.

'It just tells and fills in a lot of the gaps that you don't get from the historical record. The records are fairly sparse and so you can't actually find a lot of this information from the historical records. Digging it and finding the information here gives you that extra level of detail and information that you just can't find in the historical record.'

Source: http://www.abc.net.au/news/2018-04-13/stories-of-tasmanias-convict-past-being-unearthed-in-new-dig/9645318. Photos: ABC News: Damian McIntyre
Book Publication, History of Nyungar Performance, WA
Dancing in Shadows explores the power of Indigenous performance pitted against the forces of settler colonisation.

Historian Anna Haebich documents how the Nyungar people of Western Australia strategically and courageously adapted their rich performance culture to survive the catastrophe that engulfed them, and generously share their culture, history, and language in theatre.

Dancing in Shadows sheds light on a little-known history of Nyungar performance.
https://uwap.uwa.edu.au/collections/new-releases/products/dancing-in-shadows-histories-of-nyungar-performance
Family & Local History Conference & Fair, QLD


The Waves in Time Family & Local History Conference & Fair is being held on the 24 – 26 May 2019 at the Lake Kawana Community Centre located at Bokarina on the beautiful Sunshine Coast.

This is the 3rd Queensland State Family & Local History Conference and in 2019 it will be hosted by Caloundra Family History Research Inc. with the support of History Queensland.

The three day event will begin on Friday with a full morning of free public talks on family history themes of interest to researchers from beginners to more experienced such as Ancestry, Trove and FamilySearch. The afternoon program will comprise three workshops. The free family history fair will continue throughout the weekend.

On Friday evening there will be a Welcome Function for conference delegates. We hope that the launch of a Queensland book will be included.
Saturday will begin with a keynote speaker followed by a full day of talks by local and interstate presenters on various aspects of family history research. A parallel stream of talks on local Queensland history will also be presented.

A Conference Dinner will be held at a venue overlooking the water.
Sunday will begin with a keynote speaker and be followed by three presentations in the two streams (family and local history). The conference will finish about midday.

The call for speakers opened on 1 April and closes 31 August 2018. Successful speakers will be advised by 12 November 2018 and will be entitled to a free conference registration.

Further information at http://wavesintime2019.org.au/conference-overview/
Digital Access to Collections Workshop, Alice Springs
You're invited to the Alice Springs Digital Access to Collections Workshop!

Dates: 20th to 21st June 2018

Location: Witchetty's Artspace, Araluen Arts Precinct, 61 Larapinta Drive, Alice Springs NT

This free two-day workshop gives attendees the opportunity to participate in training focused on digitisation and the provision of digital access of collections, Q&A's with leading technology providers and the chance to network with other GLAM organisations.

Who should attend? Staff and volunteers from small- to medium-sized non-metropolitan collecting organisations, including galleries, libraries, archives, museums, indigenous keeping places, sporting clubs, returned services clubs and historical societies.

The workshops will provide information, training and advice for organisations on their way to providing digital access to their collections.

Funding is available to organisations through grants that can support participation at the workshop and/or assist with setting your organisation up for digitising collections. More information about the grants can be found at
http://www.digitalcollections.org.au/workshops/grants
Wisemans Colonial Weekend, NSW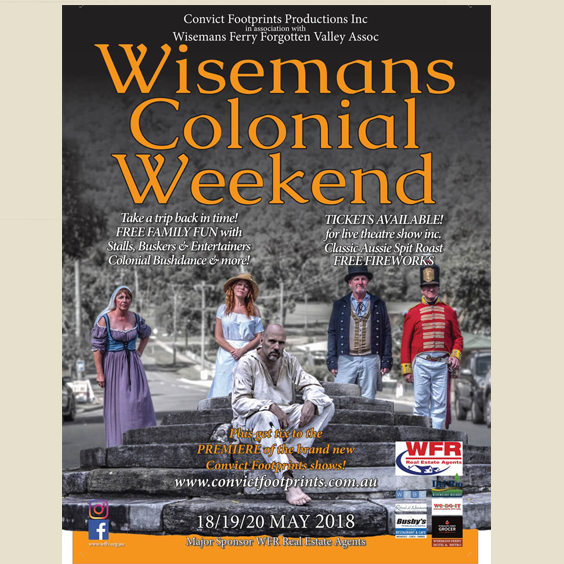 The Wisemans Colonial Weekend – a trip back in time to the 1800s for the whole family as the historical township of Wisemans Ferry plays host to Convict Footprints & a raft of family entertainment. From street theatre to craft stalls, Aboriginal dancers to buskers, classic Australian bush dance to living-history theatre- the town will be transformed with roving actors, music, stalls and entertainment.

The weekend will also host the premiere of 2 new Convict Footprints shows written specifically for this event. Saturday will see the first of these productions live in the big tent at the historic Wiseman's Ferry Inn followed by an evening of classic Australian Bush Dance. And what better way to round off such a huge day than with a fantastic fireworks display into the night sky. Sunday will see the second of the Convict Footprints premieres as they join with the wonderful 'edutainers' at Tobruk Sheep Station to bring you a wild ride through the history of sheep farming in Australia!

Further information: http://wffv.org.au/event/wisemans-colonial-weekend-18-19-20-may-2018/
The FAHS e-Bulletin, No. 177,
2nd May 2018