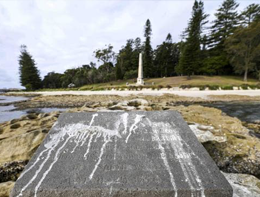 The site of Captain Cook's landing as it looks today. Picture: Darren Leigh Roberts, The Australian, April 28th, 2018

Artist impression of the cafe to built at the meeting place precinct at Kurnell to commemorate Captain Cook's landing in Australia.
A new memorial to Captain Cook will be built at Botany Bay as part of a $50 million redevelopment of the site where the British explorer and his crew first set foot on Australian soil.

The memorial will commemorate Cook's encounter with Indigenous Australians on the Kurnell shores, in what was the first collision of British and Aboriginal cultures on April 29, 1770.

The $50 million redevelopment of the Meeting Place Precinct, designed to commemorate the 250th anniversary of Cook's landing in 2020, will feature a new aquatic monument, that takes in the original mooring site of Cook's ship HMS Endeavour and the foreshore.

Treasurer Scott Morrison, in comments to The Weekend Australian, said the memorial would be a 'a place of commemoration, and recognition and understanding of two cultures, and the incredible Captain Cook'.

The funding announcement comes amid a broader public debate - both in Australia and overseas - around the value of historical monuments that commemorate contested histories and controversial figures.

In the Weekend Australian La Perouse Local Aboriginal Land Council chairwoman Noel­een Timbery welcomed the joint funding commitment.

'Kurnell is a significant place for all Australians and the La Perouse Local Aboriginal Land Council is excited the NSW and Australian governments are investing substantial infrastructure to the area,' Ms Timbery said. 'The LPLALC welcomes the opportunity to continue its engagement to ensure Aboriginal cultural and economic participation is achieved.'

Sources: https://www.theaustralian.com.au/national-affairs/indigenous/50m-for-botany-bay-memorial-to-captain-james-cook/news-story/d4259af8866ad6c1f5e3abc78bfaae89

https://www.smh.com.au/politics/federal/sydney-to-get-new-captain-cook-memorial-as-part-of-50m-revamp-20180428-p4zc64.html

http://www.theguardian.com.au/story/5369118/cook-monument-centrepiece-of-kurnell-plan/?cs=3674
Featured Historical Society - The Mallala and Districts Historical Committee, SA

The Mallala and Districts Historical Committee was formed in 1968 to develop a collection around the social, business and agricultural history of the local district.
The Mallala and Districts Historical Committee operates from Mallala, which has a small community of under 1,000 people and is about 60kms out of Adelaide. The name Mallala is thought to be derived from the local Aboriginal word 'madlola' (place of the ground frog).

In the late 1960's, a keen local Kitty East recognised the importance of preserving the memorabilia and records from the Mallala and surrounding area. The initial idea was to have a collection of community items as a local repository. The community donated objects, photographs and documents and the collection grew rapidly with a formal committee developing in 1968.

Since 1970, the collection has been housed and displayed in the State heritage listed Mallala Flour Mill, which was erected in 1878. The three storey building was purchased by the District Council for the use of the committee as a museum and tells the story of early settlement from the first land grants in the 1850's to contemporary times. The collection now contains over 3,900 objects catalogued as paper records and in Access database. Thousands of photographs are filed with tags and keywords in Windows Live Gallery. Other documents include school records, enrolment registers etc.

The museum is organised across different themed areas of local history. Downstairs records the significant military service of the community through the Boer War, Great Wars, Modern conflicts and peacekeeping activities. Upstairs, home wares and collectibles are laid out as furnished rooms, depicting the home life of the 1920-1950s. The south shed details the families, businesses, sport, social and service organisations that formed the backbone of local life.

The Northern gallery and pastoral shed contain the agricultural displays of farm machinery, and includes a blacksmith forge, penny farthing and REO Speedwagon Fire Engine. In the courtyard of the museum the Long Plains School room (late 1950's) has been relocated, and now houses the artifacts and archives of the educational history of the district.




L to R: Laurie and his sister Lucy (holding the reins) cousin Doris, c1909; buggy from the Mallala Museum, just prior to its renovation and restoration

Over the last 15 to 20 years the committee has changed to a more outward looking focus and interpretation that speaks to a more general audience. This curatorial approach has been supported through SA Community Museum's Program. The museum now has a changing program of exhibitions including special exhibitions for SA History Month in May, each year. For 2018, the exhibition Down the Aisle featured wedding dresses from the Museum's collection and also ones on loan from the community including a slideshow of some of the many wedding photos in the collection. The museum (open Sunday afternoons and by appointment) attracts around 1,000 visitors per year, with many of the visitors living in the community or having a past connection to the community.

For the last 15 years the membership has retained a relatively stable structure. A Working Bee on Tuesday's brings in new members, many of whom take up rostered work at the museum.The committee actively supports volunteer skills development through training in museum's practice and have successfully completed the SA Community Museum's Standards Program. A Men's Shed in an adjoining building has helped in assisting with building projects including a gallery display for the museum. A council support person attends meetings and helps coordinate volunteers.

Active in social media M&DHC run a Facebook page and a Flickr site along with a Now and Then wiki website, which details histories of the area. The wiki site is hosted by National Trust of South Australia and a significance community enterprise enabling the people of Mallala and District to share knowledge, memories and stories.

M&DHC runs open days such as demonstrations of farm equipment and participates in local community activities. Schools programs are also run with 70 to 80 children taught over 4 areas of the museum on topics linked to the national curriculum. Research enquires are addressed remotely or by appointment A small operational budget from council along with donations and door takings helps to finance the committee's broad ranging activities.

The success of the museum has been recognised through three ABC Regional Museums Awards for the best regional museum in SA over the past years.

Wiki: http://mallala.nowandthen.net.au/
Museum Open: Sundays, 2.00 - 4.30pm. Other times by appointment.
Location: 1 Dublin Road, 5502 Mallala, SA
email: mallalamuseum@gmail.com



Sources: The The Mallala and Districts Historical Committee wiki site and interview with President, Marcus Strudwicke
RAHS Journals and Proceedings online at Trove
The Journal of the Royal Australian Historical Society (JRAHS), the oldest journal of Australian history, was first published in 1906 and is a highly revered and peer reviewed publication. The journal contains original, previously unpublished non­ fiction scholarly articles, reviews and images.

RAHS Journals and Proceedings 1918 -1964 now online through the National Library of Australia's TROVE

View them through Trove's Journal Zone: 295 issues at this link and 46 issues at this link and browse the collection
Digitisation of the Daisy Bates Collection, WA

Associate Professor Nick Thieberger with Brian and Dawn Hadfield, Picture: Tori O'Connor, Kalgoorlie Miner

The digitisation of the Daisy Bates Collection was the focus of a presentation by linguist and Associate Professor Nick Thieberger at the Goldfields Aboriginal Language Centre (9th April 2018).

Mr Thieberger said Ms Bates' work in the early part of the 1900s recording a multitude of Aboriginal languages and vocabularies was a significant piece of history he felt was important to preserve in a readily accessible form.

'This is a collection of 21,000 pages of vocabularies that Daisy Bates organised in the 1900s and my project is to digitise this and make it available online,' he said.

'The first part of that project is completed and we are now moving on to look at the collection of 1100 pages of song material she recorded.
'I was showing the current state of the project and showing the feature so that you can search the material and display it geographically and look at the text together with the images of the original manuscript.'

Mr Thieberger also handed back a collection of original audio tapes recorded by local linguists Brian and Dawn Hadfield, which he said had also been digitised.

'This is another example of the kind of historical sources that has got a time depth of some length which we want to preserve and get back to people so they can hear these types of things and now they will be able to be accessed by Aboriginal people in Western Australia,' he said. Read More

Digital Daisy Bates is at http://bates.org.au/

Source: https://thewest.com.au/news/kalgoorlie-miner/digital-project-preserves-aboriginal-voices-of-the-past-ng-b88800201z
Sydney Trains Heritage Clock Collection

Clock conservator Doug Minty inside the Sydney Trains heritage clock collection, Picture: Luke Wong

Hidden within the service tunnels beneath Sydney's Central Station is a secured room containing a collection of more than 400 heritage clocks and watches.

During their operation they were more than just decorative ornaments; the safe transportation of people and goods depended on their accuracy.

'Timekeeping was really important because you had a baton system where you still needed to make sure there wouldn't be an accident with two trains on the same line at the same time,' veteran clock conservator Doug Minty said.......

The heritage timekeeping devices were relocated to the collection room about six years ago following the closure of railway workshops in Strathfield where they were maintained.

Some of the oldest wall clocks, the majority of which were manufactured by American company Seth Thomas, date back to the 1890s.

They were displayed in waiting rooms, refreshment rooms, ticketing and administrative offices.

By the 1970s there were more than 3,000 mechanical clocks and 6,000 watches working alongside several hundred synchronous clocks, impulse, electrical and mechanical time recorders in the railway system.

Source: http://www.abc.net.au/news/2018-04-30/railway-heritage-clock-watch-collection-sydney-central-trains/9703954
Nominations for the FAHS Merit Awards Open until end June
Previous FAHS award recipients. l: Alan Foskett receiving his Merit Award from Esther Davies; m: Dr Rosalie Triolo (on right) presented with her Merit Award by Catherine Andrews, wife of Premier Daniel Andrews; r: Peter Cox (on right) receiving the FAHS Fellowship award from Associate Prof Don Garden.

Nominations for the FAHS Merit Awards for 2018 are now open and close on 30 June 2018.

Eligibility for a Merit Award is open to any individual who is a member of one of the Federation's constituent member organisations or of any of their affiliated societies.

A nomination for a Merit Award may be put forward by any council/committee of management of any constituent member organisation of the FAHS or one of its affiliated societies. It is desirable but not required that the nominations put forward by affiliated societies have the support in writing of the council (or where appropriate the CEO) of the FAHS constituent member society with which they are affiliated.

The guidelines (in PDF format) and nomination form (in PDF and DOC formats) can be downloaded from the FAHS website at http://www.history.org.au/Merit%20Award.html.

Lists of previous Merit awards recipients are on the FAHS website history.org.au along with further information
The Queensland Day Dinner, Brisbane Club
The Royal Historical Society of Queensland will celebrate Queensland Day on 6th June at The Brisbane Club

The event's guest speaker will be Dr David Fricker, Director-General of the National Archives of Australia and President of the International Council on Archives Vice-Chair, UNESCO Memory of the World IAC . During the evening, the award ceremony of the John Douglas Kerr medal will take place, presented by His Excellency the Honourable Paul de Jersey AC, Governor of Queensland.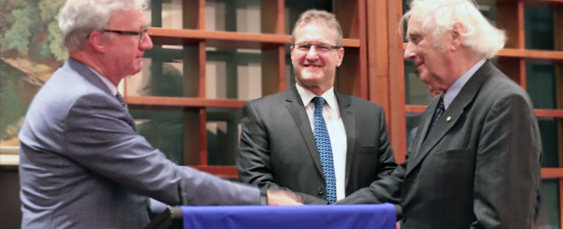 Emeritus Professor Geoffrey Blainey (on right) was awarded the John Douglas Kerr Medal of Distinction for Historical Research and Writing in 2017. Photo taken at the Queensland Day Dinner 2017 by Lee Beanland.

Further information: http://www.queenslandhistory.org/event/queensland-day-dinner-2018/
Multimedia and Oral History Workshop, Adelaide

Create audio and visual presentations with your oral history recordings

Are your oral history recordings sitting in an archive, not being used?
Have you ever wanted to make use of the recordings for displays or presentations? If so, this workshop is for you.

This hands-on workshop will teach you how to:
use audio editing software to edit your interviews,
create audio clips with added sound effects for use in a range of settings, such as displays in a community centre, library or museum, and
use audio clips and photographs to create a visual presentation.

Date: 9 July 2018
Time: 10:00am – 4:00 pm
Venue: Hetzel Lecture Theatre, Institute Building, State Library of South Australia, cnr Kintore Ave and North Terrace, Adelaide.
Cost: $90 per person per day or $60 for OHA members/students/concession card holders. Morning tea is provided but not lunch. Payment must be made in advance to confirm your place.

Further information: http://oralhistoryaustraliasant.org.au/featured/advanced-oral-history-workshop/
Exhibition on Vera Deakin, RHSV
Vera Deakin's World of Humanity Exhibition at RHSV - until 8 August

The RHSV concludes its war commemoration in 2018 with an exhibition on Vera Deakin.

Vera figured in an earlier exhibition as secretary of the Australian Red Cross Wounded and Missing Enquiry Bureau in Cairo and London 1914‒18. This bureau was the forerunner of Vera's lifelong dedication to and leadership roles in the Red Cross, especially during the WWII. In 1920 Vera married Captain Thomas White DFC, who later became an Australian cabinet minister and high commissioner; when he was knighted in 1952 she became Lady White.
RWAHS Annual State Conference, WA
The Royal Western Australian Historical Society Inc Annual State History Conference of Affiliated Societies

7th to 9th September 2018
Registrations now open
The Annual Royal Western Australian History Conference of Affiliated Societies attracts delegates and other participants from metropolitan and regional districts from all over the State. It is held on alternate years in regional and metropolitan centres. It is a two-day weekend event, chaired by the President of the RWAHS, and usually commences on the Friday evening with a reception arranged by the host local authority.

In 2018 the Annual State History Conference of Affiliated Societies is hosted by Cervantes Historical Society Inc

Contact: cervantes50th@hotmail.com
PO Box 222 Cervantes 6511
Phone: Marilyn on 0458 668 178
Denmark Historical Society receives community award, WA
Denmark Historical Society awarded Community Group of the Year

The award was won chiefly because of the work of the 'cemetery fairies' who restored headstones at the Denmark Cemetery and have located the medical instruments of Dr Alexander Denmark after whom the river and town are named.
Kununurra and Wyndham Historical Societies Exhibition, WA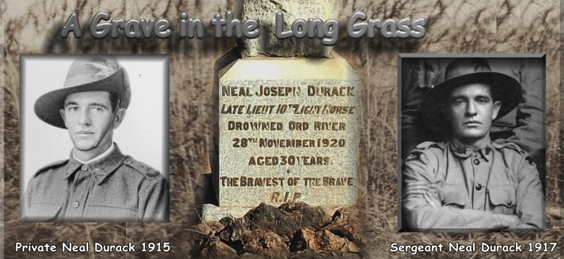 May 2018 - Kununurra Museum & Wyndham Museum - 'Remembering Them' Exhibitions
A Grave in the Long Grass - Neal Durack on Ivanhoe Station.

This year of 2018 marks the centenary of the end of World War I and these exhibitions were initially researched and devised locally, then, with thanks to further research by the Royal WA Historical Society, the panels were professionally designed with collaboration between each Society (Kununurra & Wyndham) and staff of the WA Museum and Museums & Galleries Australia WA. There is also a museum quality showcase for each of the Kununurra and Wyndham Museums.

http://www.kununurra.org.au/events
Wauchope District Historical Society Exhibition, NSW
The story of the much-loved Regent Theatre is told in a beautiful exhibition by Wauchope District Historical Society currently at Wauchope Library.

It tells how a local shopkeeper, Mr J N Parker, decided to build a picture theatre in Wauchope in 1922. It was erected in Young Street and leased to Mr and Mrs Bailey and was initially called Bailey's Picture Palace.
Digital Access to Collections Workshop, Broome

You're invited to the Broome Digital Access to Collections Workshop!

Dates: 26th to 27th June 2018

Location: Bernadine Greene Room, Pomegranate House, Broome Heritage Centre, 9 Barker Road, Broome
This free two-day workshop gives attendees the opportunity to participate in training focused on digitisation and the provision of digital access of collections, Q&A's with leading technology providers and the chance to network with other GLAM organisations.

Who should attend? Staff and volunteers from small- to medium-sized non-metropolitan collecting organisations, including galleries, libraries, archives, museums, indigenous keeping places, sporting clubs, returned services clubs and historical societies.

The workshops will provide information, training and advice for organisations on their way to providing digital access to their collections.

Funding is available to organisations through grants that can support participation at the workshop and/or assist with setting your organisation up for digitising collections. More information about the grants can be found at
http://www.digitalcollections.org.au/workshops/grants
History Talk, Launceston Historical Society, Tasmania
Gorgeous Walks and Talks - Bridges and pathways into the Gorge

History talk with Marion Sargent
Wednesday, 6 June 2018
10am to 11.30am
Join local historian Marion Sargent as she explains how the opening of pathways and bridges into the Gorge broadened the natural recreational opportunities and tapped into the water source for community benefit.

The talk is being held at the Basin Cottage located behind the main chairlift station on the Basin Road side of the Gorge.

Questions and answers will follow the presentation and tea and coffee will be available. Weather permitting, there will be a short walk at the end of the talk.

This event is free of charge and places are limited. To book, phone 03 6323 3000 or email contactus@launceston.tas.gov.au
Community Grants Initiative, Victoria


Pick My Project is a community grants initiative, with $30M available to fund local projects.

Come up with an idea, vote for your favourites and make your community an even better place to live.

From May 2018, all you'll need is a project idea to improve your neighbourhood and an eligible partner such as a registered community organisation, school or local council to help deliver your idea.

The Pick My Project team will be hitting the road from 29 May to talk to you about your project ideas and how to prepare and submit your application. They'll be visiting metro and regional communities across Victoria via a series of information sessions and pop-ups. For all event details and to register, visit pickmyproject.vic.gov.au/events
The FAHS e-Bulletin, No. 178,
4th June 2018