Emeritus Professor Brian Hinton Fletcher OAM, (1931-2018)

FAHS Councillors and friends will be saddened to hear of the recent death of Emeritus Professor Brian Fletcher OAM. Brian Fletcher was a member of the Federation Council from 1992 to 2001 as a representative of the Royal Australian Historical Society and was President from 1992 to 1996.

Image, ABC
I was on the Council at the time representing The Royal Historical Society of Queensland. Brian was a very amiable, highly experienced professional historian with the vision and aims of the Federation at heart. The Council meetings (usually about three or four per year) were held in Brian's office at The University of Sydney on Saturday mornings. After the meetings the Council adjourned to a café at Erskineville for lunch.

In 2001 Brian was awarded a Fellowship for his services to the Federation of Australian Historical Societies.

Brian was a member of the History Department at the University of Sydney from 1973 until his retirement in 1999. He became the foundation Bicentennial Professor of Australian History in 1988. Brian is best known for his three influential books – Colonial Australia before 1850, Landed Enterprise and Penal Society: A history of Farming and Grazing in NSW Before 1821, and Ralph Darling: A Governor Maligned. He wrote extensively on Anglican Church history in Australia and also wrote a history, Magnificent obsession: the story of the Mitchell Library, Sydney, published in 2007.

Brian was a Councillor of the Royal Australian Historical Society from 1971–73, 1975–81 and 1989–92, Editor of the Journal of the Royal Australian Historical Society, 1968–93, and Vice-President 1982–88.

Dr Ruth S Kerr, The Royal Historical Society of Queensland
Queen's Birthday Honours 2018
The FAHS congratulates the following individuals who have been awarded the Medal Order of Australia (OAM) in the General Division for services to history.
Mr Kenneth Ralph AMES, NSW
For service to the preservation of rail transport history, and to youth.

Mrs Helene Lorraine CRONIN, Buderim Qld 4556
For service to community history.

Mr Colin James DENNISON, Glenorchy Tas 7010
For service to the preservation of local history.

Mr Patrick John DURNFORD, Townsville Qld 4817
For service to veterans, and to military history preservation.

Mr Donald Macarthur GODDEN, Kangaroo Valley NSW 2577
For service to the community through history preservation organisations.

Mr Michael Paul GOODWIN, North Mackay QLD 4740
For service to military history preservation.

Mr Pat HALLAHAN, Lesmurdie WA 6076
For service to the community through history preservation organisations.

Ms Merril Anne JACKSON, Point Frederick NSW 2250
For service to community history.

Mr Anthony James McALEER, Mount Evelyn Vic 3796
For service to the community, and to military history.

Dr Barry John McGOWAN, Cook ACT 2614
For service to community history.

Mr Ian Trevor McIVOR BEM, Toowoomba Qld 4350
For service to military history preservation, and to the community.

Mrs Shirley Naina McIVOR, Toowoomba Qld 4350
For service to military history preservation, and to the community.

Mr Thomas Edward PERRIGO, Kardinya WA 6163
For service to heritage conservation, and to the community.

Mr Frank Edward STAMFORD, Emerald Vic 3782
For service to rail transport history.
Succession Planning, History Trust, SA
After You've Gone



The National and Community History Officer and Curator, Bernadette Flynn, visited South Australia at the invitation of History Trust SA to run information sessions and a workshop on Succession Planning. The talks generated a great deal of interest with a second talk scheduled to enable over 60 participants to attend from Adelaide and the regions. It was encouraging that so many local history groups and community history museums recognised the value of succession planning. Some lively discussion followed about planning for the future, extending to ideas about governance and technology challenges.



Workshop with the Adelaide Plains Council Historical Committee (formerly the Mallala and District Historical Committee).

An all day workshop on Succession Planning ran in Mallala with the support of Amanda James (Senior Community HIstory Officer) and Pauline Cockrill (Community History Officer). In small cluster groups, the 7 steps of the workbook were undertaken - from consideration of the mission and vision statements - to critical roles and how to recruit new people into the organisation. By the end of the workshop the group had drafted sections of the plan with details to be consolidated at a later date.
Featured Historical Society - The National Pioneer Women's Hall of Fame, Alice Springs

The National Pioneer Women's Hall of Fame (NPWHF) undertakes research about the Old Alice Springs Goal site and operates as a public museum for the purpose of recognising and honouring pioneering women who contributed to the development of Australia.
The Women's Hall of Fame was founded by Molly Clark of Old Andado Station in 1993. After visiting the stockmen's Hall of Fame in Longreach, she recognised a need to commemorate and acknowledge the contribution made by women in outback Australia.

With support from the first female mayor and local station people, a museum was established in the Old Courthouse. By 2004 this was found to be too small for the growing collection and lacked adequate storage facilities and a new site at the former HM Gaol was leased. This site now tells the stories of the pioneering women who contributed to the development of Australia and the people who worked and were imprisoned in the Old Alice Springs Gaol from 1938 to 1996.

The NPWHF manages a collection of around 3,000 women's objects donated from across the country, ranging from domestic items to textiles, furniture and artworks. Photographs, oral history tapes and documents add to the repository of material relating to women's history in Australia. Some of these items are accessible via an online database with much material still to be fully catalogued. Another database the HerStory Archive tells of the achievements of over 1,500 pioneering women who have been first in their field. Conserving the collection and building the online catalogue to make more of it available is an on-going process.

Throughout the old gaol site, three permanent exhibitions commemorate the achievements of Australian women: Ordinary Women, Extraordinary Lives, Women at the Heart and What's Work Worth?. Installations in the Women's and Men's Cell Blocks tell the stories of the people who lived and worked at the Old Gaol through objects, text panels, audio visual media and projections. In addition a program of temporary exhibitions runs throughout the year. The interesting work of the museum both in terms of events and museum programs is disseminated via Facebook and Instagram.




Images: L to R; Installation What's Work Worth?; Panels from Women at the Heart exhibition, photograph Marie Ottilie Johannsen with her daughter Elsa en route to Hermannsburg, at Bloods Creek, 1909.

The NPWHF is fortunate to secure two main grants from the Northern Territory Government, which enables a curator to be employed. As the curator Dianna Newham notes having two sets of history in the one place - women's Pioneer history and gaol history is an interpretative challenge. The trauma history of the site further adds to the complexity of the task.

The NPWHF is proactive in collaborating with other women's museums and the GLAM sector and is a founding member of the International Association of Women's Museums whose purpose is to promote 'culture, arts, education and training from a female perspective'. The NPWHF collaborates with museums, archives and libraries in Alice Springs and is one of the host organisations of the Museums and Galleries 2019 conference, which is to be held in Alice Springs in May.

Dianna Newham outlines the success of the community engagement programs - through outreach into the community and by responding to people who know about the museum and approach NPWHF directly. The museum runs film nights, international women's day events, along with a curator in residence program in a nearby retirement village. The NPWHF school's program is designed for the Australian Curriculum (History years 2, 3, 4 and 6). An on site shop sells books, locally made jewellery and art. A collaboration with the NPY Tjjanpi desert women facilitates the sale of woven figurines and bowls.

Museum: Open 10.00 am - 5.00 pm every day Including public holidays
Location: Old Alice Springs Gaol, 2 Stuart Terrace, Alice Springs NT 0870
email: operations@pioneerwomen.com.au
Tel: 08 8952 9006



Sources: The National Pioneer Women's Hall of Fame Website, visit and interview with curator, Dianna Newham
The John Douglas Kerr Medal for 2018

Dr William Metcalf at the RHSQ Queensland Day Dinner on 6th June
The John Douglas Kerr Medal for 2018 (by RHSQ & PHAQ) was awarded on 6 June 2018 to Dr William Metcalf.

The John Douglas Kerr medal of Distinction is awarded by the Royal Historical Society of Queensland and the Professional Historians Association (Qld) to a historian with demonstrated excellence in historical research in Queensland or Australian history. Former recipients include Emeritus Professor Geoffrey Blainey (2017) and Professor Ann McGrath (2016).
Dr Metcalf has worked as a historian for over four decades. He is most known for his research into utopian communalism in Australia and the local history of Brisbane. Metcalf was formerly an adjunct academic at the School of Environment and Science at Griffith University, and has been a Distinguished-Scholar-in-Residence at Queen's University, Belfast on three occasions.

Dr Metcalf has produced a prodigious body of work across a research career spanning over four decades. He has advanced the study of Queensland and Australian history most notably through his investigation of utopian communalism in Australia, a project which he commenced in 1990. His publishing in this field includes two books, The Gayndah Communes, published in 1998, and Herrnhut: Australia's First Utopian Commune, co-authored with Elizabeth Huf and published in 2002. In addition to these volumes, Metcalf has authored an extensive bibliography of journal articles and essays on this topic, and continues to explore this subject in his ongoing project, The Encyclopedia of Australian Utopian Communalism.

In addition to his work in this field, Bill has contributed significantly to the study of local history in Brisbane. Bill's work in this field include the chapters 'The Toohey Family: Irish Catholicism and Land Speculation in Early Brisbane', published in People, Places and Pageantry in 1987; 'Henry George's Utopia: Wintergarden Centre, Queen Street Mall', published in Radical Brisbane in 2004; and 'Dr Thomas Pennington Lucas and Plague Denial – "More terrible than war!"', published in Brisbane Diseased: Contagions, Cures and Controversy in 2016. Bill's most recent volume, Brisbane: Tertiary Education 1825-2018 – Training, Teaching and Turmoil, co-edited with Barry Shaw and released earlier this year, brings together several viewpoints on the development of Brisbane's academic landscape from the earliest period of the Moreton Bay penal settlement to the present day.

Throughout his career, Bill has supported and enhanced academic rigour in professional historical work. He has served as President of the International Communal Studies Association and locally on the management committee of the Brisbane History Group; he has acted as a peer reviewer for The Queensland History Journal; and has performed as Assessor and Advisor for the Brisbane City Council History and Heritage Grants program. Most impressive, however, is Bill's commitment to ensuring historians of the future are capable of producing work of the highest scholarly standard. Bill has been invited three times, in 1991, 1995, and 1998, to Queen's University, Belfast, to deliver public lectures and liaise with staff and postgraduate students as a Distinguished-Scholar-in-Residence; and in his service as a research methodologist at Griffith University, taught and encouraged tertiary students to engage with history laterally to develop relevant research questions for the discipline.

In all his research, Bill has demonstrated extraordinary energy in identifying sources and people relevant to his research; this enthusiasm is testified in the impressive quantity and consistent standard of his published work. A commensurate historian, Bill has very much ensured that the events and personalities of the past remain remembered and considered in the present.

In conclusion, Dr William Metcalf is a most deserving recipient of the 2018 John Douglas Kerr Medal of Distinction.



Source: The Royal Historical Society of Queensland and the Professional Historians Association (Qld)
History and Heritage Advocate receives RHSQ Centenary Medal

On 17 May 2018 in Chillagoe Dr Ruth Kerr, Hon Secretary of The Royal Historical Society of Queensland presented one of the Society's Centenary Medals to Mary Bolam of Chillagoe, North Queensland.

Image: L Mary Bolam with the RHSQ Centenary Medal; R Dr Ruth Kerr.
Mary is a history and heritage advocate for the region and has worked hard since the 1980s to preserve the Chillagoe smelters site, the Court House and Railway Station. She has also been a constant advocate for improved roads and has collected stories about the prominent families in Chillagoe and Mungana history.

The respect with which Mary Bolam is held for her work was demonstrated by the attendance of the Mayor of Mareeba Shire, Tom Gilmore, and three Councillors Lenore Wyatt, Mary Graham and Edward ('Nipper') Brown together with approx. 35 Chillagoe Alliance Inc members, townspeople, Auctus Resources mining company managers and Historical Society members from Mareeba. Mr Tom Prior drove one of his antique Ford utilities to the event.

The event was held in the historic Chillagoe Court House which is now a museum and a lunch was held afterwards in the Chillagoe Town Hall.



Source: Dr Ruth Kerr, RHSQ
A New Report by the Australian Heritage Council
The report on the Protection of Australia's Commemorative Places and Monuments reviews the existing legal framework protecting such places and monuments in Australia. The report has been prepared by the Australian Heritage Council, having regard to input from all states and territories and Australia's tiered system of heritage recognition and management.

The report finds that the current legislative and policy framework across the country is adequate, but also makes a number of recommendations to allow Australians to further recognise and promote our shared Indigenous and colonial heritage.
A Celebration of NSW's Heritage: Portraits of NSW
In celebration of the 40th anniversary of the NSW Heritage Act 1977, the Minister for Heritage launched Portraits of NSW. This publication celebrates and highlights the diversity of NSW's state significant heritage by telling stories behind a selection of items on the State Heritage Register.


Download here
Canberra and District Historical Society Members Recognised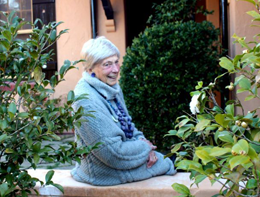 Photo: Dawn Waterhouse at Calthorpe's House, ABC Radio Canberra: Louise Maher
Dawn Waterhouse, lifetime Canberra resident and long-time Canberra and District Historical Society member, has earned a plaque on Canberra's Honour Walk.

The Media Release from the Chief Minister, Andrew Barr, described Dawn as having 'had an influence on the history, heritage and community life of Canberra for more than 90 years, particularly through her former home, Calthorpe's House'.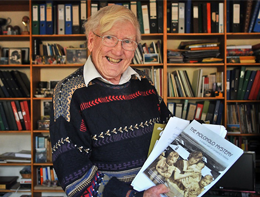 Photo: Laura Edwards, Canberra City News

Alan Foskett OAM, CDHS member and frequent contributor, especially to the Regional Studies Network, has also been recognised on Canberra's Honour Walk. He received a FAHS Merit Award in 2010.

Alan Foskett's passion for Canberra's history is highlighted by the 36 historical works he has published about the city.
Meet the Canberrans inducted to the ACT Honour Walk
On ABC Drive with Laura Tchilinguirian. Click on image below to go to the interview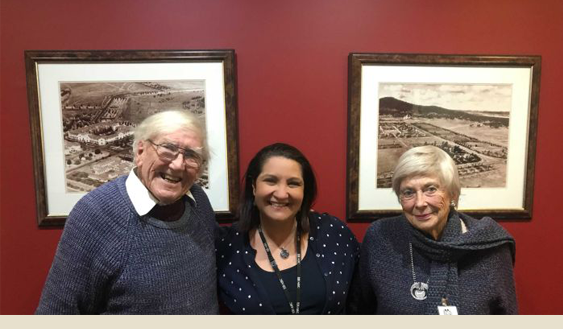 Australian Century Farm and Station Awards
An invitation is extended to all Australian families farming their land for 100 years or more to apply for a Century Farm or Station award, or the Sesquicentennial award (150 years).

All types of primary production including viticulture, horticulture and forestry are eligible.

The awards are not tied to a specific amount of land although some of the original selection must remain in family ownership.
Applicant families must submit verification of this, generally copies of deeds etc. They are also required to write a narrative of family history and if possible enclose photographs both historic and modern to illustrate that story.

An agreement to archive the collected material has recently been forged with the prestigious Noel Butlin Archive, Australian National University , Canberra, A.C.T

An application fee of $550 is required to enter for the award. The closing date is December 31st.

Further information: www.centuryfarms.org.au
Save the Date, RAHS 2018 Conference, Port Macquarie
Surveying the Past, Mapping the Present

The Westport Club, Port Macquarie

20th – 21st October 2018

Image: Flynn's Beach, Port Macquarie, N.D., Captain Frank Hurley (RAHS Postcard Collection).
In 1818, Surveyor-General John Oxley led an expedition from Bathurst to explore the inland rivers of New South Wales. Travelling great distances, Oxley found the Hastings River and followed it to the coast, naming its entrance to the sea 'Port Macquarie' (after the Governor of NSW, Lachlan Macquarie).

Two centuries later, the RAHS annual conference will be held at Port Macquarie, to explore how historians survey the past by searching through records as part of a continuous journey to map the context of events that have shaped our shared history.

Further Information: https://www.rahs.org.au/2018-rahs-conference/
Seminar: Convict Women and Orphan School Children, Tasmania

A Great Blessing? Convict Women and Orphan School Children

Lieutenant-Governor Arthur believed it would be 'a great blessing' for the children of convicts to be removed from their parents. The Spring 2018 seminar explores the relationship between the Orphan School, the orphans and convict women.

In 1828, women convicts transferred from the old Hobart Town Female Factory to the new Factory at the Cascades. In 1828, the King's Orphan Schools opened. To mark the 190th anniversary of both institutions, our next seminar will be run jointly by the Female Convicts Research Centre and the Friends of the Orphan Schools and it will be held at the Orphan School, St John's Avenue, New Town.

Date: 28th October, 2018
Registrations: Open late July 2018.​

https://www.femaleconvicts.org.au/index.php/fcrc-seminars/research-seminars
Oral History NSW Regional Engagement Grants
Applications are now open for The Oral History NSW Regional Engagement Grant which offers $1500 biannually and aims to raise the profile of oral history in regional areas in NSW.

Applications close 1 Sept 2018.
This new grant aims to raise the profile of oral history in regional areas and extend its expertise and use throughout New South Wales. This grant is aimed at librarians, archivists, museum curators, artists, film-makers, independent oral historians or community groups based in regional areas in NSW who wish to develop an oral history project that illuminates some aspect of their regional area which is of significance or interest to others.

Applicants must be members of Oral History NSW to be eligible to apply for this grant.

Further information: https://historycouncilnsw.org.au/oral-history-nsw-regional-engagement-grant/
New Publication available from HSNT
Two Excellent Girls by Steven Farram

Cissy and Clara Mcleod, the Northern Territory 'half-Caste' Foster Daughters of Captain and Mrs Mugg

Publisher: Uniprint NT, Charles Darwin University, 2018


The true story of two sisters, Cissy and Clara Mcleod born in Borroloola, NT who lived in Darwin with their foster parents during the early 1900s. In 1922, they left Darwin for Singapore and never returned to live in the Territory again. The McLeod sisters achieved a lot considering how Aboriginal people were treated at that time. Their ultimate fates were tragic but their lives in Darwin had been successful.

Available from the Historical Society of the Northern Territory
Cost $25.00. Postage & Handling $5.00
Email: hsnt@iinet.net.au Mobile: 0487 413 709
RWAHS, History Out and About, Katanning Tour

Kobeelya Girls School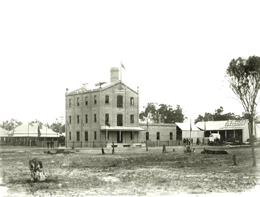 Piesse's Flour Mill
The RWAHS is running a history tour to Katanning, August 3rd – 6th 2018

Three nights in Katanning include:
The Premier Mill Hotel, (Piesse Old Mill recently restored by Dome to a boutique 5 Star hotel)
The Old Mill
Kobeelya House and Conference Centre
The Old Kobeelyans' museum and chapel (dating from Kobeelya House as a girls' boarding school)
The Katanning Historical Society Museum complex at the old primary school and the former printing works (featuring linotype machines)
Other places of interest in this country centre, the original Piesse establishment and town site and the Katanning sheep saleyards (largest in the southern hemisphere)
Registration Cost: $200 (members) $225 (non-members)

Phone: (08) 9386 3841 or email:admin@histwest.org.au
AE Williams Western Australian History Prize, WA

The Society is offering a $1,000 prize for a publication on Western Australian history published or accepted for publication between January 2017 and June 2018.

Closing date: 1 October 2018.
Entries may include a book or booklet, an article in a published book, a family history, a biography, a local or community history on any Western Australian subject. There is no word limit and printed, digital and self-published entries are acceptable.

The prize is open to the general public as well as to members of the Society and Affiliates.

Submission to the Royal Western Australian Historical Society Inc, 49 Broadway Nedlands WA 6009

Phone: (08) 9386 3841. Email: admin@histwest.org.au
The Van Diemen History Prize

Forty South Publishing The Van Diemen History Prize 2018/19

To foster quality writing about Tasmanian history, Forty South Publishing is initiating a biennial prize for non-fiction history articles written for a general audience. Entries open July 1, 2018 and must be lodged by September 24, 2018. The winning entry will receive a cash prize of $500 and publication in Tasmania 40°South magazine.

A selection of the best entries will be published in an edited volume, The Van Diemen History Anthology 2019 (publication estimated to be in mid-2019).

For further details, Terms and Conditions and entry form, please visit https://fortysouth.com.au/tasmanian-writers-prize/
Lunchtime Lecture at RHSV
Victoria's Mad Colonial Reputation

Speaker: Jill Giese
When: Tuesday 17th July at 12 noon
Cost: Free.
Booking: Register your attendance.

Join author and clinical psychologist, Jill Giese, for a lecture based on her research and book, The Maddest Place on Earth. Gold-fuelled Melbourne was booming, but so was an alarming statistic - Victoria had the highest rate of insanity in the world. The colonials embarked on the great asylum project, genuinely intending to cure insanity with an enlightened treatment. This grand endeavour is explored through the eyes of patients, the doctor in charge and a mysterious undercover journalist.
Jill Giese is a clinical psychologist and writer. Her extensive career in mental health encompasses many years of clinical practice, as well as senior executive roles in policy and advocacy with the peak organisation for psychology in Australia. Jill is also a past editor of the magazine for the Australian psychology profession, with a readership of over 20,000.

Recently Jill has immersed herself in the world of Victoria's colonial lunatic asylums. Trawling the archives with a deep professional knowledge of psychology, mental illness and systems of care, Jill has written The Maddest Place on Earth.

The book recounts colonial Victoria's endeavours to address an alarmingly high rate of insanity – in fact, the proud colony officially had the highest lunacy statistics in the world. The colonials embarked on the great asylum project, with the genuine intention to cure insanity through an enlightened treatment regime.

Jill will share her research and writing journey back to this intriguing slice of colonial history in the lunchtime lecture for RHSV.
Talking History Lecture, History Trust SA
Talking History is a series of free monthly lectures hosted by the History Trust of South Australia.

Helen Stagg presents July's Talking History – Harnessing the River Murray, a Journey of Discovery: Archives and Voices from the Past.

Helen's paper takes a journey through her research for the book, Harnessing the River Murray: stories of the people who built Locks 1 to 9, 1915-1935.

When: Tue, 17 July, 5:30pm–7:00pm
Where: History Trust of South Australia
In the talk, Helen will share the genesis of the book and her motivation to record the stories of those involved in South Australia's share of locking the River, to reveal the experiences of people who did not get the chance to author their own story. Her presentation will give background to the River Murray Scheme and stages of lock building. Helen will explore some of the challenges of discovering the names of the workers and discuss some of the documentary evidence. A valuable adjunct to this was her discovery of a metaphorical time capsule which gave a rare and valuable perspective, an up-close and personal insight into the past.

Register for the free event
Holsworth Local Heritage Trust Grants, Victoria
Grants of up to $2,000 are available for the publication of any specific or general local history or natural history in rural and regional Victoria.

Applications close: 31st July 2018.
The Holsworth Local Heritage Trust, a charitable fund within the Victorian Community Foundation, provides grants from not-for-profit organisations such as historical societies, clubs, schools and museums in regional and rural Victoria.

The Trust is interested in supporting enthusiastic community groups and organisations with a true interest in heritage preservation and appreciation, and the enhancement of community life.

The RHSV auspices the grants process. Further information: http://www.historyvictoria.org.au/programs/holsworth-local-heritage-trust
The FAHS e-Bulletin, No. 179,
8th July 2018