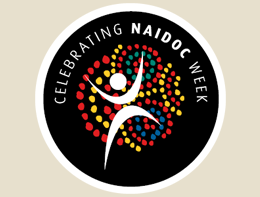 Indigenous women's maritime art traditions on display for NAIDOC week

The knowledge and skills of shell processing and stringing has been passed down through generations of women, particularly the women of the Furneaux Islands, off Tasmania's north-east coast.

Necklace-making is an opportunity for women of all ages to get together and share stories, pass knowledge to younger generations and continue to affirm their culture.

The connection of shell necklaces with the distinct culture and story of the Tasmanian Aboriginal people and with the Tasmanian natural environment means they have iconic status in the wider Tasmanian community. In 2009 they were listed as a Tasmanian Heritage Icon by the National Trust of Australia.

http://www.nma.gov.au/collections/highlights/tasmanian-aboriginal-shell-necklaces

Lola Greeno is one of the few Indigenous artists skilled in the Tasmanian Indigenous tradition of shell stringing



Image: Lola Greeno (in middle) with her great-niece Lottie and great-nephew Eli Frost; one of Lola Greeno's shell bracelets. Photo: Lola Greeno

Now four of Lola Greeno's maireener (Phasianotrochus irisodontes) necklaces, still valued for their brilliant iridescence, are part of 26 works that are part of the Unbroken Lines of Resilience, feathers, fibres, shells exhibition at the Australian National Maritime Museum.

In line with this year's NAIDOC theme – 'Because of her, we can!' – necklaces from both Lola Greeno's mother (Valerie Sainty) and mother-in-law (Dulcie Greeno) will be on display also.

Unbroken Lines is on now at the Australian National Maritime Museum and runs until November 30. http://www.anmm.gov.au/whats-on/exhibitions/on-now/naidoc2018

Articles extracts from: https://www.smh.com.au/entertainment/indigenous-womens-maritime-art-traditions-on-display-for-naidoc-week-20180630-h122o7.html
FAHS Newsletter Out Now #45 on the theme of Diversity
This issue of the FAHS Newsletter is on the theme of diversity
The writers are from a range of organisations focussing on diversity
Aboriginal Victoria
The History Trust of South Australia
Female Convicts Research Centre, Tasmania
The National Pioneer Women's Hall of Fame, Alice Springs
The Australian Lesbian and Gay Life Stories Oral History Project
The Gay and Lesbian archives of Western Australia
Australian Indian Historical Society
National Trust NSW, Old Government House, Parramatta
Royal Historical Society of Queensland .
Australian Lebanese Historical Society
Featured Historical Society - Port of Yamba Historical Society, NSW
The Port of Yamba Historical Society Inc. was formed in 1981 with a vision to increase understanding and knowledge of Yamba and districts and to preserve the past for future generations.

The society serves the community of Yamba through the operation of the Yamba Museum – The Story House.
The Port of Yamba Historical Society owns and manages the Yamba museum and an adjacent heritage-listed former Presbyterian Church ('the Old Kirk'). Activities are focused around collection, conservation, research and the exhibition of objects drawn from Yamba and district. Visitor numbers per year are between 4,000-5,000.

The society's collection has been built up over the last thirty plus years. It includes objects that highlight the diversity of Yamba's history, from the telescope once belonging to Francis Freeburn, the first pilot and pioneer in Yamba, to historical records of public education in Yamba. Around 20,000 photographs have been archived with many digitised and catalogued in the MOSAiC collection management system. Significant objects include the Binnacle, Bell and Helm from the HMAS Waree that was shipwrecked in the Clarence River in 1946.

The current President and Curator is Marea Buist, who since joining the society in 1999 has developed 'the story of Yamba' into focussed exhibition themes. Two internships in Sydney and a TAFE course in museum studies have further honed her skills in curation. These skills are evident in the histories showcased throughout the museum and the creative strategies applied to the interpretation design. The museum also brings in travelling exhibitions and hires out the Old Kirk for changing exhibitions and public programs. A current exhibition in the Old Kirk is William Lindt's photographs of the Aboriginal people in the Clarence Valley Photographs are never still.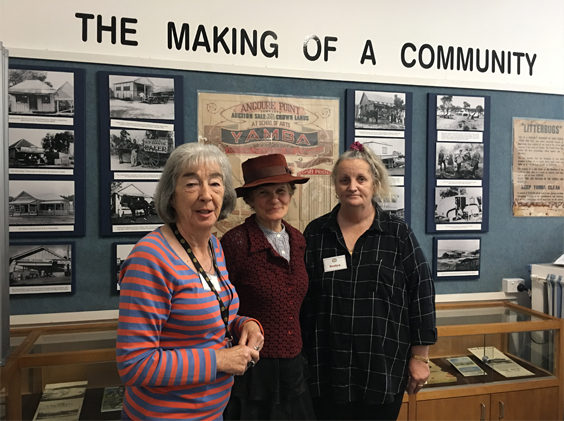 The National and Community History Officer and Curator, Bernadette Flynn visited the Yamba Museum in 2017. On left, member Judi Greig and right, member Roslyn Greenfield.

The society has gradually built up a relationship with the Yaegl people - the traditional custodians of the coastal areas around Yamba. In 2013 a collaborative exhibition project Vision4Change was developed through a first time partnership with a number of Aboriginal Elders throughout the Clarence Valley to share their stories. Working also with the Yamba, Grafton, Maclean and Lawrence Museums the exhibition won the IMAGinE Award for Audience Development from Museums and Galleries, NSW. Ceremonies for Sorry day and NAIDOC week are held at the museum and an interpretative garden behind the museum is currently being designed with the Aboriginal community.

For a small fee, the general public can access research services. These services range from enquiries into the history of people, places or events relevant to the Yamba area - to photocopying of documents - and orientation to Trove.
Day in the life of Madam President, Marea Buist, Produced by Catherine Marciniak, 2013, ABC Open North Coast NSW.

Marea outlines the importance of attracting new people rather than waiting for people to knock at the door. The society maintains a strong presence in the community and develops connections with the regional museums. Marea is currently co-ordinator of the regional chapter Museums Australia (NSW). The society also maintain its independence, funding activities through coach tours, publications, the hire of the Old Kirk and one-off project grants. Fundraising is often necessary to ensure there is contingency and for unexpected situations. One initiative was the Raise the Roof Art Auction, which successful raised funds from the local community to repair the museum roof.

The society and its members have won multiple awards including one for audience engagement for special exhibitions and a Royal Australian History Society achievement award for research and publications. A few of the published historical books about the area are: Yamba Yesterday; From Clarence River Heads to Yamba; Riverboats of the Clarence River.

In spite of the successes, challenges remain. Continuity of member engagement is one of these challenges occasioned by members travelling, ill heath and members passing away. Other challenges are keeping up with technology and remaining responsive to changes in the community and wider society.

Museum: Tuesday - Thursday: 10am - 4:30pm, Weekends: 2pm - 4:30pm
or by special appointment
Location: Yamba Museum, River Street, Yamba
email: yambamuseumnsw@gmail.com
website: pyhsmuseum.org.au
Tel: 02 6646 1399



Sources: The Port of Yamba Historical Society Website, visit by the National and Community History Officer and Curator and interview with Curator/President, Marea Buist
Guildford townsite nominated for WA's heritage register
Photo: The 153-year-old Guildford Mechanics Hall in 1870 and 2018. (State Library of WA / ABC Radio Perth: Emma Wynne).

The entire Guildford townsite in Perth's east could soon become the largest place ever listed on Western Australia's heritage register.

A nomination put forward by the City of Swan is under consideration by the state's Heritage Council, a project very much driven by the local community.

Read More
Source: http://www.abc.net.au/news/2018-07-15/entire-colonial-town-guildford-considered-for-heritage-listing/9967232
History Lab is Australia's first investigative history podcast.

Taking up the questions of the present, it explores the gap between us and the past. The project is an innovative collaboration between historians at the Australian Centre for Public History at the University of Technology Sydney, and podcast producers at 2SER 107.3FM
At History Lab we've got some good stories to tell. But we are interested in much more than just the story. Instead of an academic or other expert telling you what to think, History Lab wants to draw you in to the investigative process. It wants you to come along with us as we try to make sense of the traces the past leaves in the present. You'll find that this can sometimes be confusing and frustrating: records are patchy, evidence is destroyed and a lot of the time people disagree about what happened and what it means. But more often than not, trying to make sense of the traces of the past is also pretty exciting. Things are not always what they seem. Aren't we always in the process of finding that out?
Come and join us, as together we try and make sense of the big and little questions all around us.
Historical Seminar, Queensland Parliament and RHSQ
Parliament House: Celebrating 150 Years

The Queensland Parliament, in partnership with The Royal Historical Society of Queensland (RHSQ)
The 4th of August 2018 marks the 150th anniversary of the first sitting of The Queensland Parliament in the now heritage-listed building in George Street, Brisbane. To mark the occasion, The Queensland Parliament, in partnership with The Royal Historical Society of Queensland (RHSQ), will present an historical seminar.

Seminar Program
An historical overview: Queensland's separation from NSW in 1859 to Queensland in 1868 - presented by Dr Denver Beanland
The Journey towards the new Parliament House – 1863 to 1868 – presented by Professor Kay Saunders AM
The Design and Construction of Parliament House – presented by Mr Don Watson
Parliament House Today: the challenges of working in and preserving a heritage-listed building – presented by the Clerk of Parliament, Mr Neil Laurie.

Date: 25th August
Location: Queensland Parliament, Corner of George Street and Alice Streets
Brisbane City, QLD 4000
Cost: $35 – $40

Tickets from Eventbrite
Illustrated Talk, Pinjarra, WA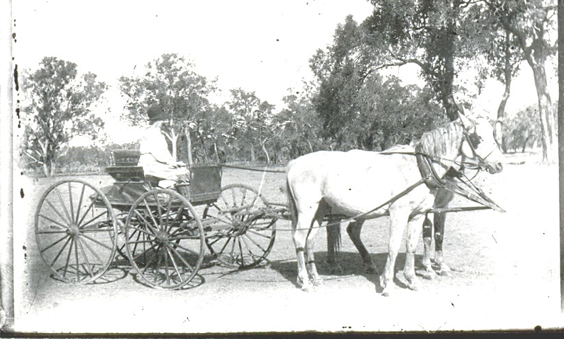 The Royal Western Australian Historical Society is hosting an Auxiliary Morning Tea Fundraiser at Pinjarra, WA. Situated about 86 km from Perth is one of the earliest towns in WA and was first explored in 1829. Vince Taylor, a resident of Pinjarra and a keen historian, will present an illustrated talk on this historic town.

Date: Tuesday 21 August 2018
Time: Commencing at 10:00 am
Cost: Members $20.00; Non members $25.00
Bookings essential - phone: 08 9386 3841email: admin@histwest.org.au
RAHS/HHA Evening Lecture, Sydney

2-8 Smith Street, Surry Hills, 1900 (Image State Library of NSW)
RAHS/HHA Evening Lecture

Surry Hills: From Riches to Rags and Back Again

RAHS joins with Historic Houses Association of Australia for this talk on Surry Hills delivered by Richard Whitaker.

August 30 @ 5:30 pm - 6:30 pm
$25 – $35
ACT & Region Annual Heritage Partnership Symposium
ACT & Region Annual Heritage Partnership Symposium

Heritage on the Edge: Continuity with Change in Canberra?



Convened by Heritage Partners:
Australia ICOMOS, Canberra Archaeological Society,
Canberra & District Historical Society and National Trust of Australia (ACT)

Heritage on the Edge: Continuity with Change in Canberra? will focus on Canberra's Modern ('Modernist') Architecture, a style widely used in Canberra for public buildings and private housing in the mid-20th Century, and of international standing. Its minimalist form is not a contemporary style today as Canberra rapidly changes with a focus on innovation and development, and high-rise living. Change is a constant, but how are we applying it in Canberra so heritage is identified and protected to ensure a connection with our past, and a continuity of our sense of place?

Date: 18th August
Cost: $75 full registration; $55 member host organisation; $35 (concessions, full-time students, speakers)
email: info@nationaltrustact.org.au
https://www.nationaltrust.org.au/event/act-region-heritage-symposium-2018/
CDHS in the Southern Cross Club Community Rewards Program


Are you a member of Woden, Tuggeranong, Jamison and Yacht Clubs?

Canberra & District Historical Society Inc. is now part of the Canberra Southern Cross Club Community Rewards Program

Choose the Canberra & District Historical Society as your preferred community group on the Canberra Southern Cross Club website: http://www.cscc.com.au/ for CDHS to receive a percentage of the membership spend at the club when you show your membership card.

Further information: http://www.cscc.com.au/rewards
Melbourne University Publishing ebooks

Melbourne University Publishing is is the book publishing arm of the University of Melbourne and the oldest Australia's oldest university press - producing books that contribute to the conversation about Australia's political and cultural landscape.
MUP have been working on a project over the past year where texts and bestsellers are digitised at the time of their publication. These are released periodically as ebooks for the public, completely free of cost to read and own.

Some notable titles include biographies of Robert Menzies, Russel Grimwade, Robin Boyd and colonial Australian history. You can see them all here: https://www.mup.com.au/books/collection/free-miegunyah-ebooks
National Family History Month

August is National Family History Month (NFHM)

National Family History Month (NFHM) is an initiative of the Australasian Federation of Family History Organisations (AFFHO).

Family history and genealogy is one of the most popular hobbies around the world. There are over 250,000 Australians who are members of family history related organisations and the month has broad appeal across Australia. Libraries, archives and other organisations also participate in National Family History Month.

During August events will be conducted across Australia and online that focus on genealogy, family history, heraldry and related subjects. Check your state for details of local events at http://familyhistorymonth.org.au/

The launch event was held Wednesday 1 August 2018, at the State Library of Tasmania. The event was sponsored by the National Archives and co-hosted by Libraries Tasmania.

There will be a closing event for the National Family History Month to be held in the architecturally spectacular Geelong Library & Heritage Centre on Thursday August 30th, commencing at 1.00pm. Activities include a special guest speaker and the AFFHO Society and Individual prize draws. The event is being coordinated by the Geelong Family History Group in partnership with the Geelong Heritage Centre. Australian genealogy and family history societies with events listed in the NFHM web calendar on 1 August 2018 will be automatically entered into the prize draw for societies, with one entry for each Society or Group that lists one or more events. The giveaway for individuals commences on 1 August 2018 and entries close on 20 August 2018. Individuals can enter the prize draw by sending an email to info@familyhistorymonth.org.au, including your name, postcode and Email address. Individuals are not eligible for prizes designated as for Societies only. The winning entries will be announced at the closing function at Geelong, and published on the NFHM website. The organisers will attempt to contact each winner using the Email address provided.

A couple of the events for National Family History Month are highlighted below.
Genealogy Sunshine Coast Resource Centre, Nambour, Queensland

Red Herrings, Blind Alleys and Morbid Curiosity: The distractions of writing family stories.

Writing Workshop with Bronwyn Cozens

18th August, 9am - 3.30pm at the Genealogy Sunshine Coast Resource Centre
Botany Bay Family History Society, NSW

National Family History Month Open Day

Experienced volunteers available to help you get started or continue tracing your ancestors and growing your family tree. Access to worldwide resources. Tea and coffee available.

10th August, 10am-2pm at 184 Gannons Bay Road, Caringbah South
The Royal Historical Society of Victoria are running History Week 2018 from 7th to 14th October with event across Victoria.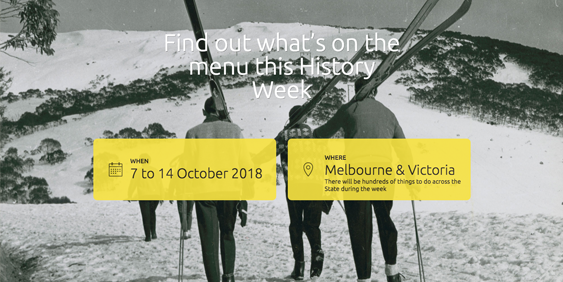 During History Week 2018 Victorians can…
see how radical Melbourne really was in the 1970s;
listen to a lecture on Forgotten Australian (former wards of state, de facto adoptees and those who were placed in institutions or foster care in Victoria)
check out an exhibition of the wreck of the Inverlochy 1802.
Attend the official Opening of the Bathing Box. The last remaining Anglesea bathing box contains permanent displays which tell the stories of beach fashions over time, the history of the bathing boxes, and local aboriginal foreshore usage, as well as changing displays which tell stories connected with surf life-saving, the motor yacht club and, of course, the Split Point lighthouse.
Hosting a history related event during History Week 2018? Add your event to the 2018 History Week calendar.

http://historyweek.org.au
Making History 2018, History Trust SA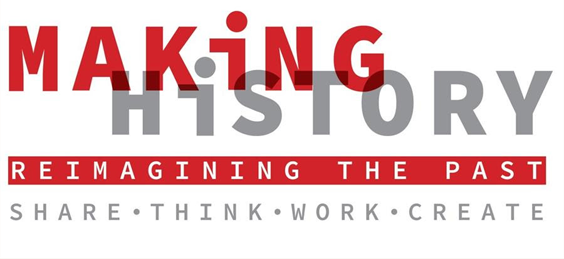 Registrations are now open for Making History 2018: Reimagining the Past

Join the History Trust in Adelaide for an exciting two and a half days of participatory workshops and activities, when we will dive deep into museums, history and audiences. Our theme for the event will be South Australia's history, and together we will explore innovative ways to share and interpret these stories.

When: 1pm Friday 2 November - 4pm Sunday 4 November
Where: History Trust of South Australia, Torrens Parade Ground, Victoria Drive, Adelaide
Cost: Early bird waged: $100; Early bird unwaged/concession: $90
Early bird rate closes Tuesday 2 October 2018

Bursaries are available for regional participants.Please contact Amanda or Pauline on 8203 9888 or community@history.sa.gov.au for an application form.

Further information: https://history.sa.gov.au/events/making-history-2018-reimagining-the-past/
The FAHS e-Bulletin, No. 180,
1st August 2018