FAHS Councillors and friends are deeply saddened to hear of the recent death of two stalwarts of the history movement - Dr Joan Hunt and Robert Charles (Bob) Sharman.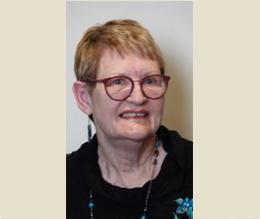 Dr Joan Elizabeth Hunt, PhD, FRHSV, (1944‒2018)
Endlessly supportive and full of vitality, Joan played a major role in Victorian community history for 37 years. She was an RHSV Councillor 1988‒1994; 2002‒2011 and October 2012 to May 2014. As RHSV vice-president and convenor of the History Victoria Support Group, she organised history workshops across the state. She was also a former Councillor of the Federation of Australian Historical Societies.

As a Churchill Fellow, Joan studied local history groups in the UK. She was past president of the Ballarat and Woady Yaloak historical societies and co-founder of the Central Highlands Historical Association. An author of books and articles herself, she recently became a judge of the Victorian Community History Awards. Joan received a FAHS Merit Award in 2014.
Vale Robert Charles (Bob) Sharman
Robert Charles (Bob) Sharman, Fellow ASA, (1928- 2018).
Robert Sharman was the first State Archivist in two states, Tasmania 1951-1959, and then Queensland 1959-1970, before joining the ANU as its Archives Officer in 1970. From 1972-1976 Bob was Assistant State Librarian of South Australia and from 1976-1988 State Librarian of Western Australia.

Bob was a founding member of the Australian Society of Archivists and the Sharman Award was created in 2000 to acknowledge his long contribution to fostering learning. In 1960 he was President, later Secretary, Archives Section, Library Association of Australia, and 1971-1972 President of Library Association of Australia (now ALIA). From 1991-1993 Bob served as ASA Treasurer. Bob was ASA Managing Editor from 1995-1997 and in 1996 was Convenor of the inaugural Mander Jones Awards Committee. In 1994 he was awarded a Fellowship of the ASA with the citation published in Archives & Manuscripts Vol.25(2) 1997.
Launch of eHive Australian Community History Collections
Does your historical society or community history have a collection on eHive?

The FAHS have launched an Australian Community History Collections on eHive. The aim of the Community is to bring together a range of collections held by historical societies, community heritage groups and keeping places across Australia that are published on eHive.
Join the FAHS Australian Community History Collections to further promote your society and collection.
How to join
If you have a collection on eHive log in and go to Australian Community History Collections

Click on the 'Join' link at the top of our community page.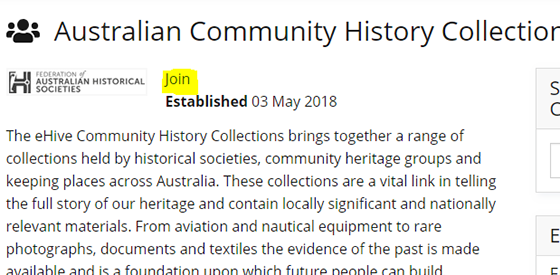 Once the FAHS receives your request you will become a member.

Publish your new records to the community
On the My Account section of your homepage Click on the Communities link.

Click on the Edit link next to Australian Community History Collections.

Tick the Include as a Default Publishing Location checkbox and click the Save button.

Read more about how to publish your records to the community at
http://info.ehive.com/help/communities/publishing-to-a-community/

To support the development of the Australian Community History Collections eHive has offered to publish all your public records. Take advantage of this offer and join by the end of September.

Contact the National and Community History Officer and Curator Bernadette Flynn for further information fahsbflynn@gmail.com

Find us here https://ehive.com/communities/1141/australian-community-history-collections
New FAHS Guide for Historical Societies
Guide to collecting and preserving digital materials

The FAHS has developed, on commission, an online guide, authored by Sophie Shilling (pictured on R), to collecting and preserving digital materials.

This guide aims to assist Australian historical societies in preserving their digital collections. The author hopes to have filled a gap in the current literature surrounding digital preservation, that being a practical, plain English guide covering all aspects of curating and keeping digital collections.
Although digital preservation is a highly technical subject, the advice given in this guide demonstrates what is practical for small Australian historical societies. By following these guidelines, your newly created digital collections will have the best starting point to be preserved and accessible into the long-term. Any future digital preservation efforts will be made much easier.

The guide assumes a reasonable level of computer literacy and offers further advice for those with more knowledge. Several digital preservation solutions have been provided, accounting for differing levels of funding, experience, equipment, and knowledge.

Also included is how to write digital preservation plans and policies, how to foster positive change in a society, and risk management of digital collections. It is recommended that this guide is read through from start to finish before embarking on a digital preservation project.

The guide can be accessed with this link:
http://www.history.org.au/Documents/Collecting%20and%20Preserving%20Digital%20Materials.pdf
Featured Historical Society - Tasmanian Family History Society
The Tasmanian Family History Society Inc. (TFHS) promotes the study and research of the science of genealogy and family history through education, preservation and transcribing of relevant records, and the writing and publishing of appropriate literature.

There are five branches of the society around Tasmania - Burnie, Launceston, Hobart, Huon and Mersey.
The genesis of the Tasmanian Family History Society was in 1978 when a small group of enthusiasts set about to preserve the genealogical history of Tasmania. Starting from a shelf in the home of Lillian Watson, the library collection grew rapidly and soon relocated to short-term accommodation in Bellerive, Hobart. By 1986, branches around Tasmania had formed and the Hobart branch of the society (then named The Genealogical Society of Tasmania) took over the lease of the Heritage listed Bellerive Post Office. In 2001 the name of the society was formally changed to The Tasmanian Family History Society.

Today, TFHS offers a public service for researchers in its five locations across Tasmania. Members and the general public can obtain access to genealogical resources, including free access to Ancestry.com, as well as many databases, monumental inscriptions, undertakers records, wills, newspaper transcriptions etc. Where available, society volunteers who have a wealth of knowledge in genealogical research can offer assistance with family tree research.

The resources of TFHS are fully catalogued in-house with an emphasis on research in Australia, New Zealand and the United Kingdom - print, microform records, CD, overseas and interstate journals. A Comprehensive Subject Index (CSI) is a work in progress with online information representing only about 10% of the resources held by the TFHS. It provides references to information in publications, paper or digital, that are or have been in Society branch libraries.

The TFHS is blessed with a range of skilled volunteers. Across the state, the membership base is around 1,000 (not all residing in Tasmania) with many of the active volunteers being retired professionals - from tourism, libraries, IT, teaching, and the banking sector. At the Hobart branch about 120 active volunteers work in teams with specific tasks and dedicated sub-groups including the Family History Computer Group and Family History DNA group.





L to R: the Research Centre, Hobart branch, TFHS; cemetery, St Peter's Church of England, Hamilton, Tasmania; book publication of the TFHS.

One of TFHS's long-term projects is the capture of digital images and transcriptions of headstones surviving in cemeteries around Tasmania. The transcriptions are held by the five branches around the State - Burnie, Launceston, Hobart, Huon and Mersey. A CD Tombstone and Memorial Inscriptions of Tasmania has been published of the transcriptions and is available for sale through TFHS. Many of the headstone transcriptions are also listed on the eheritage website with thumbnail images.

The Society has an in-house publishing area and sells on-demand books on Tasmanian History (including Our Female Ancestors discovered and remembered, and Making their own way: The Dunbabins on Maria Island 1869-1876) along with published indexes to newspapers (Tasmanian Ancestry Index, Van Diemen's Land Heritage Index and Convict Applications). A journal, Tasmanian Ancestry is published quarterly and sent to all members, with past volumes from 1980 to 2010 accessible via the web.

TFHS welcomes visitors to its monthly meeting, where guest speakers are invited to talk on topics of interest. In November, Graeme Broxam will be talking about the Smarts: three generations of Hobart watermen 1845-1941. To encourage family history research in Tasmania, the society also offers two awards - the Meritorious Service Award and the Lilian Watson Family History Award (awarded for a book dealing with family history with a significant Tasmanian content).

The society has been relatively successful in adapting to digital processes and changes. Mercury Births, Deaths and Marriages indexes, Tasmanian Pioneer Index (pre 1900 BDMs) and Queenborough Cemetery Index beyond 1954. The society works with, and contributes to, commercial databases such as Ancestry.com. However, Maurice Appleyard, President of the the Tasmanian Family History Society sounds a note of caution that crowd sourced content can be incorrect and misleading to researchers. He is keen to avoid duplication of information and is on the advisory board of the Digital Information Group (DIG) for standardising library protocols.

While TFHS is about to celebrate 40 years, Maurice wishes people were more aware of TFHS and the resources available throughout the 5 branches. He notes that people often come to the society as a last resort rather than as a first port of call. The wish is to turn that around with family history research inquiries directed to TFHS in the first instance.

Website https://www.tasfhs.org/
Email: secretary@hobart.tasfhs.org
Phone (03) 6244 4527

Sources: The Tasmanian Family History Society Website, interview with President of the Tasmanian Family History Society Maurice Appleyard.
Burrup Peninsula's Rock Art in Nomination Process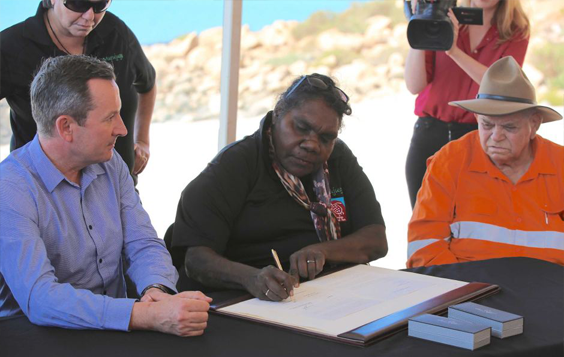 A landmark agreement over a future World Heritage listing of the Burrup Peninsula's ancient rock art has been signed by the West Australian Government and the Murujuga Aboriginal Corporation.

The WA Premier, state ministers, Indigenous stakeholders and Pilbara communities gathered on Monday to begin the process of nominating the site for World Heritage listing.


Read More: http://www.abc.net.au/news/2018-08-28/burrup-rock-art-world-heritage-listing-step-closer/10166642
Mapping NSW Aboriginal Missions, Stations, and Camps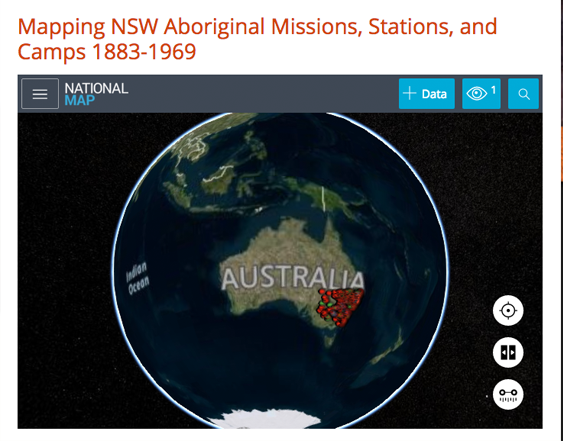 This interactive map of New South Wales Aboriginal Missions, Stations and Camps identifies the locations and provides information about Aboriginal reserves, camps, stations, children's homes, and some unofficial settlements operating under the tenure of the Aborigines Protection Board (which was replaced by the Aboriginal Welfare Board in 1940) during its active years.

The map was compiled from information in the Aborigines Protection Board annual reports, the Aboriginal Places map of the NSW State Heritage Inventory, Department of Lands (NSW) Parish Maps, and a list of reserves from government gazettes provided by the NSW Department of Community Services. The map was developed by AIATSIS researcher Lachlan Russell as a contribution to the Australian Research Council Project NSW Aborigines Protection/Welfare Board 1883-1969: A History led by Professor John Maynard at the University of Newcastle. It also draws on previous research by Peter Tobin, A. McGuigan and Heather Goodall who all added to the information about Aboriginal reserves in NSW. Research by former Welfare Officer the late Philip Felton expanded greatly upon the Department Of Community Services Reserves and Stations list and was foundational to this mapping project.

https://aiatsis.gov.au/explore/articles/mapping-nsw-aboriginal-missions-stations-and-camps-1883-1969
History Podcasts, History Lab, 2SER



Podcasting is a growing phenomenon in Australia.

What does it take to make a really good history podcast?

In this History Lab episode The Making of History Lab Executive Producer of History Lab Emma Lancaster describes how she and Tamson discover that, in the gap between historians and journalists, great things can happen.
Listen to the latest History Lab podcast Fishing for Answers.



Tamson Pietsch and

Historian Anna

Clark take their listeners on a journey around the Sydney's Opera House and discover that this is where huge middens of shellfish once existed. Indigenous women in their nawi canoes collected the shellfish while singing traditional songs in Dharug.
Museums Galleries Australia Conference, NT



Museums Galleries Australia Conference, 2019,
Our People, Our Places, Our Practices, Alice Springs (Mparntwe)

Combining elements of the most recent conferences that focused on Museums and Galleries in their Cultural Landscapes (Brisbane 2017) and Museums and Galleries as Agents of Change (Melbourne 2018), in 2019 the conference travel to the geographical centre of the nation to tackle some of the biggest thematic areas that occupy much of our national conversation. Museums and Galleries are situated at the very centre of that conversation in relation to our place within our communities and the way we are deeply implicated in both a local and national understanding of Australia's past, present and shared future. And while focusing on our people, places and practices, there will be opportunity to consider purpose, relevance, diversity, equality, national identity, Aboriginal and Torres Strait Islander agency, our various publics and the nature of co-creation, generational transfer of knowledge and much more.

A community museums day is held within the Museums Galleries Australia Conference Program. Register your interest
Brisbane Open House at the Commissariat Store, QLD
The Enoggera Ensemble, together with the Commissariat Store invite you to a concert for Brisbane Open House, 2018.

When: Sunday, 14 October, 3pm-5pm (Doors open & light refreshments: 2:30pm).
Where: The Commissariat Store (115 William Street, Brisbane)
This special concert will feature fascinating historical music for banjo, mandolin and guitar previously performed in Queensland since the 1840s. Hear folk songs from Scotland and Austria as well as arrangements of arias from the operas The Bohemian Girl and Maritana. Enjoy a selection of popular dance music, and revel in works that were brought to local audiences by visiting banjo, mandolin and guitar troupes such as the Estudiantina (Spain), Jungfrau Kapelle (Switzerland), The Royal Hawaiians and several minstrel groups (from America).

Cost: $25 RHSQ members / $30 general public / U14 free
Ticket price includes concert, refreshments and museum access

Tickets: http://www.queenslandhistory.org/event/special-event-boh-colonial-chords-music-for-banjo-mandolin-and-guitar-from-queenslands-earliest-colonial-days/
Moruya & District Historical Society hosting ANMM exhibition, NSW
SUBMERGED: Stories of Australia's Shipwrecks on show at the Moruya & District Historical Society

until Friday 26 October.

Moruya & District Historical Society Museum:
85 Campbell Street, Moruya, NSW
The exhibition is presented by the Australian National Maritime Museum and the Australian Maritime Museums Council and is the result of a national project with workshops held across the country to develop the exhibition and to source shipwreck stories.

Featured in the exhibition are stories about the wrecks of merchant vessels, steamers, schooners, whalers and a submarine. The oldest wreck featured is WA's Batavia. Its 1629 loss on Beacon Island, and subsequent mutiny, is one of the most dramatic events in Dutch and Australian history.

Other wrecks include Sanyo Maru, a Japanese motor vessel lost in 1937 in Boucaut Bay NT, British merchant ship Sydney Cove lost in 1797 off Preservation Island, Tasmania and the paddle steamer Wagga Wagga, which sank at Narrandera, NSW in 1913.
Mechanics' Institutes Conference, Ballarat, Victoria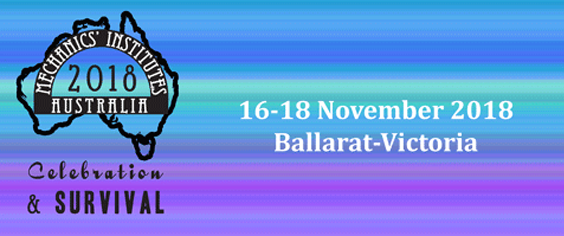 Mechanics' Institutes Australia 2018 Conference: Celebration and Survival

The joint purpose of MIA 2018 will be to celebrate the twentieth anniversary of the Mechanics' Institutes of Victoria Inc. and the staging of a National Conference of like groups.

The Conference will cover subjects on history, success, maintenance, utilisation and ideas and will explore a way forward for Mechanics' Institutes and their ilk.

It will also commemorate the Centenary of Anzac, for most Institute Halls hold World War I related Honour Boards, plaques, photos or other memorabilia.

The Conference itself will provide and consolidate a State and national focus in the context of international research largely by way of the Mechanics' Universities.

Further information: https://www.mivic.org.au/mia2018.html
Talking History Series, History Trust SA

Dr Julie Collins and Peter Lekkas present September's Talking History –
Stories, Statistics and Sanatoria: Tuberculosis in South Australia in the early 20th century

In this talk Dr Julie Collins will present interdisciplinary research concerning the urban, social and cultural histories of tuberculosis in South Australia at the turn of the twentieth century. Research which raised many questions particularly in reference to those who died from tuberculosis: Who were they? Where did they live? What were their social, urban and housing conditions? In the crusade against tuberculosis, the therapeutic benefits of place were also promoted by medical professionals and architects alike.

This talk will also look at places designed for such treatment – Kalyra and Nunyara at Belair, two of the earliest sanatoria purpose-designed for the open-air treatment of pulmonary tuberculosis in Australia.

This free public lecture is part of History Trust of South Australia's Talking History series.

Date: 18 September 2018
Time: 5.15pm for a 5.30pm start
Location: History Trust of South Australia, Adelaide SA, Australia

https://history.sa.gov.au/events/talking-history-stories-statistics-and-sanatoria-tuberculosis-in-south-australia-in-the-early-20th-century/
Visit to Walter Burley Griffin house, HHA, Sydney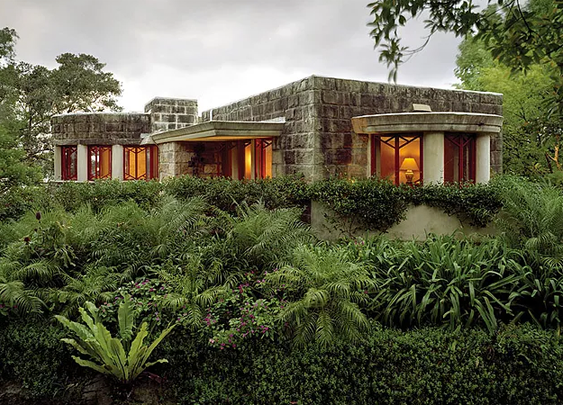 Historical Houses Association are hosting a tour to Fishwick House, Castelcrag, Sydney.

Designed by Walter Burley Griffin, Fishwick house was built in 1929 as part of Griffin's Castlecrag project to develop an exclusive harbour front residential community. Fishwick House is a large and marvellous example of Griffin's work and is considered one of the most complete of his visions for the project.

Places are limited for this very special House visit, so book early to secure your place. Address supplied with tickets.

$35 Members, $45 non-Members. Fishwick House Saturday 22 September, 10am-12 noon

Bookings
Eldershaw Lecture, THRA, Hobart
The 2018 Eldershaw Lecture will be given by Professor Geoffrey Blainey, one of Australia's most distinguished and prolific historians.

Geoffrey Blainey at the peaks of Lyell, Tasmania. Photograph: ABC Local.
The Eldershaw Lecture provides a wonderful opportunity to hear Professor Blainey's mature reflections on Australia's past including Tasmania. Professor Blainey's books are too numerous to mention, but include classics like The Tyranny of Distance and Triumph of the Nomads.

The Eldershaw Lecture will be held at the Dechaineux Theatre, Art School, Hunter Street at 8.00 pm on Tuesday 9 October. All welcome. Please arrive no later than 7.50 pm..

https://www.thra.org.au/lectures/2018/10/9/eldershaw-lecture
Life in a Tent on the Goldfields

When: 10:00am - 24/10/2018
Location: Stirling House 49 Broadway, Nedlands
Cost: $10

Phone: 08 9386 3841
Email: admin@histwest.org.au
For the tens of thousands who rushed to the Goldfields in search of a fast fortune, the world that met them was infinitely tougher than the one they had left behind.

They were young well positioned siblings, freshly impoverished by the colonial bank crash in Victoria - ready to do anything legal to get back on track in the shanty town which would become the 'golden crucible' in the desert.

Susan Clarke will take us into this world with her family in her talk to the RWAHS: Life in a Tent in the Goldfields.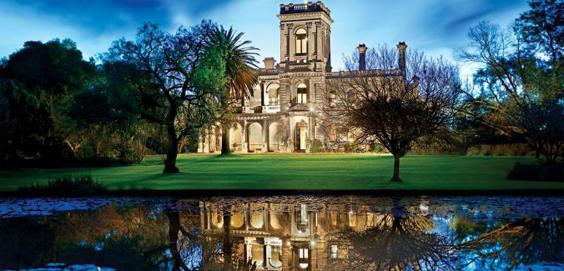 Join Jenny O'Donnell at the launch of her book Noorilim - from Wool to Wine which traces the fascinating history of Noorilim from 1840 to the present. Noorilim is classified by the National Trust, is on the Victorian Heritage Register & the Register of the National Estate, & is one of the top 90 Historic Gardens recognised by the Vic Govt. It is one of the grandest homesteads ever erected in Victoria & reflects the affluence of 19th century pastoralists and their role in building the Australian economy & nation.

Date: Wednesday 26 September 2018 at 5:30pm
Location: Royal Historical Society of Victoria
239 A'Beckett St, Melbourne, VIC 3000

Bookings: https://www.trybooking.com/book/event?eid=418594
Lustre-Pearling and Australia, a Travelling Exhibition
The travelling exhibition: Lustre-Pearling and Australia is the result of a unique partnership between the Western Australian museum and Nyamba Buru Yawuru—the organisation of the Yawuru people of Broome and surrounds. It is currently touring nationally and recently won a MAGNA award for the best travelling exhibition.




Sarah Yu recently presented a talk Lustre: Telling the story of pearling in the northwest as a reconciled history to the Royal Western Australian Historical Society about the thinking behind the exhibition and how it is an example of telling a reconciled history . Sarah is the curator, and also senior project officer of Nyamba Buru Yawuru, the organisation of Broome's Yawuru people.

In the talk Sarah outlined how the three key players in the Lustre story are country, pearl shell and people, and that the story stretches back at least 22,000 years and continues to the present. In this long Aboriginal history, pearl shell was highly valued and traded across the continent. It remains a core part of Broome's identity and economy today.

Further information on Lustre - Pearling and Australia http://www.yawuru.com/lustre-pearling-australia/
Regional Cultural Fund Recipients, NSW

An item in the FAHS e-bulletin 181 highlighted a grant received by Millthorpe & District Historical Society Inc., from the NSW Regional Cultural Fund (RCF) for the Digitisation of Collections.

The Regional Cultural Fund (RCF) also made an investment into another 10 projects to make it easier for museum, art and other culturally important collections to be explored and enjoyed. A number of these are historical societies or larger organisations working with community museum (inc. those run by historical societies).
Albury & District Historical Society Inc., Revisiting the Albury District Crossing Place, Again and Again ($68,877)

Bathurst District Historical Society, Digitisation of large photographs ($2,000)

Museums & Galleries of NSW, Collections & Stories, community museums in NSW ($93,750)

Orange City Council, Sharing object stories and community conversations about objects and collections ($71,000)

(working with community museums and heritage organisations across Orange, Blayney and Cabonne Councils)

Warren Historical Society, Digital scanning & microfilm reader printer ($20,000)
Further information https://www.create.nsw.gov.au/news-and-publications/news/1-6-million-to-digitise-regional-collections-2/

Regional Cultural Funds were also allocated to a number of historical societies and keeping places across NSW for infrastructure development
Armidale and Region Aboriginal Cultural Centre and Keeping Place Inc., Development completion – New England North West ($846,000)
Berrima District Historical & Family History Society Inc., Berrima District Museum Masterplan project – South East and Tablelands ($113,324)
Guyra & District Historical Society Inc., Museum refurbishment – New England North West ($60,000)
Kyogle and District Historical Society Inc., Kyogle History Museum – North Coast ($130,000)
Yarrawarra Aboriginal Cultural Centre, Building upgrades – North Coast ($103,757)

Further information https://www.create.nsw.gov.au/wp-content/uploads/2018/07/Regional-Cultural-Fund-Round-One-Recipients.pdf
RHSV Self-Guided Podcast Walking Tours, Melbourne
RHSV Podcast Walk 1 – A podcast walk around the western CBD and West Melbourne. Sites visited include The Gill, Queen Victoria Market, St James' Old Cathedral and the Flagstaff Gardens.

RHSV Podcast Walk 2 – A self-guided tour around the western CBD and West Melbourne. This tour takes in the key features of the block around the RHSV Headquarters, including La Trobe, Elizabeth, William and Lonsdale Streets.

http://www.historyvictoria.org.au/rhsvevents/rhsv-walking-tours
The FAHS e-Bulletin, No. 182,
16th September 2018