The FAHS is developing a new look website to promote the significant work historical societies make to historical research, collections and exhibition across Australia.

The contributions you make to the community through talks, outings, and school's programs are often overlooked and we are keen to promote these aspects on the website.
We are continuing to look for photographs showing the ways that you do history - through research, events, managing collections, and exhibition - and to illustrate how you engage with the local community and visitors from further afield.

We are seeking:

Three or four feature 'hero images' to use in the website banner and twenty to thirty images for content pages. Images including people will best represent your contribution to the community. As a starting point, the areas we're focusing on are below:

* Collections activity - groups & individuals working with the collection; conservation; textiles; volunteer training etc

* Research/publication - e.g oral histories recorded in the field; researcher at work with the community or in-house; publication launch event

* Exhibition - e.g public/curator engagement with the exhibition; special programs; installation processes etc

* Governance - groups/dynamic meetings; engaged and inspired people

* Events - public programs; talks; cultural activities etc

There are a few technology requirements to show the best images. If you have some compelling images of people engaging with your society and are unsure about the format - send them in and we can evaluate the technical side of things. Not every image will be suited to the content, so we can't promise that every society's image will be published.

Pixel dimensions:
Banner images - 2000 pixels horizontal
Rectangular or square images at least 800 horizontal

Format: TIF, PNG or Jpeg. With your permission we will crop or scale images if required by the web design.

Please send your image files to: Bernadette Flynn, FAHS National History and Community Heritage Officer and Curator. email fahsbflynn@gmail.com
The FAHS Newsletter - Caring for Heritage, Call for Papers


Call for Papers for the Jan 2019 issue of the Federation of Australian Historical Societies' Newsletter
Theme: Caring for Heritage
Submission Date: Friday 16th November 2018

The next issue of the FAHS newsletter, issue #46 is to be published in early 2019. Papers are invited on the topic of Historical Societies and Local Heritage.

Inspired by the article Historical Societies and Local Heritage; A Call to Action written by Chips Sowerwine, Chair, Heritage Committee of RHSV (RHSV History News July 2018) this newsletter investigates how historical societies manage and care for local heritage.

Historical Societies have a special role to play in the preservation and protection of local heritage. Active members are often at the forefront of highlighting heritage significance and advocating for the conservation of buildings, streetscapes and sites precious to the local community.

Ensuring local heritage protection is in place is one way that Historical Societies can make a significant contribution. Another is engaging in telling the stories and interpreting the histories of local and state significant buildings and sites - placing heritage aspects within an historical context. In addition, many Historical Societies have developed invaluable repositories of local heritage documentation including photographs, maps and other records.

The FAHS is seeking papers on how historical societies advocate for the protection of local heritage and the forms of interpretation and promotion that are undertaken by societies in the recognition and expression of heritage value. Papers may include the following:
Examples of advocacy for heritage conservation
Collaboration and partnerships with owners and custodians
How Societies work with councils, and other interested parties to protect heritage in their area.
Theme based collections that respond to and provide contextual information about the heritage buildings within which they are housed.
Adaptive reuse of existing heritage buildings
Articles are invited of up to 800 word with illustrations. The FAHS newsletter is distributed via our contact list, on the FAHS website and on ISSUU. The last newsletter No. 45 on the theme of Diversity can be viewed here.

Articles that relate more generally to matters of local history and community heritage are also welcome.

For further information and submission details please contact the editor Dr Bernadette Flynn at fahsbflynn@gmail.com
Conserving Pre-settlement History Locally


In southern NSW, a project involving about 40 museums across the Riverina is aiming to connect collections experts to local museums to help their committees and volunteers understand what's in their collections and how to display them.

It's part of an international project called The Relational Museum and Its Objects: Engaging Indigenous Australia With Their Distributed Collections.

The idea is to link indigenous people with their material culture and to link small, local and often volunteer-run community museums with local indigenous people so their museums also tell the pre-settlement story.

And next month at the Forbes Show, the Henty Field Days and the Barellan Good Old Days, stalls run by locals will encourage people to bring indigenous objects and artefacts that they have at home to open days during October at Forbes, Narrandera and Wagga Wagga.

......If you do have indigenous artefacts at home that you'd like to know more about, take them along to the history open days at Forbes Dreaming Centre on October 14, Narrandera's Community Centre on October 20, and Wagga's Museum of the Riverina on October 21.

Extract from Miranda: Pre-settlement Australian history must be preserved locally, The Weekly Times, 29 August 2018, Genevieve Barlow

https://camd.org.au/conserving-pre-settlement-history-locally/
Evidence of Einstein's theory at Broome's Bowling Club
Historian Robyn Wells was delighted to realise her local bowling club had played a fundamental part in such a significant historical moment.

Einstein's general theory of relativity is one of humankind's greatest achievements, and the theory passed its first test in what is now part of Broome's lawn bowls club in far north-west Australia. Read More

Image: the buildings of the Broome Coastal Radio Station (now the Broome Bowling Club) were used for developing the photographs that proved general relativity was correct. Supplied: National Archives of Australia.
Featured Historical Society - Fremantle History Society
The Fremantle History Society was established in 1994 to encourage the study, recording and public awareness of Fremantle history and cultural heritage in all its diversity.

The Society promotes the identification and preservation of historical evidence relating to Fremantle, and disseminates this information in a variety of ways.
The Fremantle History Society grew out of a community of heritage enthusiasts that had developed around the Fremantle Society (which was established in 1972). From the start, the Society adopted a broad-based history and heritage orientated approach rather than a local historical societies model. There was a determination not to manage a collection, host exhibitions or run a museum, rather to focus on research and liaison with other history and heritage groups in the area.

The FHS is dedicated to the belief that a greater knowledge of Fremantle's history enriches individual understanding and helps foster a sense of community identity and awareness. The Society's objectives are principally to disseminate information about Fremantle history in a variety of forms - public lectures, meetings, newsletters and other publications, walking tours, study days, etc. The FHS has also worked closely with the Fremantle Society towards establishing heritage protection in Fremantle, during different stages of threats to buildings and streetscapes and have worked together on Heritage events.

Social activity is a strong component of the Society with membership around 130. About 45 of these members are active on the committee and in other roles. General meetings are held each month - often in the form of lectures or tours at a venue related to the topic. This gives members an opportunity to visit some of the historic places in Fremantle and learn more about their history.

Pam Harris, secretary of the FHS outlines how the Society encourages the collection of Fremantle's History by working closely with the Fremantle History Centre at the Fremantle City Library. She acknowledges that since the demise of the Fremantle social history museum there is a need for a history museum in Fremantle. Currently there is no dedicated history collections on display other than those associated with maritime (WA Maritime Museum) and military heritage (Army Museum of WA). Conversations are in progress around a community history space within the New Museum for WA (scheduled to reopen in 2020).

In 2012, the Society inherited the archive of the Fremantle based Deckchair Theatre (an outstanding contemporary Australian theatre group operating for 30 years). The collection covers a range of formats e.g. video tapes, scripts and publicity materials. The Society took on the challenge of organising and the archive obtaining, a community heritage grant to undertake a significance assessment. The intention once the resources are fully archived is to pass them on to the State Library.




Image: L; Contributors and editors celebrating the launch of Fremantle Studies: Michelle McKeough, Steve Errington and Bob Reece (back row); Anne Brake & Pam Harris (middle row); Dr Lenore Layman and Alan Pearson (front), Photo: Jon Strachan; R; Front Cover Fremantle Studies, Vol 9.

The Society is particularly proud of its publishing achievements and outreach. The Fremantle Studies established in 1999 is a biennial scholarly non-refereed journal, which receives papers from academic historians as well as writers from the GLAM sector and members of the community. The journal has been indexed and is available online.

A newsletter published quarterly is distributed to members and available on the Society website. The newsletter includes articles about Fremantle history and heritage and reflects an engagement with other organisations and their affiliation with the Royal Western Australian Historical Society. In 2005 the Society hosted the annual State Conference of Affiliated Societies and in 2013 they were recognised with the Fremantle's Spirit of Heritage Award for the publication of 70 newsletters to that date.

A Facebook page and blog (website) are used to spread information about the Society's activities from which they regularly receive enquiries about local history.

The Society also runs an annual Studies Day where research papers are presented and later published in the Fremantle Studies journal. The 2018 event to be held on October 28th marks the anniversary of the end of fighting in the First World War and will focus on the implications of the First World War for the town of Fremantle.

As one of the challenges is getting younger people involved, the Society offers a Research Scholarship to inspire new researchers to contribute to knowledge of the history and heritage of Fremantle. The Biennial Fremantle History Research Scholarship is valued at $2,000 and has successfully encouraged new, high quality research from local historians, community members and undergraduate and post-graduate students.

Another challenge mentioned by Pam is for people to undertake the varied tasks of the Fremantle History Society. There is a push at the AGM to co-opt people onto the committee and create sub-committees for the varied tasks. Society activity is mainly supported through membership with an occasional grant to help with publishing activities and local business sponsorship for the research scholarship.

Website: https://fhs.org.au/
Email: secretary.fhs@gmail.com
Phone (03) 6244 4527

Sources: The Fremantle History Society Website, interview with Secretary of the Fremantle History Society, Pam Harris and report from Bob Reece, The Fremantle History Society, 1994-2014, Published in Fremantle Studies, 9: 79-87.
Riot Day at the Parramatta Female Factory

Riot Day at the Factory

Commemorate the life and times of the Parramatta Female Factory Women. Celebrate the day the women broke free and fought for their rights 191 years ago.

When: Friday 26th october
Where: Cumberland Hospital, 5 Fleet Street, North Parramatta.

Entry: Gold Coin

Booking for tours (11am-1pm):
https://www.eventbrite.com.au/e/its-a-riot-2018-tickets-49466580875
Restoring Cook's Legacy 2020 Project



The Australia on the Map (AOTM) Division of the history and heritage Division of the Australasian Hydrographic Society has a special focus on the early maritime contact history of Australasia, including the many fascinating aspects which are not that well known.

In April/May 2020 Australia will commemorate the 250th anniversary of Lt James Cook's arrival in Endeavour off the east coast of Australia.

Restoring Cook's Legacy 2020 is a project of Australia on the Map (AOTM), the history and heritage Division of the Australasian Hydrographic Society. The Society aims to restore Cook's legacy by correcting the historical record regarding the correct locations of the 28 land features Lt James Cook named on the coasts of Victoria and New South Wales in 1770. Recent published research by AOTM members shows that six of the land features are in the wrong place on today's maps, one is absent, and three are in the correct places but believed by some to be elsewhere. Now for the first time in nearly 250 years there is an accurate historical record of what Cook saw and named on the coasts of Victoria and New South Wales.

Further information: https://www.australiaonthemap.org.au/
Australia ICOMOS Heritage Symposia, Hobart
Australia ICOMOS is holding two back-to-back Symposia in Hobart over 10-12 November 2018.

The Cultural Landscape Diversity & the Implications for Management Symposium (10-11 November) and the Under the Microscope – Exploring Science Heritage Symposium (11-12 November) are timely fora to review and discuss the identification and management of these two aspects of cultural heritage.
The symposia are open to all people with an interest in cultural landscapes and/or science heritage. Each symposium will be a combination of presented papers with opportunities for discussion of the issues raised and the implications and needs for heritage conservation. A joint symposia field excursion on Sunday 11 November will present symposia participants with the opportunity to visit some outstanding and diverse Tasmanian cultural landscapes and science heritage sites within southeastern Tasmania.

Further information
George Town & District Historical Society Conference, Tasmania
The 11th Biennial Conference of the George Town & District Historical Society
Colony to Colony - The Influence of Tasmanians on the Settlement of Victoria

The George Town & District Historical Society Inc. conferences have built up a strong reputation since the first one in 1998, which commemorated the Bicentenary of Bass' & Flinders' circumnavigation of Van Dieman Land.

This one promises to keep up the standard and interest with a panel of reputable speakers, including Judy Walsh travelling from Victoria to present her paper on The David Collins Settlement at Sullivan Bay, Sorrento.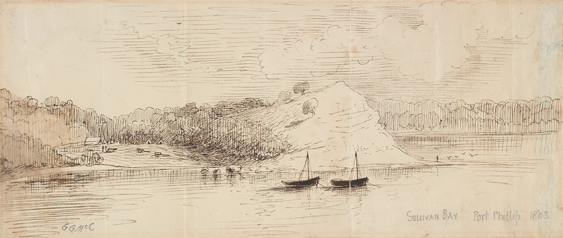 Image: Sullivan Bay in 1803, George Gordon McCrae, State Library of Victoria's Pictures Collection.

Date: Saturday, 10th November

Location: York Cove Centre,4 Sorell Street, George Town
Cost: $35
Registration and further information
Talk at RHSV on Captain Charles Swanston
Lost Flocks & Distraught Shepherds: Capt Charles Swanston - A talk by Dr Eleanor Robin

When: Tuesday 16 October 2018 at 5:15pm drinks for a 5:45PM lecture

Location: Royal Historical Society of Victoria, Officers' Mess Upstairs, 239 A'Beckett St, Melbourne, VIC 3000
Melbourne by 1856 was growing in confidence and grandeur, as Henry Gritten's fine painting of Swanston Street depicts. Captain Charles Swanston, the man after whom the bustling thoroughfare was named, would have been gratified. Swanston—heroic soldier of the Honourable East India Company, Van Diemen's Land banker, legislator, pillar of Hobart Town society, fomenter of the squatting rush to Victoria—could always recognise a good commercial opportunity. His business tentacles stretched around the globe. Yet following the catastrophic collapse of the Derwent Bank, his desperate dash to the California goldfields and his mysterious death at sea, he was virtually expunged from the public record.

In reviving Swanston's remarkable story from a dusty, almost forgotten treasure trove of bank archives, Dr Eleanor Robin brings to light his considerable contribution to the economic, political and social life of Van Diemen's Land and his leading role in the settlement of Melbourne.

Cost: Free for RHSV members; $10 for non-members
Bookings
Talk by Professor Henry Reynolds, Adelaide

The History Trust of SA and the Don Dunstan Foundation present a talk by Professor Henry Reynolds - This Whispering in Our Hearts - Revisited


When: 18th October, doors open at 5.45pm. lecture commences at 6.00pm.

Location: Napier Theatre G04, University of Adelaide, North Terrace, Adelaide, SA 5000

Bookings: https://history.sa.gov.au/events/this-whispering-in-our-hearts-revisited/


Professor Henry Reynolds now-classic book This Whispering in Our Hearts constructed an alternative history of Australia through the eyes of those who felt disquiet and disgust at the brutality of dispossession. These men and women fought for justice for Indigenous people even when doing so left them isolated and criticised by their fellow whites. The unease of these humanitarians about the morality of white settlement has not dissipated and their legacy informs current debates about reconciliation between black and white Australia.

Join the History Trust of South Australia and the Don Dunstan Foundation for a public lecture to revisit this history. In a new edition of this book Reynolds brings fresh perspectives to issues we grapple with still.

* Please note – this lecture is now fully booked. You can still join the waitlist and will be contacted if a place becomes available.

You can also hear Prof Reynolds on Saturday 20 October when he delivers the Wilks oration at the Effective Living Centre at 7pm.
https://www.trybooking.com/book/event?eid=402439&.
Dust: Woodford Academy, NSW
The last artistic event of the Woodford Academy's 2018 program 'Dust: An exhibition about insects, collections and heritage buildings.'

Dust brings together artists and museum professionals to explore the processes of collection care underway at the Blue Mountains oldest colonial buildings, the Woodford Academy. In an Australian first, the Academy buildings will be progressively wrapped and left to 'cook' over the coming summer, eradicating the infestation of insects that have taken up residence in the building and its collections.
Dust engages with the idea of collection care while at the same time examining the lives and activities of insects. Just like we do, insects seek the right conditions to thrive and grow; that they may nest in our precious memory-objects and spaces is of no consequence to them. Dust highlights the materiality of insect bodies, museum objects and heritage environments and gives expression to the productive and destructive forces inherent to human-insect relationships.

Visual artists Erica Seccombe, Ingeborg Hansen, Freedom Wilson and writer, performer and all-round 'creatrix' Cat Jones join Sydney University Museum's Julie Taylor, Madeleine Snedden, Rachel Lawrence, Christopher Jones and Stuart Humphreys to present a suite of vibrant and fascinating audio and visual works that showcase the good, the bad and the ugly of the insect world. Developed by local Blue Mountains artist Jacqueline Spedding in conversation with Elizabeth Burgess from the Woodford Academy, Dust celebrates the work of Spedding's fellow artists and museum colleagues who have backgrounds in art and science, both professionally and creatively.

Open: Saturday 20 October & 17 November, 10am – 4pm
Where: 90-92 Great Western Highway, Woodford, NSW 2778
Cost: Adults $6, Concession/Child (4-16yrs) $4, Family $15 (2 adults, 2 children) Guided Tours – $2/Person (4+years)
From the archives of the Embroiderers' Guild, QLD
Jubilee Bridge stitched into community needlework in 1935

Among the treasures in the archives of the Embroiderers' Guild, Queensland is this 1935 design for an apron to commemorate the laying of the foundation for the new 'Jubilee Bridge'. Does it remind you of the Story Bridge?

It seems that the day that the Foundation Stone was laid, 24 May 1935, was the day set apart for jubilee celebrations in Queensland in connection with the 25th anniversary of the accession of King George to the throne.

By the time the bridge was opened on 6 July 1940 by the Governor of Queensland, the decision had been made to name it after John Douglas Story (1869-1966), a senior and influential public servant who had advocated strongly for the bridge's construction.
This particular apron was part of the "AGM Regal & Easystytch Needlework Competition" which offered £300 in prizes, and closed on 31 May 1935.

Sincere thanks to New Farm resident Emma Golder for drawing these artistic gems to the attention of the Society.



Source: New Farm and Districts Historical Society, Newsletter, September 2018
Community Histories of the 1918-1919 Influenza Pandemic
Over 2018–19, the Royal Australian Historical Society is encouraging local, special interest and family history organisations to research the historical impact of the 'Spanish' influenza pandemic of 1918–19.

If you are working on a project to mark the pandemic's centenary, or interested in the process of historical discovery and sharing your research, contact the RAHS
City of South Perth Historical Society Exhibition, May Gibbs
The City of South Perth's Historical Society is celebrating 100 years of the iconic children's books Snugglepot and Cuddlepie by May Gibbs with a special exhibition of works.

The exhibition runs until 24 February 2019

Location: Heritage House, 111 Mill Point Rd, South Perth
Opening times: Friday 10am-4pm, Saturday and Sunday 1-4pm
Cost: Free entry, donations welcome
Talk on Historic Wallpaper in Tasmania, THRA, Hobart
Alan Townsend will give a talk on Historic Wallpaper in Tasmania -Wallpaper and Domestic Life in Colonial Van Diemen's Land - Colour, Excess and Luxury

Alan Townsend is a historian and heritage consultant who has taught himself the skills for recreating historic wallpapers. He has produced wallpapers on commission for Narryna Heritage Museum, Tasmanian Museum and Art Gallery and the National Trust.

When: Tues, Nov 13
Time: 8:00 pm 9:00 pm
Location: Legacy Function Rooms 159, Macquarie Street, Hobart
A Territory Story - Exhibition at the Northern Territory Library
The Northern Territory Library (NTL) has developed A Territory Story in response to the strong community interest in Northern Territory history. The exhibition showcases the unique history of the Northern Territory and its stories to engage schools groups and cultural tourists.

The interactive exhibition, which runs from July 2018 to July 2025 is a survey of the people, the places and the events that have shaped the Territory. Meet Edna Zigenbine (1926-2007) whose story is told as part of the exhibition.

Born and raised on the stock routes of northern Australia in 1950 she became Australia's first woman boss drover when she took over from her sick father, Harry Zigenbine. On that run, she drove 1500 head of cattle across the notorious Murranji Track and Barkly Tableland into western Queensland. Her father said of her, 'Don't worry about Edna, mate, she's the best man I've got and what's more, she's a drover.'

Images: t; Photo of Edna Zigenbine by Douglas Lockwood, 1950; b; Kath and Edna Zigenbine during droving trip from the Kimberley, WA to Queensland, 1942.
Annual History Colloquium, Northern Territory

The Annual History Colloquium, presented by the Professional Historians Association (NT) in conjunction with Charles Darwin University, the Australian National University and the Northern Territory Library, is a forum for established and emerging historians from the NT and interstate to present papers on their current research.

This year's program contains a number of diverse topics: the Ranger Uranium Agreement and the Northern Land Council; Top End aviation history and heritage; Indigenous activism in the 1950s-80s; the evolution of secondary education in the Territory; the mapping of massacres on the Territory frontier; discourses around missionary endeavour; and how to write a history thesis and get it published.

When: Saturday, 27th Oct, 8.25am - 5.00pm
Location: Northern Territory Library
Cost: Free. Morning and afternoon tea is provided

For further information please contact Dr Steven Farram on (08) 8946 6865 or steven.farram@cdu.edu.au
The FAHS e-Bulletin, No. 183,
12th October 2018