Australian Heritage Grants 2018-19
The Australian Heritage Grants Program aims to:
improve conservation, preservation and access to National Heritage Listed places, and/or
improve community engagement and improve awareness of the values the places were listed for.
The first grants round is open from 20 November 2018 to 19 December 2018. Applications are to be submitted through business.gov.au and GrantConnect.

What will the Program fund?
The Australian Heritage Grants Program provides funding for projects that do one or more of the following:
maintain, protect and conserve the National Heritage values of one or more listed places
improve access to one or more listed places
improve engagement with, and awareness of, the values for which one or more listed places was listed.
Program documentation
The application guidelines, application form, and grant agreement documents are available at the Australian Heritage Grants 2018-19 Grant Opportunity.
Australian Heritage Festival 2019 - registrations open
The theme this year is Connecting People, Places and the Past.
Events across Australia will be held at historic buildings, landmarks, shipwrecks and sacred sites. The festival will bring together communities from all walks of life to recognise and celebrate heritage and culture through ceremony, song and dance, performance art, art in various media and artefacts, talks on books and stories, and guided tours of towns, places and spaces.
The Australian Heritage Festival will bring to life all chapters of Australian culture and history, telling the stories of diverse and distinctive experiences that make up our communities.
Brought to you by the National Trust of Australia and the Australian Government
The National Trust of Australia is proud to be the national convenors and coordinators of the Australian Heritage Festival working in partnership and with the generous funding of the Australian Government. In 2018, the Australian Heritage Festival:
Provided Australians with a selection of 1,253 events celebrating cultural, natural and built heritage nationally.
Attracted 441,000 visitors to events across the nation.
Digitally engaged 80,958 people with stories about heritage and culture over four weeks.
We look forward to welcoming Australians and international visitors to another year of the Australian Heritage Festival and the wonderful range of exhibitions, walking tours, films, expert talks, workshops, food fairs, guided tours of historical sites, ceremonies, demonstrations, special dinners and lunches this program has to offer.
Let us connect you to People, Places and the Past.

For further information and to register visit https://www.nationaltrust.org.au/ahf/

FAHS Constituents Managers' meeting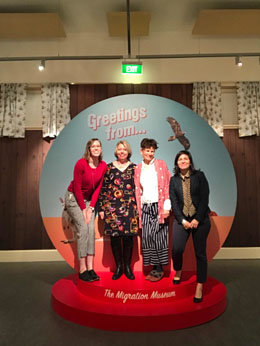 FAHS Constituents Managers' meeting, held at History Trust of South Australia, 23/11/2018

Due to unavailability of some state managers and cancelled flights, we did not have the full complement of national representatives at the meeting but we did not let that get our spirits down.

We started with a rundown from Catherine Manning (Curator of Digital Engagement) about all things digital in HTSA's Digital Hub. The space is used by Catherine and her volunteers to scan and photograph, as well as for image editing, web content creation, and social media. Catherine says that the success of her volunteer program can be attributed to the thorough procedure documents she has created and the time spent inducting new volunteers. She also took us for a tour through the HTSA's online presence, including SA History Hub, Adelaidia, and South Australian History Network.

Rosemary (RHSV) and Ilona (RHSQ) brought us up-to-date with news out of Victoria and Queensland respectively. The FAHS draft website was showcased next, which is set to go live in early 2019. There have been conversations around this website and how it can best support the affiliates for months now, and it was great to be able to show the nearly-finished product.

In the afternoon, curator Nikki Sullivan gave us a tour of the Migration Museum. This thoroughly impressive institution has some fantastic themes and interactives. Broadening the Museum's curatorial interest to align with the way Australia has moved past multiculturalism to 'super-diversity' has set them up for success. Modern migration is explored via themed storytelling, which creates an engaging learning environment.

The day ended with discussions about joint projects to start next year, now that the website is nearly ready to launch. Watch this space for exciting updates. Thanks to Amanda and Catherine and the rest of the History Trust of South Australia for their hospitality on the day, and for arranging the tour.

Sophie Shilling, FAHS Outreach Officer

Tasmania - Marita Bardenhagen Memorial Award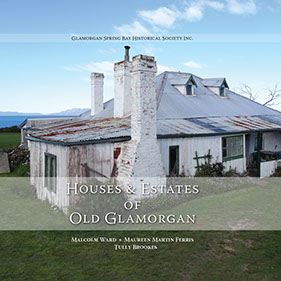 Book cover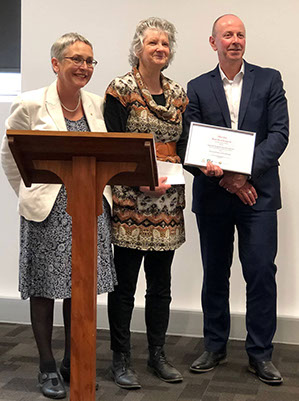 L to R: Dianne Snowden, Maureen Martin Ferris, Ross Latham

The Glamorgan Spring Bay Historical Society (Tas.) has been awarded the 2018 Marita Bardenhagen Memorial Award for their publication Houses and Estates of Old Glamorgan. Marita Bardenhagen was a respected historian and advocate for the importance and value of local history. The award has been established to encourage the publication of local history research in Tasmania. For more information on the publication and the work of the Historical Society, visit its website.

The photo shows Society Vice President and one of the authors Maureen Martin Ferris receiving the Award from Dianne Snowden (historian/author & former head of Heritage Tasmania) and Ross Latham (TAHO Archivist).

Congratulations to the authors, Maureen Martin Ferris, Malcolm Ward and Tully Brookes & Photographer Marion Harrison. Of course there was a great team of GSBHS contributors behind them which made the publication possible, Design and Layout by Diane Bricknell, Editor Lou Coghill, Financial management and printing liaison–Noel Stanley, and the mighty team of proof readers and spell checkers, too numerous to name.
Putting it out there: Melbourne in the 1970s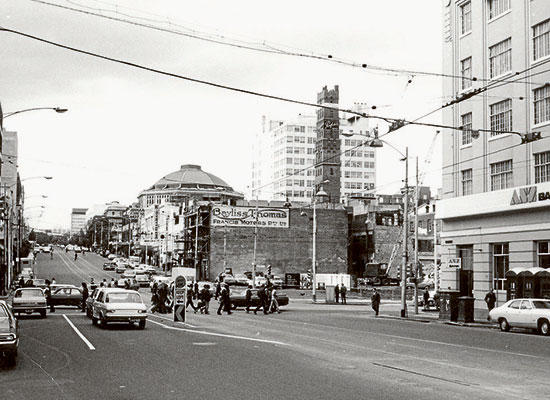 RHSV Collection: PH-020695



This photo was taken around 1970 just prior to the city loop being built. The photographer, Horrie Lee Archer, is standing in LaTrobe St west of its intersection with Elizabeth St.

Putting it out there: Melbourne in the 1970s, an exhibition curated by Zoe Henderson at the Royal Historical Society of Victoria, sets out to capture some of the many faces and moods of Melbourne in the 1970s.

Where: Royal Historical Society of Victoria
239 A'Beckett Street, Melbourne, Victoria, 3000


Phone:

03 9326 9288



When: Until 14 January 2019
M - F 9a - 5p

Read more: http://cbdnews.com.au/livin-in-the-70s/

Street photography - Museum of Sydney
During the mid-20th century, commercial street photographers were a familiar sight on Sydney's streets, capturing everyday people as they strode by or stopped to pose.
Taken against the vibrant background of the city streets, these photographs captured candid moments in the lives of millions of people, from uniformed servicemen and women to postwar migrants exploring their new city and young couples out for a day in town.
Following a hugely successful public call-out, the exhibition draws together photos from hundreds of private family albums. This extraordinary, largely unseen record of Sydney and its people is displayed alongside contemporary street photography by photomedia artist Anne Zahalka, capturing people on the streets of Sydney today.

Where: Museum of Sydney
When: 8 December 2018 - 21 July 2019

Read more
https://sydneylivingmuseums.com.au/exhibitions/street-photography

State Library of Queensland - The Corley Explorer
Home: a suburban obsession
Image from the Frank and Eunice Corley House Photographs collection, Acc.6169 John Oxley Library, State Library of Queensland.
For those unable to view this exhibition in person at the State Library of Queensland, the collection can also be viewed online with the Corley Explorer
To launch the Corley Explorer, click here: explorer.corley.slq.gov.au

Home: a suburban obsession is about the allure of home and the stories found within, inspired by one of the largest digitised photographic collections of Queensland houses. It explores the social and emotional foundations of our houses through ephemera and artistic responses capturing the places we call home.
During the 1960s and 70s, Frank and Eunice roamed the suburbs photographing houses in South-East Queensland. Fifty years on, the legacy of their efforts is an extensive collection of images that indiscriminately capture Queensland housing stock – from the architectural to the ramshackle.
Through an immersive virtual reality streetscape, art installations, incredible untold stories and rarely-seen photographs, peer through the Corleys' viewfinder to see just a glimpse of their extraordinary obsession.
reflect on artwork created by celebrated Australian multidisciplinary artist Ian Strange
contemplate the installation by Queensland artist/designer Jennifer Marchant
immerse yourself in a Brisbane virtual reality streetscape by [f]FLAT
hear personal stories of the homes and their owners
view rarely-seen original photographs and ephemera about Queensland homes
listen to a soundscape and imagine what the suburbs may have sounded like

The collection can also be viewed online with the Corley Explorer
To launch the Corley Explorer, click here: explorer.corley.slq.gov.au


The FAHS e-Bulletin, No. 185,
11th December 2018