FEDERATION OF AUSTRALIAN HISTORICAL SOCIETIES INC
NEWSLETTER
No. 39 – December 2013
Hon Editor, Esther V. Davies
Feature article: The future of history and heritage in schools
Good news stories from historical societies
….Great Lakes Historical Society and Museum, Tuncurry (NSW)
….The Mary Valley Heritage Railway (QLD - Gympie's Mary Valley Rattler back on track
….Marysville Historical Society (VIC) - great reviews on travel website, Tripadvisor
News from our constituent organisations
…. Canberra and District Historical Society - symposium - 'Hidden Histories and 'Back Stories'
…. History South Australia - renaming "City of Adelaide"
…. Royal Australian Historical Society - relationship building
…. Royal Historical Society of Queensland - Centenary Year
…. Royal Historical Society of Victoria - RHSV artworks and manuscripts collections
…. Royal Western Australian Historical Society - legwork for a new Museum display
…. Tasmanian Historical Research Association - Female Convicts Research Centre
What is hiding in your cupboard?- hidden treasures in Australian historical societies
Nominations for FAHS Merit Awards 2014
A final quote - Oscar Wilde
FAHS President Ruth Kerr
The Federation has fresh hopes and a feeling of certainty about a much greater emphasis on heritage by the new Commonwealth government. FAHS has already congratulated the new Minister for Environment (including Heritage) Hon Greg Hunt MP and the Minister for The Arts, Senator the Hon George Brandis MP on their appointments and looks to a fulfilling engagement with them in their portfolios. This has already been confirmed in a meeting of Dr Don Garden of the Federation with the new Minister for Environment, Hon Greg Hunt MP with very positive discussions about resourcing our area in supporting and promoting historical societies. A Consultative Committee between the Minister for the Environment, FAHS, ICOMOS and National Trust is a possibility similar to the National Cultural Heritage Forum from the late 1990s to 2007.

The Federation desires to expand our work in the areas of online outreach, promotion of historical museums and research by our constituency, production of guides to assist local historians. It is hoped that the Your Community History Grants will continue and provide historical societies opportunities to compile and promote their stories.
The Community Heritage Portal will also advance this as well and assist tourists throughout Australia.
The FAHS wishes to remind its constituent societies, their affiliated societies and individual members that the Commonwealth government has established a Community Heritage website www.communityheritage.net.au . Andrew Bowman is employed by the FAHS to assist people to place on the site information about their historical society, community and any aspects of their community heritage. He can be contacted at andrew@carnamah.com.au

A major development is that the Minister for the Environment, Hon Greg Hunt MP, has announced that an Australian Heritage Strategy will be developed for Australia. This is a major step forward as the Federation has been advocating this for many years since initiatives were taken in 2003 and in 2012. Details of the Minister's announcement are on website: www.environment.gov.au/minister/hunt/2013/pubs/mr20131104.pdf . Historical societies are urged to lodge a submission on it in 2014. Details of the process of lodgement are on website: www.environment.gov.au/topics/heritage/australian-heritage-strategy/getting-involved


Dr Ruth S. Kerr
The future of history and heritage in schools
One key heritage issue that is frequently overlooked is that of the maintenance and survival of both built and movable heritage in schools. A classic example of the dilemma in this area is the case of the "mystery painting" in Canberra's oldest school, Telopea Park School.
Painting by Verners (Werner)Linde (1895-1870) and Gurt Linde for the Australian Citizenship Convention January 1950. (The light patch on the painting is sunlight at the time the photographwas taken, and is not part of the painting.) Photograph by Jim Gillespie for the "Telopea 67" ex-student website.
This very large (approximately 5m long x 2.3m high) and striking artwork was painted by post war refugees Werner (Verners) Linde (1895-1970) and his son Girt (Giris) Linde for the Arts and Crafts exhibition at the First Australian Citizenship Convention in Canberra in January, 1950. At the time he was forced to flee Europe after the war, Verners Linde was a Latvian artist and newspaper cartoonist of considerable standing who had trained at the School of Art and Design at the Stieglitz Palace in St. Petersburg.
The painting has considerable historical significance. According to Associate Professor Nicholas Brown of the ANU:

"The 'arts' displayed (at the Citizenship Convention) were taken to represent the contribution immigrants would make to Australia, and of the ways in which a 'bridge' might be built between their pasts and their futures. Linde's subject matter, style, and the scale and strength of his painting, offer a bold statement of how this task was envisaged by a participant. I know of no other surviving work that so graphically conveys the meanings of 'citizenship' and the place of Canberra in representing it at that time."
After sixty odd years in its present location it is now in urgent need of cleaning, restoration and repairs. Earlier this year, the school received a quote of $ 14,850.00 for this work. The vast majority of schools would simply not be able to afford such an amount. Previous efforts to obtain funding were not successful with the relevant government organisations each disclaiming responsibility. It seemed that an important and inspiring work of art might ultimately be allowed to deteriorate, for the lack of what is really a very small sum of money.

Unfortunately, this is not an isolated instance. I am aware of an historical building and school museum in Western Australia which was not only falling into disrepair, but the State Department of Education had rejected an offer of the museum collection and it was also in danger of deteriorating. In Canberra in 2010, a treasure trove of rare and valuable Aboriginal bark paintings was found hidden in a school cupboard where they had languished for over 30 years. Other works of art in schools have either disappeared or have been irreparably damaged. Many school war memorials have been removed, lost or vandalised. The whole issue of the maintenance of heritage-listed buildings is also a fraught one. It took consistent lobbying for a period of eight years for the ACT Government to provide the necessary finance to repaint the Heritage listed Telopea Park School which was designed by architect John Smith Murdoch, also architect for the Provisional Parliament House and the Kurrajong Hotel.

To sum up, I guess that my questions are: Who is responsible for the maintenance and care of these objects or buildings? How can schools afford to look after such treasures and safeguard them for future generations? What, if anything, can local historical societies do ensure the survival of such artefacts or buildings, bearing in mind that such treasures may be an integral part of the community's history?

While all of the above may sound depressing, the story of the "Telopea Park School painting" does have a happy ending. The school has recently received an ACT Government Heritage Grant of $13,500 for the work on the painting and that work will begin on 6 January, 2014. However, it is worth noting that the writing of such grant applications takes many hours. Not many schools have the luxury of an archivist or historian and the writing and/or the support of such applications might well be one way in which a local historical society could assist in preserving these important parts of our heritage.


Esther V. Davies School Archivist, Telopea Park School ACT
GOOD NEWS STORIES FROM HISTORICAL SOCIETIES
(Editor's note: It is often said that good news is not news. However, it is always cheering to hear success stories from some of our many regional and local historical stories. Here are two such stories. If your local historical society has similar good news stories, please let the Federation know.)
Great Lakes Historical Society and Museum ( Tuncurry, NSW)
The next time you step inside the Great Lakes Museum you might not recognise it!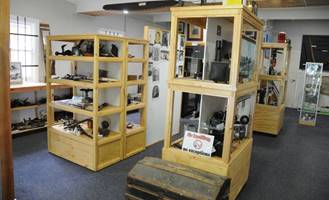 New display cases at the Great Lakes Historical Society and Museum
The reason that you may not recognise it is because the building recently underwent a $24,000 facelift. The works were made possible after the Great Lakes Historical Society received $14,000 in government grants and a further $10,000 was added by the society.

Works to the building started in 2011 when sections of the ceiling were taken out and replaced. Modern down lights were later installed as well as cabinets made by volunteers from the Wallis Lake Men's Shed. The building also received new carpet, a fresh coat of paint, two new offices, a staff room and an archival room.

Historical Society president Alan Wright said the renovations had been long awaited. "Apart from a bit of paint, there had been no substantial work done to the museum in quite some time," he said. The original cabinets were built in the 1980's and part of the ceiling was water damaged and in need of repair. "So I think it's an amazing result, the area is now more open and is a lot more accessible for the elderly and for those with a disability."

Mr Wright said the majority of work had been carried out by a group of dedicated volunteers. "Without them it wouldn't have happened. If we had to pay to get people to do it, it wouldn't be anywhere near finished," he said. "They have put a lot of hard work in."

The Historical Society also received a $2,000 grant from the Great Lakes Council to purchase glass for the new display cabinets. Mr Wright said although most of the hard work was now done there were still a few minor things left to do. "We have to re-organise some sections in the museum and exhibitions and put the glass in the cabinets," he said. "Just a couple of finishing touches but it's all pretty much done."

Mr Wright said members of the public were encouraged to visit the newly renovated museum. The Historical Society hosted an open day on Sunday, November 24.

In further good news, the Great Lakes Historical Society received just over $5000 as part of a Federal Community Heritage Grant, announced at the National Library of Australia on Tuesday, October 29. The money will go towards the investigation and preservation of community owned but nationally significant heritage collections.
Lauren White, Great Lakes Advocate, 20 Nov 2013
Gympie's Mary Valley Rattler back on track
(Editor's note: The following story is particularly heartening for the Federation. FAHS was first made aware of the difficulties facing the "Rattler" in October 2012. Since then, the Federation and the Royal Historical Society of Queensland have been active in seeking support for the Mary Valley Heritage Railway. This is a great outcome.)
Gympie's popular tourist attraction is set to return to the rails after receiving funding from the State Budget. $2 million has been allocated to recommission the Mary Valley Heritage Railway. The well-known train railway was suspended last year due to safety concerns with the organisation struggling to get the operation back on track. Member for Gympie David Gibson hopes most of the money will be used on track upgrades. All going well "The Rattler" is expected to resume operations next year, but there could be changes in the route though with services being reduced.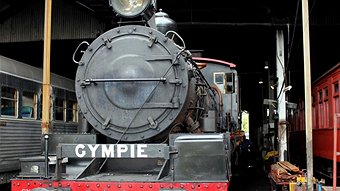 The Mary Valley Rattler

Jessica Hinchliffe and ABC News
Marysville Historical Society (VIC) - great reviews
(Editor's note: As most historical society members around Australia will know, the Marysville Historical Society, lost its entire collection in the catastrophic "Black Saturday" bushfires of Saturday 7 February, 2009. Many of us have been aware of the great efforts that have gone into re-establishing the Society. It was therefore most heartening to read the comments below on the travel website "TripAdvisor". The articles have been reprinted exactly as they were published . NB. It might be worth checking TripAdvisor for reviews of your local society )
"Amazing collection from scratch after everything was burtnt in the 2009 fires"

Reviewed 8 October 2013
Just had a lvoely weekend in Marsyville stayed at the Caravan Park in a cabin where the river runs past your door. A short stroll from here takes you to the local shops, including the lolly shop and cafes and a few doors down is the Historic Society rebuilt from scratch with a very interesting array of items and media.

and
"perfect history lesson for honeymoners"

Reviewed 11 September 2013
absolutely loved our visit to the history society ,from the moment we drove into the driveway we were welcomed with a big smile from the hostess mary and her husband. there knowledge of the local history is "second to none" , they were able to describe the entirety of the towns history without hesitation or second guessing themselves , and there passion shines through them and you can not help but be enthralled by their stories , including the tragedy of black saturday which bought a tears to my wifes eyes and my own.
we both highly recommend a visit here whenever you are in marysville as they receive new parts of history each and everyday!

Courtesy of "TripAdvisor" website. Thanks to those kind reviewers and CONGRATULATIONS to all involved with the Marysville Historical Society.
FAHS Annual General Meeting - 9 August 2013
Canberra and District Historical Society Rooms - Curtin Place, Curtin ACT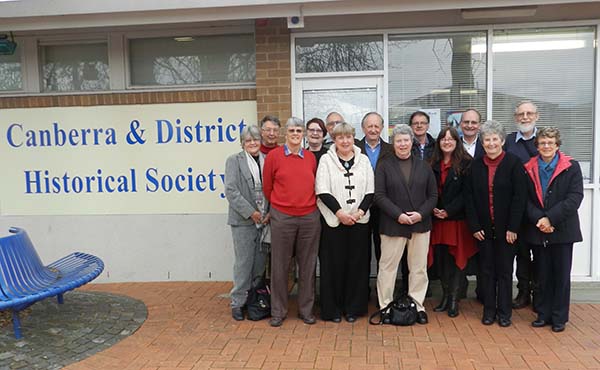 President Ruth Kerr spoke to her Annual Report and stated that the Federation has worked well in the preceding year and has increased its profile in Australia and expressed thanks to Council members and the Executive Officer for their roles in the Federation. As all office-bearers elected in 2012 have tenure for two years there was no need, this year, for elections to be held .

The main item of business for the AGM was the awarding of the annual Fellowship and Merit Awards for 2013. This year two Fellowships were awarded. Emeritus Professor Alan Powell was nominated by the Historical Society of the Northern Territory. Professor Powell is Emeritus Professor of History and Political Science at Charles Darwin University and is a former Dean of the Arts Faculty. His teaching interests include classical history and NT history. He has published extensively in both and has won many research awards. Alan is currently completing a book on the maritime history of the Australian north coast and an article on the World War II U.S. Navy in Darwin. He is the editor of the Journal of Northern Territory History and publications editor for the Historical Society of the Northern Territory An FAHS Fellowship was also awarded to Dr Stephan Petrow of Hobart. Associate Professor, of History and Program Director, History and Classics, University of Tasmania Stefan serves on the Executive Committee of the Tasmanian Historical Research Association, is Treasurer of the Australian and New Zealand Law and History Society, Chair of the Tasmanian Working Party of the Australian Dictionary of Biography, and a member of the Joint Archives Consultative Forum. Dr Petrow was nominated by the Tasmanian Historical Research Association.

The AGM was followed by a general meeting at which a wide range of issues were discussed. That evening, delegates attended the annual FAHS dinner, held in the historic Hotel Kurrajong, famous for its associations with many of Australia's leading politicians, most notably Ben Chifley who resided there during sittings of Parliament.

Delegates also attended the Canberra history symposium, 'Hidden Histories and 'Back Stories' on Saturday 10 August, and an associated excursion on Sunday 11 August. At the conclusion of the Symposium, FAHS President Ruth Kerr presented an FAHS Fellowship to Dr Michael Pearson OA.
NEWS FROM OUR CONSTITUENT ORGANISATIONS
Editor's note: A small selection of news items has been chosen to illustrate the diversity of activities happening in historical societies around the nation.
Canberra and District Historical Society
Symposium - 'Hidden Histories and 'Back Stories'

The publication of the Society's latest journal (Canberra Historical Journal, New Series No 71 September, 2013) is a fitting culmination to its many activities in the Canberra Centenary year. The papers in this issue are all from the very successful Canberra history symposium, Hidden Histories and 'Back Stories' held in August this year. This symposium and the subsequent excursion to four of Canberra's hidden historical sites were, in part, one of the Society's many Canberra Centenary celebrations as well as an acknowledgement of the Society's foundation 60 years ago on 10 December, !953.

The symposium began with "Welcome to Country" by a member of the Ngunnawal Elders' Council and was followed a keynote address by local ABC luminary Chris Kimball and a short explanation by Ruth Kerr of her role as President of the FAHS. The rest of the morning focused on lesser known and more recent elements of Canberra history. Speakers included Chris Monnox The ACT Advisory Council, Barry Price The ACT Schools Authority, Patricia Clarke Canberra in Wartime: a Changing Community, Nicholas Brown Entering the Salami and Pumpernickel Range: the cultural transformation of Canberra in the post-war decades and Jeremy Hearder, DFAT, A Diplomatic Milestone in Canberra's Centenary.

After a generous catered lunch the symposium reassembled for two panel discussions, the first on Researching Local History with Alan Foskett, Graeme Barrow, Susan Mary Withycombe and the second on Canberra Stories: 'My Place' by a variety of Canberrans ranging from school students to senior citizens. Both panels led to lively discussion from the floor.
Many of the participants stayed for wine and cheese afterwards, during which FAHS President Ruth Kerr presented Michael Pearson with a FAHS Fellowship.

Other recent events have included a very successful excursion to the Brindabella Homestead, once the home of celebrated Australian author Miles Franklin, and our annual History Trivia Quiz.

Esther Davies and Julia Ryan CDHS
Renaming "City of Adelaide"
According to mariner superstition, to rename a ship without appeasing the gods of the sea and the winds will bring bad luck to the ship at sea. In 2001, the clipper's name reverted to City of Adelaide but without a ceremony. After having been named Carrick in 1923, a Renaming Ceremony is now needed as the City of Adelaide is about to proceed on her first international voyage since 1893.

The ceremony on the River Thames at Greenwich in south east London to rename her City of Adelaide - the name it had when it transported goods and new migrants to the South Australian colony from the 1860s - was steeped in nautical tradition. A Renaming Ceremony, followed by a Cocktail Reception, was held in the presence of His Royal Highness The Duke of Edinburgh KG, KT in front of the Old Royal Naval College at Greenwich.

The visit of the City of Adelaide to Greenwich, the home of the Cutty Sark, will also bring together the world's last two surviving clipper ships.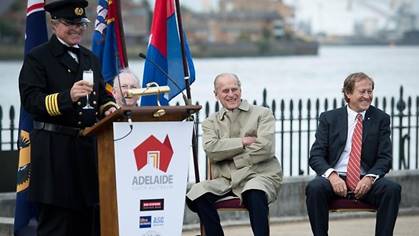 .
Prince Philip looks on as Honorary Captain Andrew Chapman charges the champagne ahead of renaming the clipper from the Carrick to City of Adelaide in London. Picture: Leon Neal/AFP
Royal Australian Historical Society
Relationship building at the RAHS

Building relationships with other organisations is important to the RAHS. Its Spring calendar of events includes excursions organised with the coordinators of National Archaeology Week, a panel discussion hosted by the Australian Society of Archivists, a History Week event with the National Archives of Australia, workshops with the Oral History Association of Australia, and lectures hosted by the Australian Society for the History of Science, Engineering and Technology. RAHS members and friends recently were allowed to view the Macquarie Group Art Collection. Further such events are being planned at History House and other, including regional, venues. The 2013 RAHS State History Conference in Katoomba aims to encourage members of the Society's many affiliates to share experiences, ideas and knowledge. The City of Sydney and the RAHS are currently launching a new program of 'green plaques' to mark important historic places. Finally, the Society's Western Crossings project, reported on in a previous newsletter, also involved close cooperation with a range of organisations.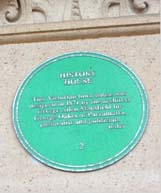 An example of a "green plaque" at History House in Macquarie St, Sydney

David Carment RAHS
Royal Historical Society of Queensland
Centenary Year
RHSQ Birthday Cake complete with RHSQ logo
The centenary year of the society has been a wonderful success.
The Society held an outstandingly successful Centenary Dinner at Tattersall's Club on 21 August 2013 with HE Ms Penelope Wensley AC, Governor of Queensland and Hon Campbell Newman MP, Premier of Queensland, along with 100 members and guests including a number of Federal and State Parliament members, and Brisbane City Councillors. The dinner was held on the actual date of the centenary of the formation of the Society. Her Excellency and the Premier were presented with Presidents' Centenary Medals as acknowledgement of their significant support of the RHSQ.
A Centenary Reception for the RHSQ at Government House was hosted by HE Ms Penelope Wensley AC, Governor of Queensland on 17 September 2013 with around 120 people attending. Her Excellency congratulated the Society on its centenary and highlighted the aims and achievements of the Society. Ten members of RHSQ and affiliated societies in Gayndah and Cairns received the Society's Centenary Medal for their work on Queensland history including regional history.
The Society continues to be involved in the state government's redevelopment of parts of George and William Streets of Brisbane. RHSQ has already made a detailed submission to the Premier setting out our ideas for conservation of significant heritage of the area. The Premier's Department has also agreed to the Society's request for preservation of the graves of Queensland's first Governor Sir George Ferguson Bowen and his wife, Diamantina, in Kensal Green Cemetery in London.
The Society's membership continues to increase. The Hon Library Research Team comprises six members who are professional historians or librarians who service a large variety of queries. The team includes a retired engineer who is progressively digitizing the Society's photographs and also provides photographs to answer research queries.
An 'At Home' was held in October and was comprised of two exhibition launches and a number of interesting talks. The Hon. Ian Walker MP, Minister for Science, Information Technology, Innovation and The Arts performed the launch of an exhibition of restored panoramas of early Brisbane; and Professor Clive Moore CSI launched a new exhibition, co-curated with the Queensland State Archives, commemorating the arrival of South Sea Islanders to Queensland in 1863. The day was well-attended by both RHSQ members and the community.

The Centenary Queensland History Journal is being published in November. The editing of the ten papers in this quarterly Journal is complete. It includes papers on the history of the Society and papers presented at the Centenary Seminar in June. It is the largest Journal published since 1959 (Queensland's centenary year). The Society is publishing approximately double the number of papers than ever before.

The Society has recently received two significant grants –
· $30,000 for digitization of significant series of documents in our library and the Society's records (announced by the Premier on 21 August 2013); and
· A Your Community Heritage grant from the Commonwealth government for $41,000 for interactive history displays relating to the convict period.


Helen McMonagle, President and Ruth Kerr, Hon Secretary
Royal Historical Society of Victoria
RHSV artworks and manuscripts collections
The RHSV has been collecting for all of its 104 years. Consequently it holds an extraordinary archive that is second only to the State Library of Victoria in its uniqueness and national significance. The collection comprises historically outstanding artworks, including a corroboree painting by Barak (1824-1903), a pen and ink drawing of prisoners chained to a gum tree in the centre of the Ballarat Government Camp about 1851-2 by James McKain Meek (1815-1899), and a series of original pencil on paper sketches of early 1850s Melbourne by Jane Dorothea Cannan (1823-1861), to name but a very few.

Within the manuscripts collection alone there are more than 20,000 items, comprising documents, private papers, research articles and memorabilia. Examples include letters from the goldfields, log-books of ships arriving from Britain, diaries, family histories and genealogical studies, and essays.

The library, containing many long out of print books, is constantly updated.
The annual Victorian Community History Awards, funded by the State Government, are organized and managed by the Royal Historical Society of Victoria and Public Record Office Victoria in partnership. Their aim is to recognize excellence in historical method, through publications and projects that include multimedia. The awards ceremony this year was held on 21 October when presentations in the following categories were made:
Victorian Community History Award – $5000

History Publication Award – $2000

Local History – Small Publication Award – $1500

Local History Project Award – $2000

Young Historians Award (Years 9– 12) – $500

Collaborative Community History Award – $2000

Multimedia History Award – $2000

Historical Interpretation Award – $200
The Victorian Community History Award recognises the most outstanding community history project submitted in any category. The winner was Robin A Vowels for Victoria's Iron Lacework The Founders, Part A, The Author, Parkville, 2012. Each entry in the annual VCH awards is then catalogued in the RHSV library. (www.historyvictoria.org.au/programs/victorian-community-history-awards)
Each year the Holsworth Local Heritage Trust provides grants of up to $2,000 towards printing costs of regional local histories, copies of which are required to be donated to the RHSV library. The purpose of the Holsworth Local Heritage Trust, a charitable fund within the Victorian Community Foundation, is to invite applications for grants from not-for-profit organisations such as historical societies, clubs, schools and museums in regional and rural Victoria. (www.historyvictoria.org.au/holsworth-local-heritage-trust)
A third way that the RHSV library gains its extensive stock of local histories is through review copies provided by authors. Each issue of "History News" contains book reviews, as does the Society's scholarly publication, "Victorian Historical Journal". Interested groups or authors are invited to contribute to this valuable service to members and interested readers. As well, arrangements with authors provide stock for the RHSV on-line bookshop, which can be accessed under 'Publications' on the website.
Joan Hunt, RHSV Fellow and Councillor
Royal Western Australian Historical Society
Legwork for a new Museum display
The Royal Western Australian Historical Society's Museum is currently producing a new display of some of the many stockings in its collection. The earliest stockings in the Society's collection are marked '1839' . The display features stockings from the 1890s until the 1960's.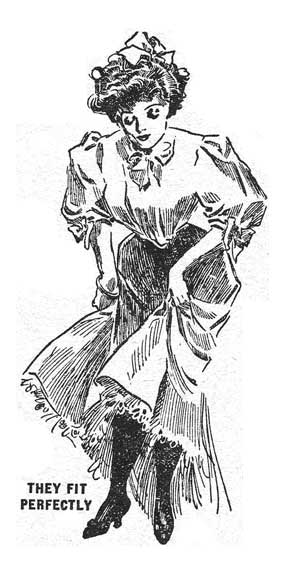 Lady, showing off her stockings 1908
Stockings, originally designed for practical purposes, soon transformed into a fashionable accessory with the invention of the knitting frame in 1589 and then the circular-knitting machine in 1816. This technology allowed for a tighter weave and a better fit. Also, it was much easier to produce stockings, making them more affordable and readily available. Plain white stockings were in mode for quite some time, until the mid to late-1800s when hemlines rose, and the ankle was revealed. This change in fashion called for colourful and lacy patterns decorating the lower leg.
From the 1920's silk was the material of stockings for the rich, cotton or lisle for everyone else, finishing slightly higher on the leg as hemlines rose.
The 1940s saw the introduction of nylon fully fashioned stockings for very lucky girls, rayon and silk for everyone else. Nylon fully fashioned stockings were made famous due to their scarcity during WWII, and their allure remains today. A girl would be lucky to find any stockings at all in the 1940s as not only nylon, but also silk and higher grade rayon were all used to make parachutes and other war time items. It wasn't uncommon to paint the leg adding an eyeliner seam up the back when the look of stockings was required.
In the 1950's fully fashioned stockings were made flat with the amount of stitches varying to fit the leg (hence 'fully fashioned'), they're sewn up afterwards which is where the seam comes in.
Seam free stockings with reinforced heel and toe were made from 1949. Made on a small circular knitting machine they, and their machinery, were significantly cheaper to produce than fully fashioned stockings. Early stockings of this type were notorious for their lack of fit and baggy ankles which means they didn't really take off until the early 1960s when the technology had improved.

Once the miniskirt and pantyhose arrived in the mid 1960s it did look as if the days of the stocking were over.
Throughout the 1970s stocking sales continued to drop as woman's lib took hold. However, stockings are still being sold today.
Ros Currie, Museum Volunteer
Reprinted with kind permission from History West, vol. 52, no. 10, 2013, p. 3.
Tasmanian Historical Research Association
Female Convicts Research Centre
The Female Convicts Research Centre is a 'colleague group' of THRA, dedicated to research about female convicts (see www.femaleconvicts.org.au). Members transcribe convicts records for the database, contribute research to the website, and contribute to books and seminars. So far the Centre has published three books about convict lives at the Cascades, Ross and Launceston female factories (again, see the website for details).

On Saturday 9 November in Hobart the Centre held an all-day seminar entitled, 'From the edges of empire', about female convicts from places other than the British Isles – colonies like India and the West Indies, or people from other countries who happened to be arrested in Britain, mostly for stealing. I'm giving a paper on the eleven French women who ended up at the other end of the world. This was inspired by reading in the diary of Jane Franklin's stepdaughter that when they were visiting a new colony on the remote Huon River, Mama spoke French so no one would understand them ('Affreux! Quel horreur!' I imagine). She was most embarrassed when it turned out that one of the settlers was French – one of these French convicts, caught stealing a gold watch in Berkshire.

Alison Alexander, THRA
What is hiding in your cupboard? Hidden treasures?
Wangaratta Historical Society's "The Marianne Gibson Quilt".
Editor's note: While all of us expect to find great treasures in large museums and galleries, we often forget that many of Australia's items of national significance are held in local historical societies and museums. What hidden treasures are hidden in the cupboards of your local historical society? Please write and let us know about them.
Crazy patchwork was extremely popular between 1876 and the 1920s, and defined a major shift from traditional quilting, which involved precise geometrical patterns. Rather than employing regular patterns and batting or filling, it uses irregular pieces of often exotic fabric (such as velvet, silk, tulle or satin) in asymmetrical ways, involving embellishments such as ribbons, button and embroidery. Fancy stitches such as feather, herringbone, fly and chain are also seen. It became a fad in America in the late 19th Century, probably influenced by the sensation caused by the Japanese pavilion at the 1876 Philadelphia Centennial Exposition, where asymmetrical designs with ceramics and other art were exhibited. It remained popular until about 1920.

The Marianne Gibson Quilt, completed 1891, was made in Wangaratta by Marianne Gibson (1837- 1911) an experienced needlewoman. It is composed of nine blocks, and features silks and velvets, with embellishments such as lacework and embroidery. The main blocks are outlined with gold embroidered feather-stitch and many individual patches are embroidered with motifs that include Australiana such as flowers and birds, popular orientalist kitsch such as the geisha, domestic objects such the rakes that filled her father's shop, and Marianne's initials. The backing is beige silk, and a variety of threads is used, including chenille.
The Marianne Gibson Quilt is one of the finest surviving examples of a crazy patchwork quilt in the world.
The quilt remained in the Marianne Gibson's family until it was presented to Miss Alma Gard, who later donated it to the Wangaratta Historical Society.

Courtesy of Culture Victoria
NOMINATIONS FOR FAHS MERIT AWARDS 2013
Nominations for the FAHS Merit Awards for 2014 close on 30 June 2014.

Information about the awards (including a list of previous recipients) is available on the FAHS website.

The guidelines (in PDF format) and nomination form (in PDF and DOC format) can be downloaded from the website.

Please consider nominating a member of your society – successful nominations help raise the profile of all volunteers in local history.
Are you passing this FAHS Newsletter (and its sister publication, the FAHS e-Bulletin) on to those within your historical society who may be interested in them?

The FAHS tries to send the e-mails to the current President or Secretary, but it is not always easy to keep up with changes in office-bearers which may have taken place. If you are not the most appropriate person for us to be sending them to, we would be grateful if you would let us know of an alternative, so that the publications can reach as many of your members as possible.
Any fool can make history, but it takes a genius to write it.
Oscar Wilde