FEDERATION OF AUSTRALIAN HISTORICAL SOCIETIES INC
e-BULLETIN No. 79 – 27 February 2011
Hon Editor, Dr Ruth S. Kerr
2) Connections between history and Wikipedia
3) Office of the Australian Information Commissioner news - opportunities for public comment
4) Australian Research Online & Trove
6) Positive use of cultural institutions
7) Federation Merit Awards - call for nominations
8) John Douglas Kerr Medal for Distinction in Research and Writing History
9) Local history - Babinda State Hotel
10) Local history - Biggenden, Queensland
11) Local history - York & Gwambygine in Western Australia
12) Local history - Kununurra Historical Society, Western Australia
In order to be an effective voice for historical societies throughout Australia, it is essential that the Federation knows what concerns/practical problems societies consider should be addressed at the federal/state/local levels. If your society wishes to enlist the support of the Federation on any issue please go to our website at www.history.org.au and complete a form for each concern/practical problem for which you are seeking advocacy support. The form can be electronically completed and emailed to admin@history.org.au. To find the form and further information click on 'Support' button on the horizontal bar on the home page and on the drop-down menu click on 'Advocacy support'.
2) Connections between history and Wikipedia
As Wikipedia became a mainstream source of information, the editing community of Wikipedia and the information professionals in the cultural sector [galleries, libraries, archives and museums - GLAMs] have come to an uneasy truce and acceptance of it and developed a partnership.
Liam Wyatt wrote his history thesis on "The academic lineage of Wikipedia: connections and disconnections in the theory and practice of history" for which he was awarded the University of New South Wales University Medal for History. In it he argued that the knowledge sector had more in common with Wikipedia's originating principles and current practices than either admitted and there would be great benefit if the two communities could be brought together.
Seeking to implement his theory Liam requested of GLAMs nationally and internationally the chance to volunteer as Wikipedian in Residence. All Australian institutions demurred but the British Museum agreed. The resulting residency project produced good quality collaboration (with better content on Wikipedia and increased visibility for the British Museum) and spurred a global movement of GLAMs requesting to bring Wikipedia in-house. Liam has now been appointed by the Wikimedia Foundation as Cultural Partnerships Fellow to help build strong relationships with the GLAM sector globally.
Liam Wyatt gave an Innovative Ideas talk on the topic at National Library on 11 February 2011.
(Source: aliaaglin@lists.alia.org.au – 7 February 2011)
3) Office of the Australian Information Commissioner news - opportunities for public comment
These opportunities relate to the Commonwealth Government Information Policy and the Freedom of Information Act 1982.
(Sources: aliaaglin@lists.alia.org.au – 8 February 2011 and OAIC blog and AGIMO blog)
4) Australian Research Online & Trove
Australian Research Online (ARO) provided a single search across research over many years from 71 institutional repositories in Australia - over half were from the government and other sectors.
Meanwhile National Library of Australia released Trove in November 2009. It provides easy access to over 100 million Australian resources and reaches a wide audience and includes millions of research outputs not present in ARO.
Trove has now been enhanced to include the core features present in ARO and the existing ARO service was turned off in the week of 14 February, 2011. A re-direct will be put into place from the ARO website to the Trove site. Where possible, a re-direct will also be in place from the machine-to-machine interfaces for ARO.
ARO will also be removed as an external database from Libraries Australia Search and via the Z39.50 service.
All the records in ARO should already be in Trove. If you search Trove and discover that your records are not appearing please do contact NLA using the enquiry form www.nla.gov.au/librariesaustralia/contact/index.html
Details of how Trove supports Australian research are available at: http://trove.nla.gov.au/general/supporting-australian-research-through-trove.
NLA has also developed a set of frequently asked questions about Trove: http://trove.nla.gov.au/general/australian-research-in-trove
(Source: aliaaglin@lists.alia.org.au – 18 February 2011)
There has a brief report on ABC 1 NSW news recently regarding the Parramatta Female Factory. It was a response to the Museums Australia New South Wales media release about the proposed installation of IT equipment and air conditioning units in this Greenway built, heritage building by the Sydney West Area Health Service. Both Andrew Simpson, President of the Museums Australia NSW and Gay Hendriksen were interviewed.
For those interested in checking the blog on the Female Factory Precinct, which includes the Parramatta Female Factory, the Catholic Orphan School and the Girls' Industrial School, see http://femalefactoryprecinctactiongroup.wordpress.com.
There is a petition to support the Female Factory Precinct Action Group, with the aim to have the Parramatta Female Factory Precinct returned to the people of Australia at http://petitionbuzz.com/petitions/savethefemalefactory.
(Source: History Council of Western Australia - Email Round-up 4 February 2011)
6) Positive use of cultural institutions
An interesting article in The Wall Street Journal on 8 February 2011 describes how a significant cultural and educational institution has been utilised and protected by the people in Alexandria.
"[...] In less than 10 years of operation, the library has introduced information technology considered cutting edge anywhere on the globe. [...]. With some 1.5 million visitors and 700 events last year, the Bibliotheca Alexandrina (the library is formally known by its Latin name) has become a gathering place for scientists, literary figures and other thinkers from around the world." Read more: http://tinyurl.com/4f7qx9r
Under the protection of the People: www.bibalex.org/Home/Default_EN.aspx
(Source: aliaaglin@lists.alia.org.au – 15 February 2011)
7) Federation Merit Awards - call for nominations
The Federation's call for nominations for its Merit Awards is on the Federation's website: FAHS - Merit Award. Nominations close on 30 June 2011.
8) John Douglas Kerr Medal for Distinction in Research and Writing History
The Royal Historical Society of Queensland and Professional Historians Association (Queensland)'s call for nominations for the John Douglas Kerr Medal for Distinction and Writing History is now on the Society's website: http://www.queenslandhistory.org.au/JohnDKerr.html
The selection criteria covers Australian history and is not restricted to Queensland history.
Nominations close with the Royal Historical Society of Queensland on 31 March 2011. (Email: info@queenslandhistory.org.au)
9) Local history - Babinda State Hotel
The cellar of the Babinda State Hotel was utilised by evacuees on the night of 2 February 2011 when tropical cyclone Yasi crossed the north Queensland coast. The hotel was built in 1917 as a state government owned hotel and was brought under the State Enterprises Act 1918. The legislation operated until 1929 when it was repealed. The hotel was entered on the Queensland Heritage Register in 2006.
(Sources: Australian 3 February 2011 pp.1 and 3 including two photographs;
also http://epa.qld.gov.au/chims/placeDetail.html?siteId=17009)
10) Local history - Biggenden, Queensland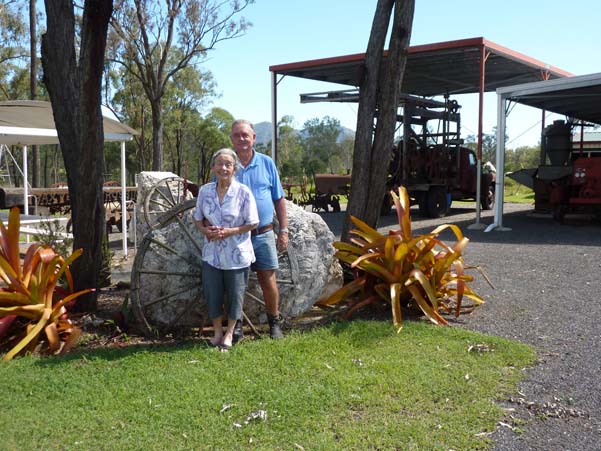 Biggenden's Museum at 8 Edward Street, Biggenden west of Bundaberg is housed in the top story of the Paradise Court House which was brought into the town many decades ago from the mining town of Paradise on the Burnett River. There are currently 14 members of the Biggenden Historical Society. Estelle and Clarrie Harvey open the museum five days week. A small group began the museum in the mid 1970s. Mrs Campbell of Paradise promoted the museum when she was a Councillor. It is now a vibrant and attractive complex thanks to all the work of the volunteers over that time. Estelle Harvey has worked to obtain grants to house the agricultural machinery under cover. Recently SunWater donated a collection of records on the construction of the Burnett River Dam to the Historical Society. The Historical Society participates in local cultural events and in May 2008 the Mary Ann locomotive, a one-to-one model constructed by Peter Olds of Maryborough, travelled up to Biggenden. The original Mary Ann, the first locomotive constructed in Queensland in 1873 operated at Tin Can Bay hauling timber to Pettigrew's sawmill.
(Source: Personal visit by Ruth Kerr on 21 December 2010)
11) Local history - York & Gwambygine in Western Australia
York suffered a very severe thunderstorm on 31 January. It has been reported by Western Australian officials at national level as having a serious effect on the agricultural industry. The storm began near Geraldton and came down the eastern side of the Darling Range, through York and continued on down to the Narrogin area. The showground grandstand and various verandahs in town were unroofed. However the core of historic brick and stone buildings appear to have survived reasonably.
At Gwambygine the historical building restored in 2009 using a Commonwealth government 'Stimulus Package' grant for cultural heritage buildings was severely damaged. It lost its insulated iron roof above its wooden shingle roof which remained.
(Source: Communication from York townspeople & Royal Western Australia Historical Society – 2 & 3 February 2011)
12) Local history - Kununurra Historical Society, Western Australia
Kununurra Historical Society (KHS) is seeking out anyone who has lived in the Kimberley. Kununurra is 50 years old but has had a very transient population throughout the history of the Ord River Scheme. A copy of the proclamation of the Kununurra Townsite on 10 February 1961 in the Western Australian Government Gazette may be viewed at www.kununurra.org.au.
KHS has launched a new web site to celebrate 25 years of its existence and 50 years of Kununurra, the Kimberley's youngest town, with an amazing history already.
The Kimberley History Site is at www.kununurra.org.au with all new information and more is being added daily.
Archived images are now online at www.flickr.com/photos/khs-museum/sets/
KHS is located at Coolibah Drive near the corner of Messmate Way-100m from the post office. The postal address is: PO Box 77 Kununurra WA 6743 - Phone: 08 9169 3331.
(Source: Kununurra Historical Society – 6 and 10 February 2011)